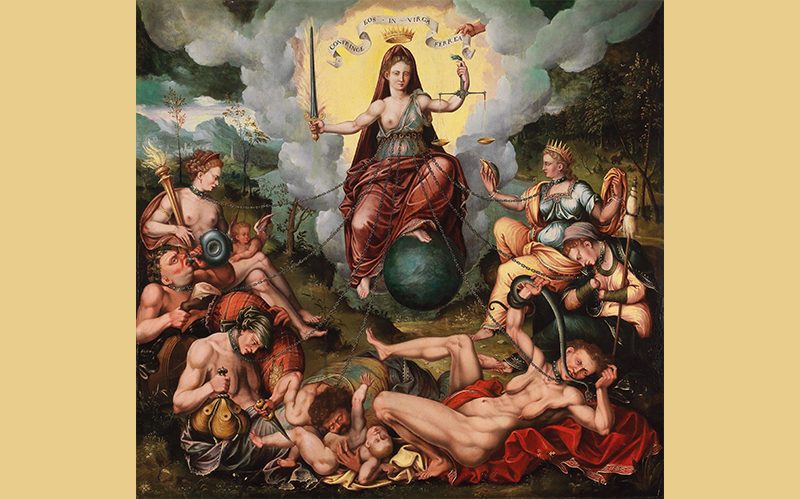 Antoon Claeissins' painting of the Seven Capital Sins must have struck a chord with contemporary apocalypticism. The painting to be sold in the April Old Master Paintings auction marked a new era both in terms of content and style.
Antoon Claeissins (c. 1536–1613) was born in Bruges and trained there under Pieter Pourbus I (1523–1584) painting the "Judgement of Solomon" for the town hall just as the importance of the town known as "Venice of the North" was beginning to fade. The city of Hans Memling, elements of whose style can still be found in Claeissins' works, began to look to new artistic styles, termed now by French historians as "Mannerism", after the decoration of the palace at Fontainebleau by Florentine followers of Michelangelo.
Being Flemish, Claeissins was adept at landscape, and this native specialty in "Justitia vanquishes the Seven Capital Sins" complements the Italianate figural inventions which were circulating up from Parisian printing presses. Borrowed from Giorgio Vasari is the female embodiment of justice, vengeful and all-powerful, one breast bared, with a metal girdle about her waist from which seven wretched forms representing the seven deadly sins are chained.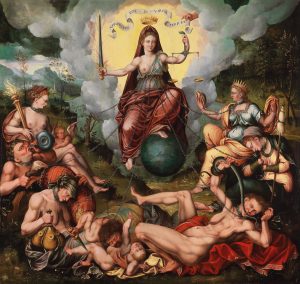 The biblical inscription in Latin on the scroll above her head translates as "Thou shall break them with a rod of iron".
Daily life in Northern Europe in the mid-16th century must have had a fairly apocalyptic feel to it. The destruction of imagery, occasional outbreaks of polygamy and not infrequent massacres in the name of religion. Thus the blood-and-thunder choice of Psalm (2:9) was an apt one. In keeping with the air of chastised grimness, the prettier figures of Luxuria (lust) with her torch symbolising passion, and Superbia (pride) gazing at herself in a looking glass are relegated to the midground. This leaves space infront for the grotesque figures of Gula (gluttony), brandishing a half-gnawed ham hock to Acedia (sloth), with her hands hackedoff. Avarita (greed) slouches under a sack leaking coins, while the withered body of Invidia (jealousy) lies upon crimson drapery, alluding, it is said, to the mocking parade of aged, stripped prostitutes in the Roman carnival. Francois I's successor Henry II issued an edict in 1556 making burial of new-borns or even clandestine births a capital offense. This perhaps informs the pose of the final figure, Ira (rage), who prepares to plunge his dagger into a cherubic infant raising its arm imploringly up towards Justitia and the crown above her head.
INFORMATION about the AUCTION
Auction Date: 30 April 2019, 5 p.m.
Location : Palais Dorotheum, Dorotheergasse 17, 1010 Vienna
Exhibition: 20 April – 30 April 2019
View now the auction catalogue and read our new myARTMAGAZINE!