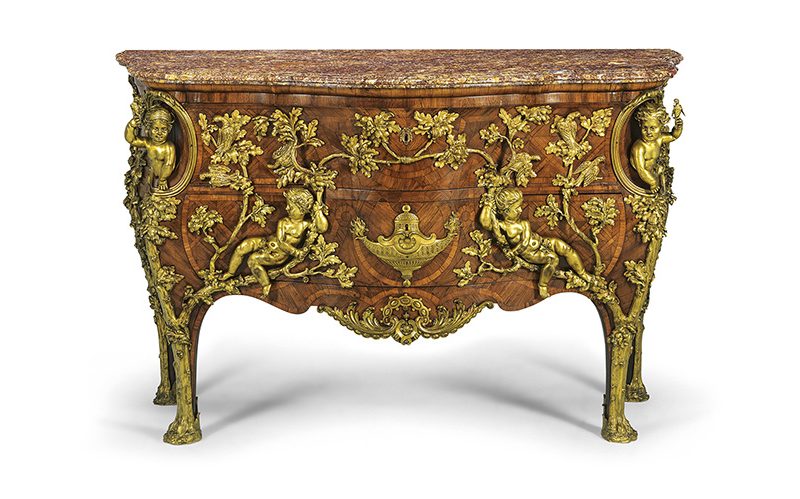 The exceptional chest of drawers by the Maison Millet, offered at the Works of Art auction on 5 November, shows royal taste and highest quality.
A Masterpiece by the Purveyor to the Court of Versailles
Maison Millet was one of the leading cabinet-making workshops in Paris. The company was founded by Théodore Millet in 1853, specialising in high-quality reproductions of 19th-century furniture and bronzes. It received numerous prizes at the Paris World's Fair, including a gold medal in 1889 and the Grand Prix in 1900. It was one of a few purveyors to the Court of Versailles.
This exceptional chest of drawers was manufactured by Maison Millet in around 1890/1900 in the Régence style, which between 1715 and 1730 marked the transition from the solid, bulky design of the Louis XIV style to the Rococo-like lightness of the Louis XV period.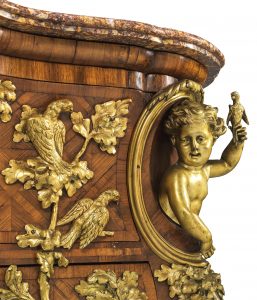 In the 19th century, it was a matter of prestige for French cabinet-makers to copy antique furniture in such outstanding quality that one could hardly tell the difference. Maison Millet was one of only handful of companies that excelled in this endeavour, thus supplying the rising bourgeoisie with high-quality furniture based on royal models.
The carcass is made of oak, veneered with kingwood – also known as violetwood – a Brazilian rosewood species of violet colour with black stripes. Especially impressive are the chest's extremely rich, artfully executed bronze mounts. They depict putti holding a bird imitating the sound of other birds, with the aim of luring them onto a branch covered with a sticky substance.
This striking piece of furniture, known as "La Pipée aux Oiseaux", was made on the basis of a model designed by Charles Cressent in around 1720/30, now preserved at Waddesdon Manor, a castle in Buckinghamshire owned by Baron Ferdinand de Rothschild. Charles Cressent (1685-1769) was, along with his teacher André Charles Boulle, the cabinet-maker par excellence of his time and worked mainly for royal patrons. Through the Maison Millet's high-quality production of furniture designs that were previously reserved for royalty, such as this chest of drawers, royal pieces found their way into 19th-century drawing rooms.