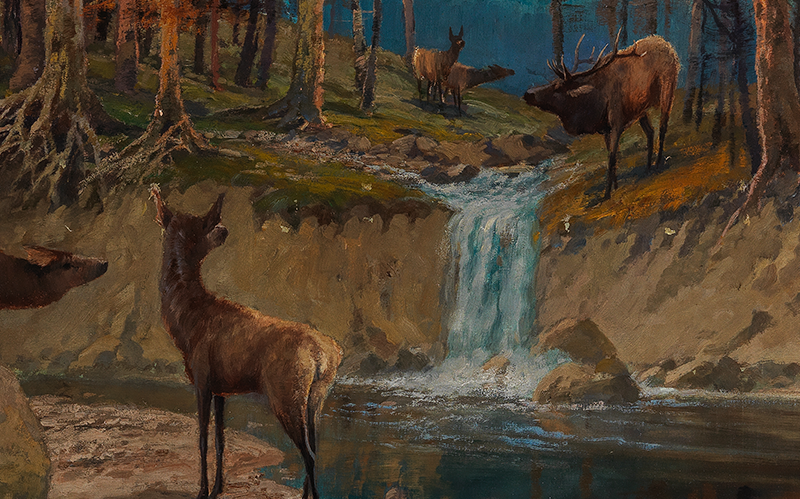 The tale of John Fery's extraordinary life reads like an embodiment of the American myths of the "self-made man" and the "American dream".
John Fery, who came from a Hungarian family, was born in Strasswalchen under the name Johann Nepomuk Levy. Encouraged by his father to pursue an artistic career, he studied at Vienna's Academy between 1881 and 1883, but also maintained contact with the Düsseldorf school of painting. In 1883, he travelled with a group of young artists to Milwaukee, USA, to work on a history painting of the Battle of Atlanta, commissioned by the American Panoroma Co. At this time he also officially changed his name to John Fery.
The fascination with the nature of North America would never leave him. In 1885 or 1886, he emigrated to the United States with his French wife and tried to make his way as a painter. His breakthrough, however, did not come until 1910, when Louis C. Hill, the ambitious manager of the Great Northern Railroad Company, became aware of him and made him an extraordinary offer: John Fery was to turn images from Glacier National Park into large-format paintings for his advertising campaign "See America First", on a huge scale. These adverts were shown across the United States in train stations, travel agencies and in a travelling exhibition, but they were also displayed in Berlin, to pique people's interest in travelling and to advertise the new railroad lines.
Between 1910 and 1913, Fery created about 267 paintings – up to 14 per month! Further orders from other national parks and railway operators followed, taking Fery to various regions of the United States. Tragically, a fire in 1929 destroyed a large collection of the works he had produced for the Great Northern Railroad.
Nevertheless, his paintings can be found in many American museums, such as the Hockaday Museum of Art in Kalispell, Montana, the Museum of Wisconsin Art (MOWA) near Milwaukee or the Wilding Museum in Solvang, California.