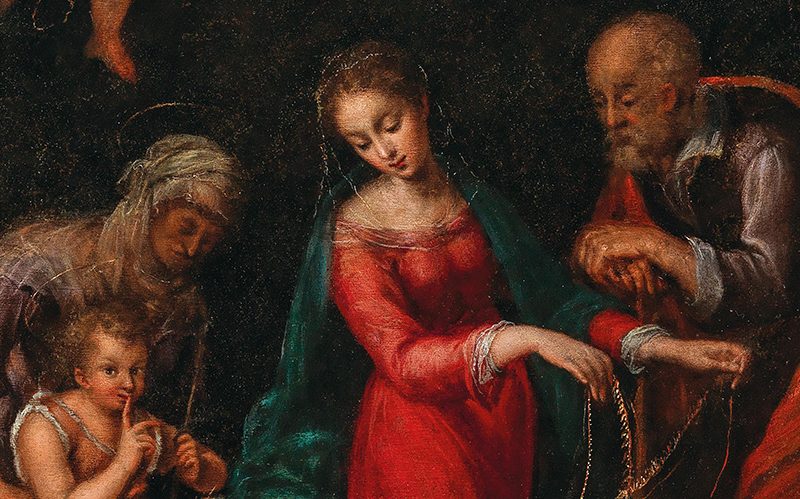 The Madonna del silenzio impressively reveals the technical virtuosity of Lavinia Fontana, one of the most successful and famous painter personalities of her time. It will be offered at the Old Masters auction on 10 November.
The Silent Madonna
While the Virgin Mary watches over the Christ Child's sleep, young Saint John the Baptist appears as a 'troublemaker'. This motif called the 'Madonna of Silence' is by the hand of the Italian painter Lavinia Fontana, one of the first women artists in the history of art, and one of the most successful ones in their own lifetimes at that.
The artist, who was celebrated for her refined portraiture and detailed religious themes not only in Bologna's aristocratic circles but also at the Vatican in Rome, tackled this theme multiple times, gaining special renown for it. Based on a picture of the Holy Family with the sleeping Christ Child and the Infant Baptist acquired by King Philip II of Spain, as many as twelve variants of this subject were created.
This work is a more intimate and reduced interpretation on copper which a patron must have seen as a coveted collectible or object of private devotion. Lavinia's great popularity at the time accounts for the fact that she only signed this picture with her initials – a signature that was only exposed recently during surface cleaning.
Two similar variants of this small-scale version are conserved at the Galleria Borghese in Rome and at the National Museum in Stockholm. However, the motif of the red roses – symbols of Christ's martyrdom and resurrection – distinguishes the Dorotheum version from the former two. By inserting this minor variation, the artist virtually reinterpreted the theme. And she so did entirely free of Mannerist rhetoric, more attuned to the naturalistic realism practised by such contemporaries as the Carracci brothers.
The Madonna del Silenzio reveals Lavinia Fontana's painterly qualities: a delicate application of colour, a slight but well-defined design, and a soft chiaroscuro in which the tonal transitions are very gradual. This work, which, by the way, was one of the first ones to have been painted on copper, also displays a refined virtuosity in the depiction of transparent veils and the precious organza cloth bordered with gold thread. In this regard, Fontana seems to have been inspired by the Flemish painter Denis Calvaert, who was active in Bologna and a friend of the family.
Lavinia Fontana was taught by her father, the painter Prospero Fontana, and later took over his workshop. Both in Bologna and later in Rome, she would become one of the most acclaimed artists of her age. In 1580 she painted a portrait of the Bolognese pope Gregory XIII, which earned her numerous subsequent commissions from church circles. Her artistic role model was the Renaissance woman painter Sofonisba Anguissola.