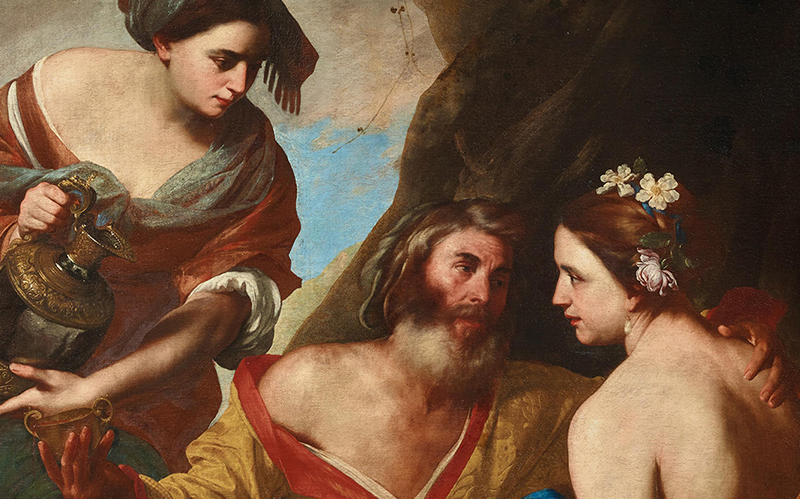 Massimo Stanzione (1586-1656) is one of the most celebrated Neapolitan painters of his age and this previously unpublished painting is an important addition to his oeuvre. The work is monogrammed on a stone, lower right: the first two letters refer to his title of cavaliere, a papal knight, demonstration of the social prestige he attained. The initials NE after his monogram specifies his status as a Neapolitan and most probably indicates that this painting was to be sent beyond Naples, as was the case for his Bacchanal painted for King Phillip IV of Spain for the Buen Retiro Palace in Madrid which is similarly signed.
The biblical subject of Lot and his daughters was frequently represented in Neapolitan painting during the first half of the seventeenth century, and Stanzione depicted it on at least two other occasions: one now in the Pinacoteca Nazionale, Cosenza and another in the Musée des Beaux-Arts et d'Archéologie in Besançon The present painting differs from the other known versions for its vertical format, wherein the scene is exclusively dominated by the three elegantly dressed figures wearing brightly coloured robes, in contrast to the sombre rocky landscape background.
The work belongs to the artist's full maturity, and specifically to the early 1640s. During this period, Stanzione was involved in the main commissions in Naples, mainly for ecclesiastical patrons and he executed the frescoes for the Chiesa del Gesù Nuovo, those in San Paolo Maggiore and in Santa Maria Regina Coeli.
Together with his contemporary Jusepe de Ribera, Stanzione dominated the extraordinary production of painting in Naples during the first half of the 17th century, a vibrant artistic centre, and he often visited the celebrated artist Artemisia Gentileschi in her studio to watch her work.