The 19th Century Paintings auction on 8 June will offer an artwork by Olga Wisinger-Florian (1844-1926) depicting a lavishly atmospheric autumn bouquet.
The artist titled the work on the back with the name of the month, October. As the first of her Monthly Paintings, this artwork is a sort of prototype for the series of 11 panel paintings that Wisinger-Florian created between 1890-92. These artworks became highly important to her oeuvre.
The compositions of her Monthly Paintings are based on her famous meadow flower pieces and are characterised by a close-up view of the subject. The change of seasons is captured with the typical blooms of the respective month: from snow lilies, cherry branches, lilacs and roses to golden ears of corn, thistles, rose hips and snow-covered rosebushes. The present painting celebrates the peak of autumn with bright red rose hips and berries, colourful foliage and the cool purple of the autumn season.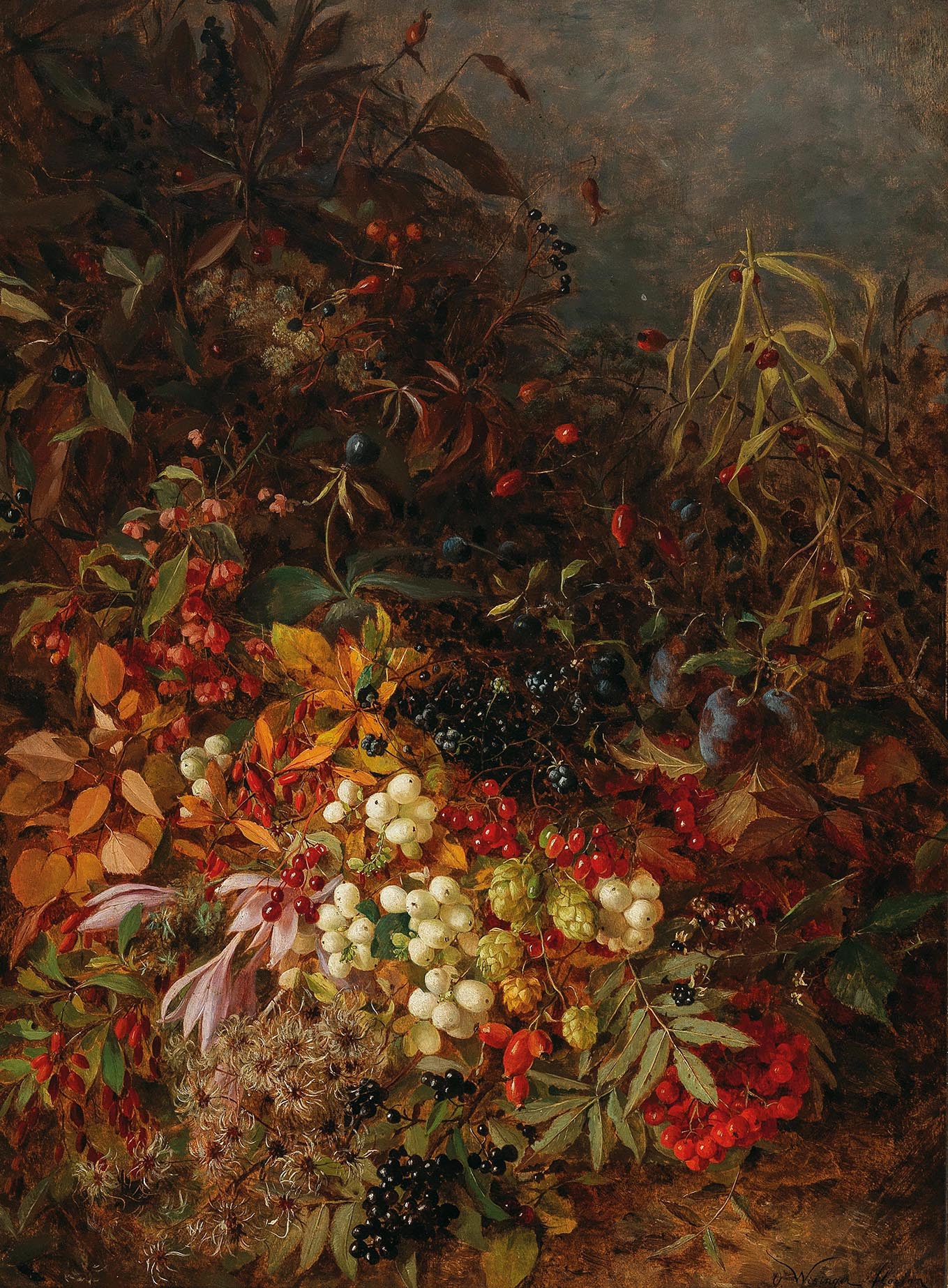 In her diary, Olga Wisinger-Florian documented her creative process in her characteristic telegram style: on 23 September 1884, she noted "rain, the beautiful weather has ended, berry bouquet begun, the first of the months". During the following three weeks she often went out into nature to collect berries and leaves, which served as her model and inspiration. Every day she worked on the "October" painting. She started with the different berries and hops in the foreground, continuing with the yellowish leaves in the middle and finally reaching the more open background and returning to the berries. On 9 October 1884, she triumphantly noted: "Picture finished! Blackthorn and bog bilberries, then leaves changed, Victoria, this is the best of all things, if only everyone were like this!"
Olga Wiesinger-Florian ranks among the most important protagonists of Austrian landscape painting from the 1880s onwards. In her youth she initially pursued a professional career as a pianist and only concentrated on painting in adulthood, after her marriage and the birth of her son. She belonged to the group surrounding Emil Jakob Schindler, who encouraged and supported her greatly from the beginning. She soon exhibited at the Vienna Künstlerhaus, as well as internationally. Among her clients were representatives of the high nobility and the imperial house. From 1900 onwards, together with Bertha von Suttner and other artists, she became increasingly involved in the cause for women's rights. She was one of the most awarded artists of her time and is still regarded today as one of the most important representatives of Austrian Atmospheric Impressionism.