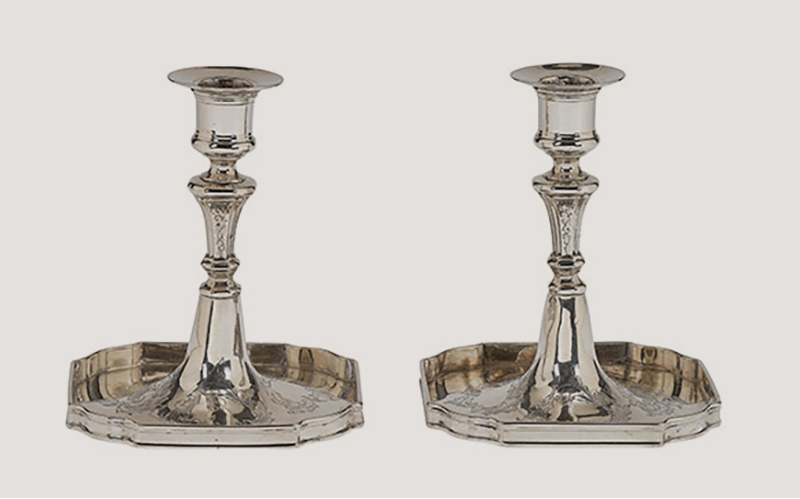 A pair of Viennese Maria Theresian candlesticks, silver, height 12 cm, weight 369 g, maker's mark IS for Josef Schneider, c. 1770, price realised €7,040
Viennese Silver
Decorative and functional objects featuring clear forms are coveted items among both collectors of silver and those simply appreciating beautiful things in their everyday lives. Cutlery, tableware, and candleholders rank among their favourites.
This can also be said about the present pair of candlesticks from the period of Maria Theresa – a perfect example of the classic Viennese style. Betraying high-quality craftsmanship, these pieces stand out for their plain, elegant shape and pattern of delicately engraved scrolls. At the time these candlesticks were crafted, i.e. around 1770, Vienna was an important hub of silversmithing. There was a high demand for silver at the court and in aristocratic circles. As its price used to be considerably higher than today, objects made from this precious metal were exclusively reserved for wealthier parts of the population.
Unfortunately, not much silverwork from the eighteenth century has survived, as many objects were melted down at the time of the Napoleonic Wars. The reason for this was Austria's sovereign default in 1811 due to high war expenditure and reparations paid to France. As a consequence, the possession of silver was highly taxed, which prompted many owners to have their elaborate silver objects melted down.
The fact that this pair of candlesticks is thus a rarity, in addition to its particularly elaborate execution, accounts for the peak price it finally realised in the sale.
Further quality criteria determining the price for silver objects include their condition, novelty on the market, and provenance, as well as the place of manufacture, i.e., workshop and silversmith. Due to the large number of existing marks and stamps, most of them can only confidently be identified by specialists. The present pair of Maria Theresian candlesticks bears the maker's mark IS for Josef Schneider.