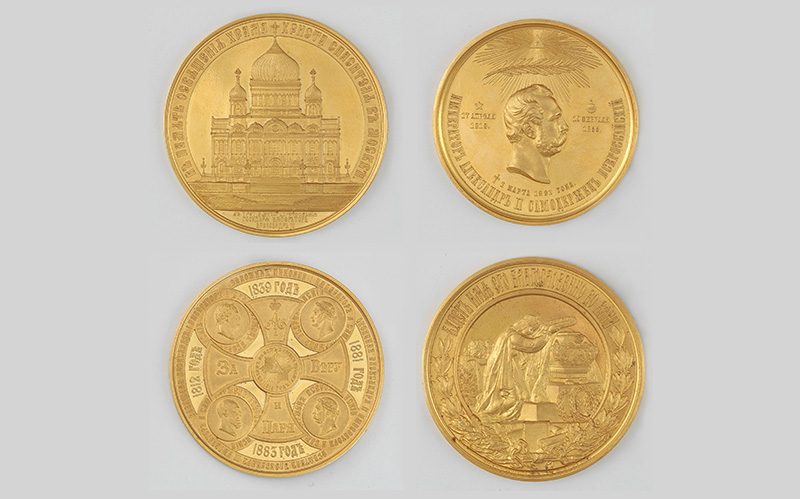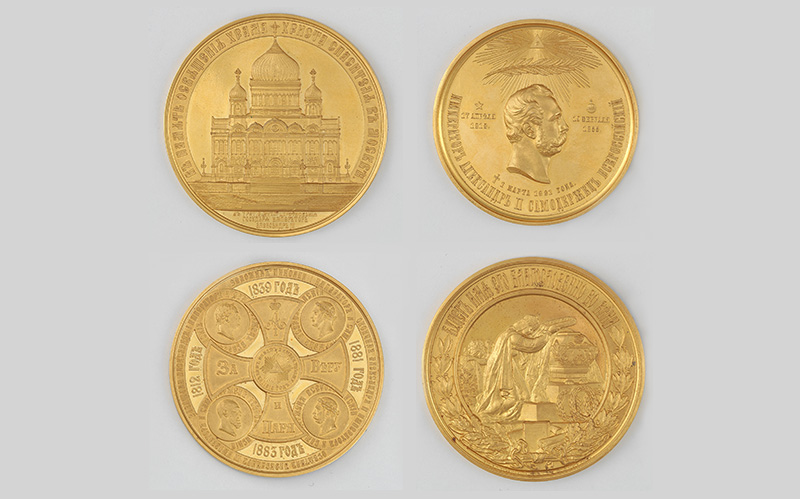 Gold pieces of history sold for more than 300,000 euros: two heavy gold medals from the Battenberg family are pieces of Russian history and European art.
Dynamite bombs detonated in St Petersburg on 13 (1 in Julian calendar) March 1881, killed Tsar Alexander II of Russia. Two gold medals related to this event went up for sale at the Dorotheum coin auction on 22 and 23 May 2019.
The first gold medal, commissioned by Alexander III – son of Alexander II and Tsarina Maria Alexandrovna, née Princess Marie of Hesse and by Rhine – shows on its reverse side a female personification of Russia grieving by the dead ruler's coffin. The artist V. P. Vereschagin (1835–1909) opted for a theatrical portrayal that considers the tsar's sudden demise, in a design implemented by medalist A. Griliches (1849–1905).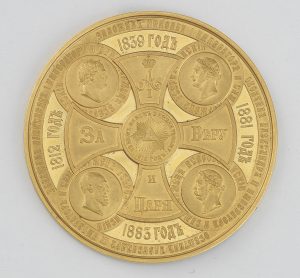 Alexander III was not crowned until May 1883 out of respect for his father's violent death. That same day he inaugurated the vast Cathedral of Christ the Saviour in Moscow – a Russian orthodox cathedral that had almost been completed under Alexander II, such that it might have been consecrated in 1881. The second gold piece is also connected with Alexander II's fate in several respects. One side of the medal, designed by Vladimir Alexejeff (signed B.A.), shows the principal view of the newly built cathedral; the other side depicts the heads of the four tsars who had been involved in its creation, grouped around a Russian order cross from the time of Tsar Alexander I.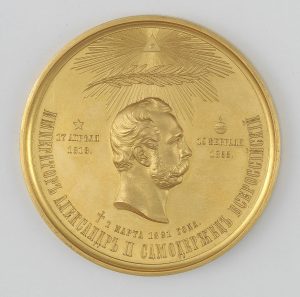 Gold medals of this size (over 77 millimetres) and this weight (almost 300 grams) are among the rarest of all. Diakov, author of the standard reference on Russian coins, knew that a second medal existed, but was unaware of its appearance in any commercial context or museums.
Such special medals were awarded by Tsar Alexander III himself. In this case Alexander (I), elected Prince of Bulgaria, received both medals. Alexander, Prince of Battenberg from the House of Hesse-Darmstadt, was a nephew of Tsarina Maria Alexandrovna and thus a nephew by marriage of the murdered Alexander II, with whom he had a good relationship. Alexander I was born in Verona in 1857. He lived in Graz after his involuntary abdication in 1886, where he died in November 1893 at the age of 36. The medals have since been preserved by the Battenberg family, who are now giving these great rarities the chance to be honoured by new owners.
Also worth mentioning is an extremely rare, golden two-ruble piece from 1727 coming up for sale at the Dorotheum coin auction. It was minted during the short reign of Tsar Peter II, who died at the age of 14.
View now our auction catalogue and read our myARTMAGAZINE!