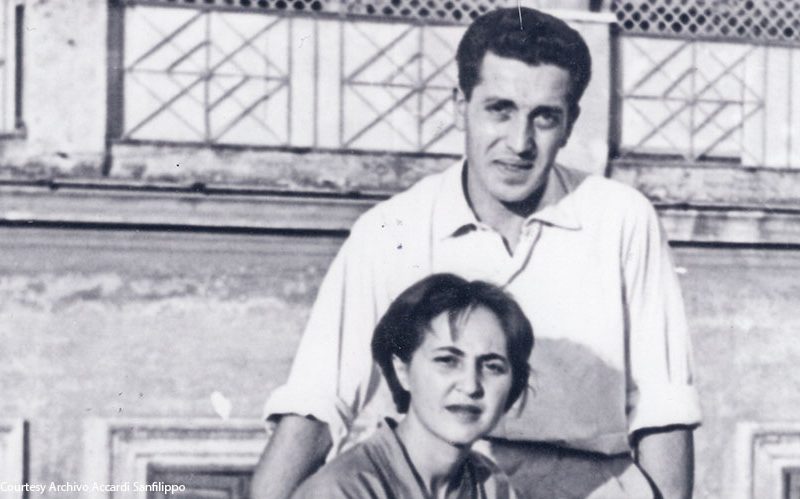 Artists Love
Carla Accardi and Antonio Sanfilippo: the two Sicilian artists were lifelong partners, close in love as well as in their art. Through their "anti-painting" aesthetic, which they applied to the tension between form and colour and to  colour- contrast and the reversal of colour, they broke away from traditional painting. The two artists became leading Italian protagonists of the international "art autre" movement. A different kind of art.
internationalization of artistic culture in Italy
During the early 1950s the groundwork was laid for the profound internationalization of artistic culture in Italy. While Italian gallery owners undertook an everincreasing number of exhibitions overseas, Venturi gave lectures on the New York avant-garde and the art world was fir t introduced to images of Jackson Pollock creating his famous "drip paintings" by Peggy Guggenheim in Venice.
Two Sicilian artists, Antonio Sanfilippo and Carla Accardi, began their careers during this period of expansion and development, both beginning their training at the Academy of Fine Arts in Palermo. From their first meeting at university onwards, their artistic careers and personal milestones were repeatedly intertwined, leading to an intense personal relationship which was always threatened by strong competitive tension. From Palermo, the two artists moved on to Florence where they continued their studies. In 1946, they moved to Rome, where they were married and joined the Forma group.
a period of experimentation and artistic maturity
The decade from 1950 to 1960 was a crucial period of experimentation and artistic maturity for both artists. Up to that point, Carla Accardi's work had developed in the field of concrete painting, which she adopted in Paris. From 1953 onwards, her work developed in a new direction based on the poetry of calligraphic signs. Initially still maintaining a figurative approach, she used primarily earthy shades. In the years that followed, her style developed to become sets of segments, articulated by dry, alternating arrangements of black and white, sometimes with red added.
The photographs depicting Accardi at work often show her working on the floor or on a table, but never at an easel; the shapes and signs on her canvases must be able to expand without limits, without spatial constraints, intertwining or moving away freely. This technique is perfectly illustrated by the work, "Integrazione n. 2" dating from the late 1950s, which Dorotheum will present at auction on 24 June. In this piece, a nucleus of energy, generated by a set of separate, but related, elements gives life to mysterious, two-dimensional abstract "writings", confounding the eye, creating an ambiguity between the plane of the background and the subject itself. Antonio Sanfilippo's lively gestures, like his wife's, spring from his detaching from the rigidity of geometric shapes which had characterised his early work. "After passing through a Picassian neo-cubism in the wake of several trips to Paris, Sanfilippo firt turned to Magnelli's concretism, then to Hartung and Kandinsky. It is through them that he came to develop his particular charming and joyful graphic "sign", similar to, but distinct from those of Carla Accardi and Capogrossi. Through the development of his "sign" he aligned with Tapié's art autre, and then (in the mid 1950s) with the art informel movement, and the dominant narrative on the European scene. It was then that Sanfilippo elaborated his most characteristic style, creating works made up of a sort of cloud or galaxy of tiny colourful shapes and symbols. This development brought him his first brush with international fame and his work was presented at numerous exhibitions in Italy and abroad." (Fabrizio D'Amico)
a breakthrough in maturity
In Sanfilipp 's works of the second half of the 1950s, it is possible to glimpse the features that would come to full maturity in the following decade. They make up the distinctive character of works such as the painting, from 1960, which will be presented for sale at the upcoming Post-War and Contemporary Art auction at Dorotheum. In this piece, the coloured forms, which now bear the material trace of the brushstrokes, are no longer syntactically linked to each other. Instead, they seem to be wandering, only interrupted by brief pauses of white silence. In Sanfilipp 's works, the signs are never random.  As early as 1956, he wrote: "In my recent work, and in fact, for four years now, I almost exclusively use graphic signs placed on the surface with great immediacy and speed so as to create a whole that is not arbitrary or random but which is instead subject to a certain reasoning in terms of form. The form is thus determined by the various groupings of signs. They exhibit great variation in my paintings, that is, they are not repeated or connected but instead, they are always independent, with a force arising from their complex and varied grouping."
In the fifties, works by this Sicilian couple found great support from the critic and prophet of art informel, Michel Tapié, who documented their work in ground-breaking publications such as "Esthétique en devenir" (1956) and "Morphologie autre" (1960). He also promoted their works in important exhibitions alongside the most established American, European and Japanese painters, leading to them being fully accepted as exponents of art autre.
In the 50s and 60s, the work of these two artists shared the goal of a sort of anti-painting made of contrasts. This involved the use of reversals, the subversion of the hierarchy of forms and colour and the relationship between absolute and individual vision, passing through the dissolution and crisis of traditional form. They always maintained the individuality of their own canon: for Sanfilippo, a minute, crushed sign that, through repetition, fill the entire field of the canvas, and for Carla Accardi, a central nucleus of centripetal energy which creates the illusion that the margins of the picture are seen as a background. None the less, in the work of both painters, each symbol or shape exists in relation to others and together, they form a structure that acquires meaning through the whole, ultimately becoming an artistic expression in itself.
AUCTION INFO
Contemporary Art auction, 24 June 2020
Palais Dorotheum, Dorotheergasse 17, 1010 Vienna
20c.paintings@dorotheum.at
Tel. +43-1-515 60-358, 386
Browse the online catalogue or take a look at the new myART MAGAZINE!
find out more about Carla Accardi