The term "carpet" can be derived etymologically from the ancient Greek word tapes, a word borrowed from the Persian farsch which means "cover". Whether it's valuable wall decorations, upscale furnishing or a piece of textile history – for centuries we have surrounded ourselves with rugs!
Dorotheum's upcoming auction is filled with unique and exquisite pieces. But navigating the knotted world of carpet buying isn't easy. Our specialists are sharing a few tips on how to weave your way through the world of textiles!
1. You get what you pay for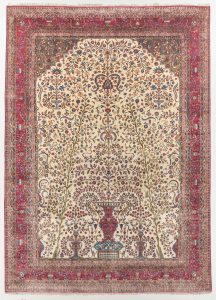 Low prices from liquidations, discounts or hawkers can seem appealing to the inexperienced customer. They make it difficult to properly assess the price-quality ratio of carpets or antiques.
When making a purchase decision, don't depend on price reductions. Rather, one should look for particularly beautiful and authentic pieces, keeping in mind the type of carpet. When it comes to ancient rugs for instance, rough rural or nomadic carpets may be more valuable than finely knotted ones. Whereas Turkish Hereke carpets are among the most valuable modern silk carpetsn.
2. Where to shop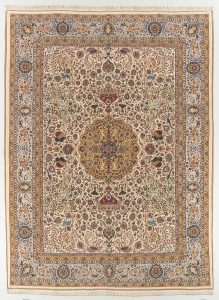 While travelling, it's easy to fall in love with vibrant market colours. But take caution when shopping abroad. Carpets are often overpriced and if shipped home, your address may be passed on to dubious dealers. While searching the colourful heaps, bear in mind that old or antique carpets are now rarely found in their country of origin.
It is recommended to buy from long-established and renowned carpet shops. The market for old and antique carpets is now shifting more towards the auction business.
3. What to look for
Less is more! Antique carpets tend to follow a more archaic style pattern, where open spaces are left by the weaver. Newer pieces are usually overloaded with stereotypical patterns. The wool should be coloured using plant-based dyes, which develop a patina and age nicely. It is possible for an antique carpet (over 100 years old) to have a high wool pile. In general, the fewer repairs – the better. Ancient carpets, kilims and textiles are difficult to preserve and often end up in fragments but can still be highly valuable. Check whether the piece has been cropped, or if it is rotten or faded.
4. Cleaning an repairs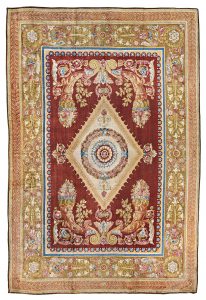 For collectors a very important issue is the preservation and restoration of a used, damaged or soiled carpet. Only trust your precious piece to an experienced and established carpet cleaner or repair workshop. Be conscious of new cleaning establishments. They may say your carpet is worth more than it is, charging you for washing and repairs which exceed the real value of the piece.
5. Ready to shop?
Check out the upcoming oriental carpets, textiles and tapestries auction on 20 February, 2019 at 4.00 p.m. Browse the online catalog now!