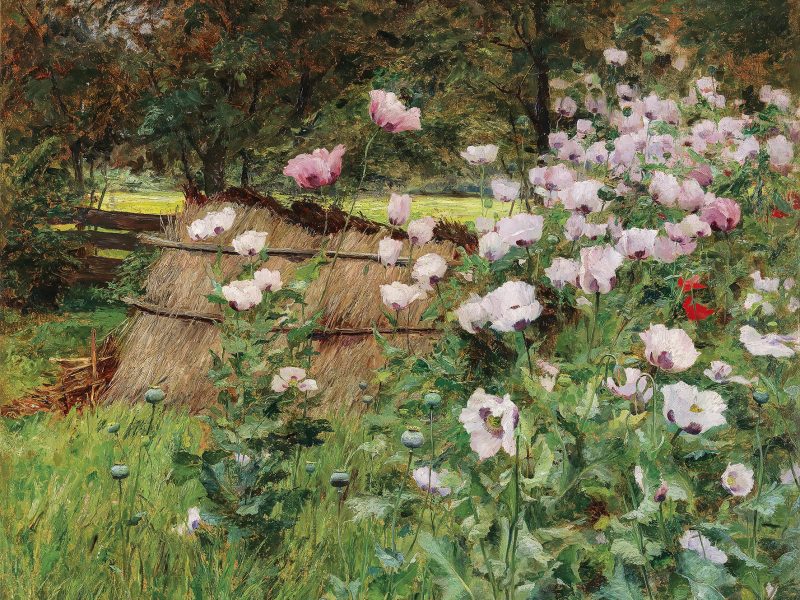 PURPLE POPPY
Olga Wisinger-Florian was a master of atmospheric landscapes and scenes from nature. The rediscovered painting "In the Farmer's Garden", a work previously known only through an entry in the artist's diary, complements the brilliant splendour of her œuvre.
Painting on Site
The distinct cropping in Olga Wisinger-Florian's "In the Farmer's Garden" forms a striking contrast to similar paintings by her contemporaries. The eye wanders from the top of a lushly overgrown hill covered with delicate purple poppies, to a simple thatched roof and narrow strip of tree-lined meadow below. This unexpected perspective might well be explained by a basic principle of the Austrian impressionist's (more mature) painting, which was painting on site and painting the subject (often accidentally discovered) that she found herself in front of. Once a charming scene caught the artist's eye, she would paint it – usually exactly as she had found it.
Light und Colour
The picture's magnificent blossoms – from the still-closed buds in the left foreground, to blossoming poppies, to the flowers in full bloom in the upper right-hand corner – are entrancingly varied. Also remarkable are the delicate colour gradients on the petals, masterfully rendered to include the incidence of light. Colour variation, dominated by the contrast between the dark green of the leaves and trees and the bright flowers, comes courtesy of the red poppies on the right-hand edge of the picture and the luminous strip of verdant meadow.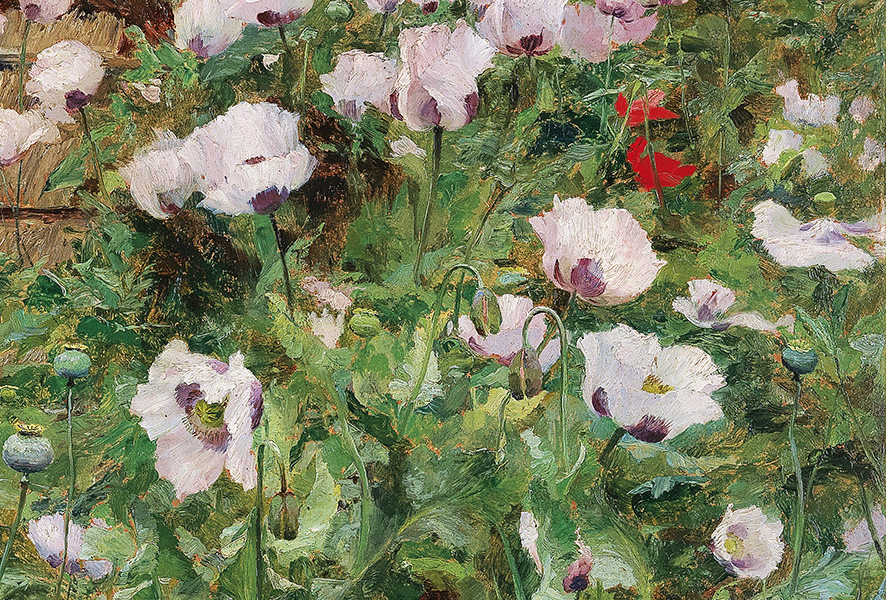 Aristocratic Provenance
The rediscovery of the painting, which was previously only known through descriptions in Wisinger-Florian's diaries, confirms it, as was already expected, to be a very special work. The piece was first exhibited at the Munich Kunstverein in 1898. It was well-received and found a prominent first owner in none other than Luitpold, Prince Regent of Bavaria. Wisinger-Florian noted in her diary: "Early 8:30 a.m. at the Kunstverein, Prince Regent came at 9 a.m., was extremely kind and bought the purple poppy, what a delight! He liked everything immensely, very enthusiastic visitors, I heard only praise and praise again! (Olga Wisinger-Florian's diary, 9 January 1898)
The painting will be included in a catalogue raisonné of the artist's work, a publication being compiled under the direction of Dr. Alexander Giese.
AUCTION
19th Century Paintings, 9 November 2020
Palais Dorotheum, Dorotheergasse 17, 1010 Vienna
19c.paintings@dorotheum.at
Tel. +43-1-515 60-355, 377
View now the auction catalogue and read our new myARTMAGAZINE