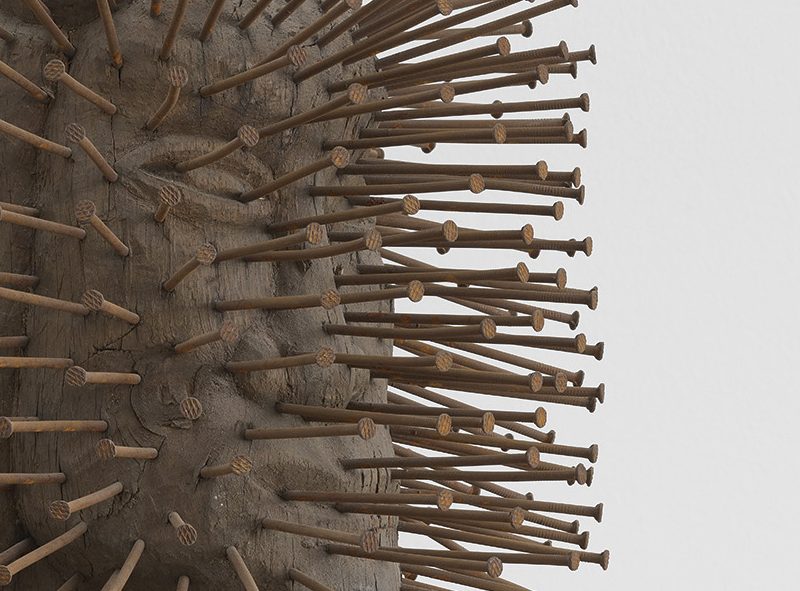 MAGIC AND MEDITATION
The Contemporary Art sale at Dorotheum on 25 November 2020 features an early
work by Günther Uecker, listed as No. 1 in Dieter Honisch's catalogue raisonné. "Head" is a female bust perforated with nails yet brutally beautiful.
In his catalogue raisonné of Uecker's œuvre of 1983, Dieter Honisch writes: "Uecker's work can be viewed as 'art that aims to leave art behind'. Günther Uecker himself does not see art as the end goal of his work, but rather as his sphere of influence or as the precondition of his existence."
Born 1930 in Wendorf, Mecklenburg in Germany, Günther Uecker began his artistic education in 1949. He initially studied painting in Wismar, then went on to the art school in Berlin-Weissensee, and finally studied with Otto Pankok at the Düsseldorf Art Academy, where he would later become a professor himself. Along with Heinz Mack and Otto Piene, Uecker is one of the founders of the ZERO Group, which considers itself as a new beginning for art, defined against the German Informel. His œuvre is truly diverse and includes, among other things, interdisciplinary paintings, object art, and installations, as well as stage designs and films.
Nail Art
Uecker has produced a uniform body of work. Each work not only stands on its own, but also contains its successors as well as its predecessors, thus making every object a representative of his œuvre, and yet, not entirely.
To comprehend Günther Uecker, one cannot rely on classical art historical analyses, but must take a closer look at his complex opus. Throughout his oeuvre, his works conform to his habitual working practice and thus present a contrast to the ever-changing society we live in. Uecker's persistence in his use of materials for his artistic expression could almost be described as ritual, reflecting life and reality.  The natural repetition of hammering and the use of nails are, to him, meditative rituals through which his ideas are translated into vibrant artistic expression. The effect of the three-dimensional structure is enhanced by the play of light and shadow. He has been producing  his "nail art" as he calls it, for over 50 years, hammering nails not just into canvases, but also, amongst other things, into door frames, chairs, shoes, television sets and record players.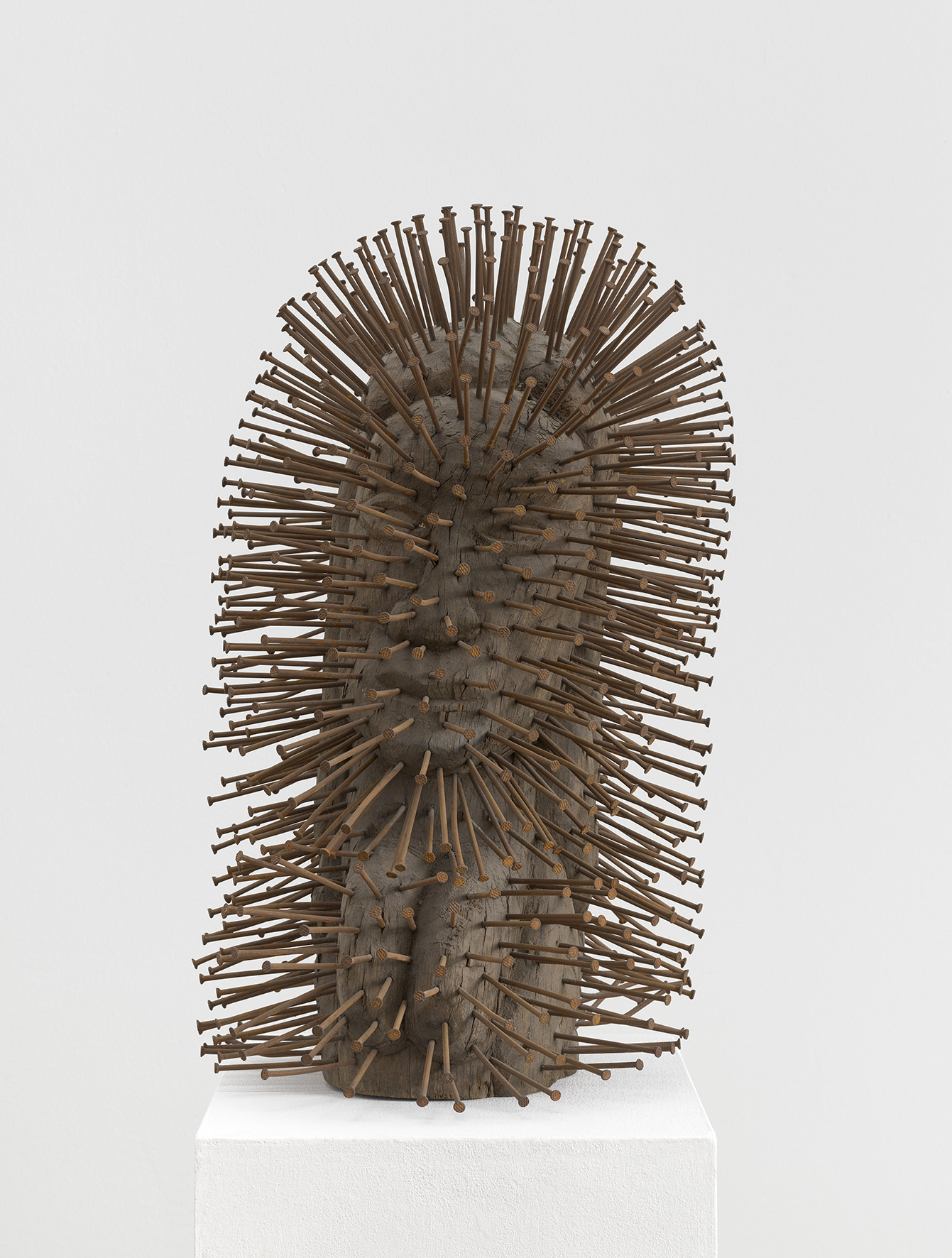 "Head"
The current work entitled "Head", is of particular importance in Uecker's œuvre, – it is placed in first position, listed as No.1, in Dieter Honisch's 1983 catalogue raisonné – as it represents a prime example of his recurrent use of every day materials, in the form of commonplace nails, in his work.
Günther Uecker often used ordinary, everyday objects into which to drive his nails, however for this piece he chose an exceptional object to work with – an old, wooden beam which, according to him, was sourced from a demolished barn in his native region. He transformed it into a sculpture – a female bust representing his sister Rotraut. It was created in 1955. He had left East Germany in 1953,  moved to West Berlin and took up his studies at the Art Academy in Düsseldorf two years later. It was also in 1955 that he returned to East Germany in order to collect his sister to bring her to the West. At first glance the "Head" does not appear to be a compelling representation of his sister, but, perhaps echoing the influence of African tribal art on the work of other western European artists, it offers a German interpretation of the depiction of indigenous subjects. In particular the nose, mouth and elongated form suggest this interpretation. The sculpture is reminiscent of African nail fetishes, where figures are also covered with nails, intended to protect against black magic or disease.
The effect of the nails, which create, as it were, a second surface layer above the wooden surface, depends on the perspective, or position of the viewer, changing and revealing different impressions with each movement. The bust can only be fully appreciated when regarded from different angles, and by rotating, lowering, and lifting the head.
Ultimately, it is for the viewer to decide the extent of the influence of African tribal art on the work. It was certainly not intended by the artist.
"There are obvious parallels to be drawn between the work of Uecker and that of Yves Klein, Newman, Rothko, Ad Reinhardt, and Beuys. The exceptional power of their works lies not only in their physical presence, but in the intensity with which they are presented to us, being offered to each of us for personal interpretation. Their special quality consists in this visionary openness, in their questioning search, based in strong beliefs, and also in their inability to provide obvious answers and ready solutions", writes Dieter Honisch in his catalogue raisonné.
Quite independent of an in-depth interpretation of the work and not withstanding his quotidian use of materials in his sculpture "Head", there is no doubt that this piece occupies an exceptional position in the œuvre of Günther Uecker.
AUCTION
Post-War and Contemporary Art, 25 November 2020
Palais Dorotheum, Dorotheergasse 17, 1010 Vienna
20c.paintings@dorotheum.at
Tel. +43-1-515 60-358, 386
View now the auction catalogue and read our new myART MAGAZINE