Pearls are regarded as symbols of wealth, wisdom and dignity, fertility, happiness and tears. The nature-made gemstones have been prized, sought after and in demand since antiquity. They are a constant in fashion, jewellery at its most feminine, and a prominent eye-catcher in important Old Master paintings.
Pearls in Old Masters' Paintings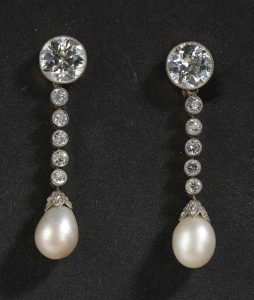 Jan Vermeer's "Girl with the Pearl Earring" (1665) is not only one of the artist's most celebrated paintings; it is also one of the few artworks to specifically mention its subject's jewellery in the title. The picture was historically entitled "Girl with a Turban," and it was only centuries later, in 1995, that a title change  was to make this single pearl famous. Despite this elevation in status however, there is in fact some disagreement among contemporary scholars as to whether the pearl-shaped ear pendant might actually be made of silver: pearls of that size and regularity have always been among the most valuable of jewels, worthy only of immortals or royalty and thus unlikely to belong to a simple girl as depicted in this painting.
Pearls in Antique Civilizations
Antique civilizations likened the pearl, hidden within an oyster shell, to a child growing in its mother's womb, and regarded it as fruit of the sea. It is considered the quintessential female accessory. Portraits and representations of noble ladies and goddesses, adorned and decorated with pearls, have been numerous and varied over the centuries.
a Symbol for Purity and Chastity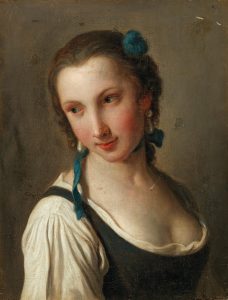 A portrait by Pietro Rotari (1707–1762) shows a young woman with a flower in her hair, glancing back over her right shoulder. The abrupt turn of her head reveals both earrings, which consist of round and drop-shaped pearls. Her hair is bound simply at the nape of her neck, drawing further attention to the jewellery she wears. The size and even shape of the baubles testifies to their high value, and they appear all the more striking against the sitter's clear-cut, otherwise completely unadorned clothing. The cool sheen of the pearls accentuates the young woman's delicate, porcelain-like complexion, making her appear carefree and pure. The effect does not seem unintentional, as pearls have always symbolised purity and chastity.
an Expression of the Wearer's power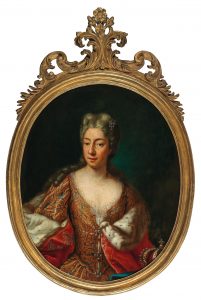 A painting by Maria Giovanna Clementi (1692–1761) shows pearls in a slightly different light: as an expression of the wearer's power and elevated social position in a portrait of Anne Marie d'Orléans, Queen Consort of Sardinia and Sicily, Duchess Consort of Savoy.
The monarch poses with diamond-studded jewellery in her hair. Her dress is a lavish, corseted, gold-embroidered gown adorned with buttons, diamonds, and pearls.
This type of devants de corsage – also known as "stomacher brooch" in English, – appeared as early as the Renaissance and became increasingly opulent by the end of the 19th century. Pinned at the centre of a woman's bodice, they initially served as fasteners before losing their practical purpose to become purely decorative pieces of jewellery. A typical feature of this kind of brooch is its triangular tapering towards the lower centre, further enhanced by drop-shaped, drooping pendulums that emphasise the wearer's décolleté.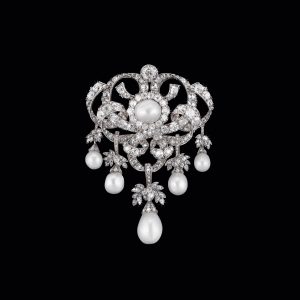 The value of natural or so-called oriental pearls is evident in their frequent use in the adornment of crowns and diadems. One such crown appears in this painting: richly decorated with pearls, it is almost discretely tucked at the bottom right of the painting.
Supernatural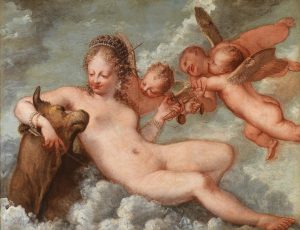 A nude Venus by Pietro Liberi (1614–1687) shows the pearl-laden Goddess of Love, in perfect supernatural form, Taurus and Libra at her side. The strings of pearls woven into the goddess's hair are even and uniform; they resemble a crown, a reflection of the wearer's sublimity and sovereign power.
Liberi's Venus is naked, yet the pearls signal her chastity and inviolability. The erotic depiction leaves no doubt as to her divine status.
Pearls: always a Classic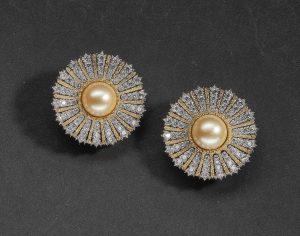 Pearls continue to be a mainstay among the women of Europe's ruling royal houses, both for official portraits and in the pearl-encrusted crown jewels worn on important ceremonial occasions. Discreet pearl necklaces and earrings are worn even on such informal occasions as sporting events, highlighting the gemstones' versatility and the many ways to show them to best effect.
AUCTION
Jewellery
30 November 2020