An Exhibition Review
Dorotheum proudly took on the role of headline sponsor in the exhibition "Colour Space Paintings and Outdoor Sculptures" in Houghton Hall from 25 March to 15 July 2018. 46 new paintings by Hirst from the series "Colour Space" were shown in public for the first time, along with some of the artist's most celebrated sculptures, which were installed around the house and gardens.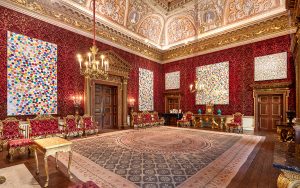 The show was carefully curated by Mario Codognato and the paintings were hung in the state rooms of this 18th-century mansion, deliberately occupying the spaces of the original Old Master paintings. The juxtaposition of the grand and elaborately gilded state rooms with the colourful and lively spot paintings made for a spectacular sight and cast a new light over the usually quiet and traditional demeanour of Houghton's Palladian architecture.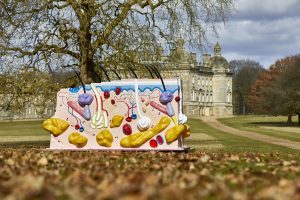 Houghton was built in 1722 by Sir Robert Walpole, Britain's first Prime Minister, and is known as being one of the best examples of Palladian architecture in the UK, showing off the talents of its architects Colen Campell and James Gibbs. In 1797 the house was passed to the Cholmondeleys through marriage. The family still live there now, opening it to the public regularly over the summer. They have built up an impressive collection of contemporary artworks, including pieces by James Turrell, Rachel Whiteread and Richard Long, thus creating a welcoming atmosphere for the contemporary works of Hirst. The exhibition marked the first time that the famed Turner Prize winner exhibited a significant body of work in a classical country house setting. This historic setting proved a success, complementing the themes of art, beauty, religion, science, life and death, explored in his exhibited works.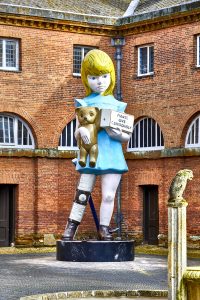 As one of the oldest auction houses in Continental Europe, Dorotheum has a strong sense of history and tradition, whilst also embracing the new through our engagement with, and sales in, modern and contemporary art. The opportunity to partner with Houghton Hall in an exhibition by Hirst that brought together the historic with the contemporary therefore proved to be the perfect fit, allowing us to further extend our support of cultural institutions and charitable organisations.
Find out more about the exhibition of Damien Hirst's work at Houghton Hall!