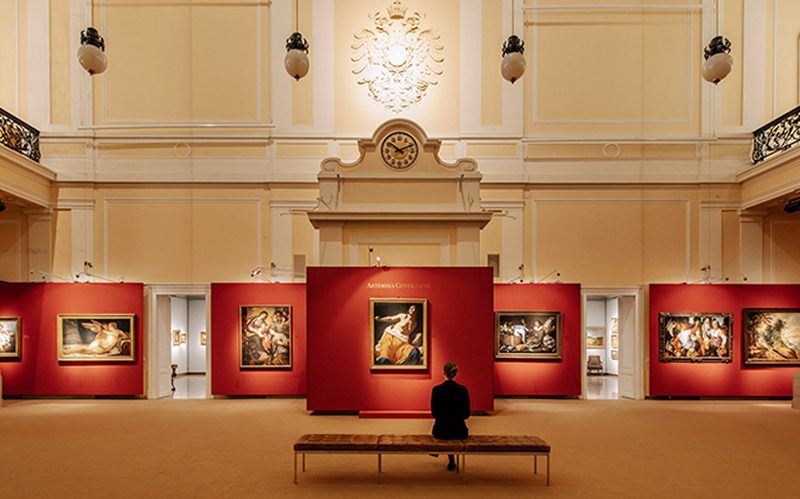 Old Masters, 19th century paintings and Imperial jewellery
Million Euro sales for Old Masters, great interest in 19th century paintings and wedding jewellery from Empress Elisabeth (Sisi) of Austria's granddaughter
The major autumn auctions at Dorotheum were extraordinarily successful and particularly exciting. The sensational week began on 23 October 2018, when a rare painting by the Italian Baroque painter Artemisia Gentileschi (1593-1654), Lucretia, achieved a sensational price of 1,885,000 Euro. The Portrait of a Nobleman with a Parrot  by Anthony van Dyck (1599-1641), exceeded the million Euro mark for the second time during the auction when it reached 1,425,000 Euro.
At the jewellery auction on 24 October, a telephone bidder purchased the historically significant diamond diadem (ca. 40 ct.) from the house of Habsburg, for 186,000 Euro. The wedding gift from Empress Elisabeth's favorite daughter, Marie Valerie, to her daughter Hedwig is a masterpiece by A.E. Köchert.
The auction excitement continued in the afternoon with 19th century paintings. Abram Jefimovich Arkhipov's portrait of a Russian peasant woman achieved a price of 442,000 Euro. The sale on 24 October became Dorotheum's most successful autumn auction of 19th century paintings.
Read the story behind the successful objects:
Take a look at the results: