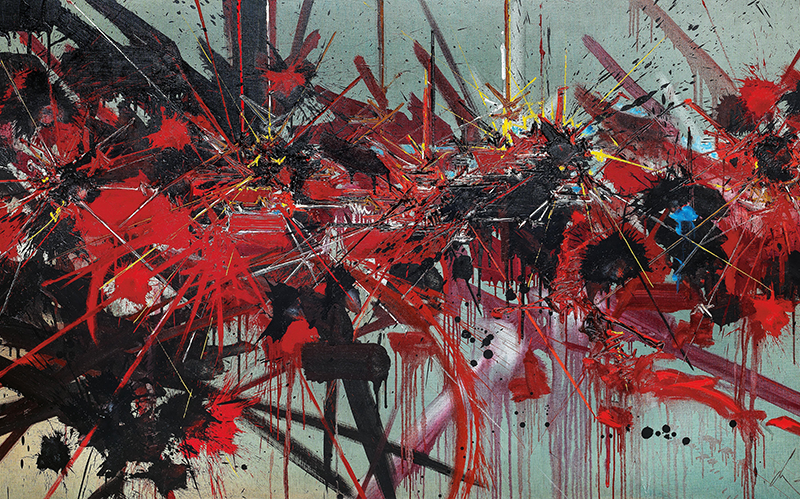 Colour, speed, improvisation – Georges Mathieu captures the moment of creation on canvas. A large-scale work from the painter's late career, a particularly fine example of his intense, vibrantly hued visual idiom was sold in June 2021.
French Informel
Georges Mathieu was one of the leading exponents of French Informel. His non-representational, impulsive paintings, which he himself described as "lyrical abstraction", are distinguished by vigorous, rapid brushwork, calligraphic lines, and the artist's method of squeezing paint directly from the tube onto the canvas without using a paintbrush. Immediacy and the act of creation were particularly important to Mathieu, a fact demonstrated not least by his frequent staging of "Happening-esque", live painting performances from 1954 onwards.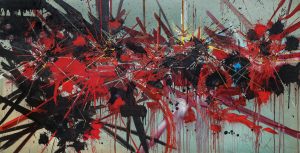 Mature Sensibility and Meticulous Precision
This large-scale painting showcases the mature sensibility and meticulous precision with which Mathieu's late work revisits the formal, gestural vocabulary he developed in the 1950s. Captivating in its dense composition, it strikes a dynamic balance between the centrifugal forces of its colour explosions and the painting's overall horizontal layout.
"Le temps a laissé son manteau"
The title "Le temps a laissé son manteau" derives from a poem by the medieval nature poet, Charles d'Orléans, about the arrival of spring. For his painting, the artist commands an abstract, contrasting palette of dark black and luminous red tones, against a grey-green background – an expression of the vitality and emotional intensity of spring. Scattered flashes of yellow and blue point to the reflections of sunlight and water described in the poem.
"Abstract art is the simplest and yet the most complicated of all arts. When a figurative painter makes a painting, he has in front of him the object or subject he is painting. He has time to reproduce it. He can go back to his canvas, correct it, judge the effect, compare it to the original, etc.

In abstract painting, and particularly in Lyrical Abstraction, the opposite is the case. The artist is in front of his canvas with nothing but his paint tubes and his imagination, no reference points, no rules. Painting is now no longer a question of reproduction, but of invention. It is both exhilarating and distressing. It requires an extraordinary amount of concentration. The artist goes in an instant from the deepest despair to the most insane euphoria. He experiences the purest form of exaltation, a profound emotion that the figurative painter will never know."
Georges Mathieu in "Nord-Éclair", March 1998
Patricia Pálffy, specialist for modern and contemporary art at Dorotheum.