The cluttered "baroque" forms of Soviet painting were replaced by the so-called strict style in the late Stalinist period around 1960. Artists of that period, above all Georgy Nissky, harked back to the aesthetics of the 1920s, striving for reduced forms, clear lines and free spaces.
Nissky's atmospheric painting style succeeded in combining two architectural eras in one picture: the Foreign Ministry building, one of the five famous Moscow skyscrapers, was built between 1948 and 1953, while the simple 21-story buildings in front of it were put up in the first half of the 1970s. The painting shows the phase when the right wing of the hotel had already been built and the left wing was still under construction.
The first owner of the painting, Leningrad architect Mikhail A. Bely, was the planner of the Akademgorodok district in Novosibirsk, founded in 1957, and was Nissky's brother in faith in terms of creative thinking.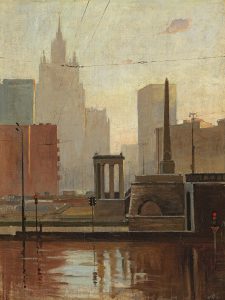 View now the auction catalogue and read our new myART MAGAZINE!