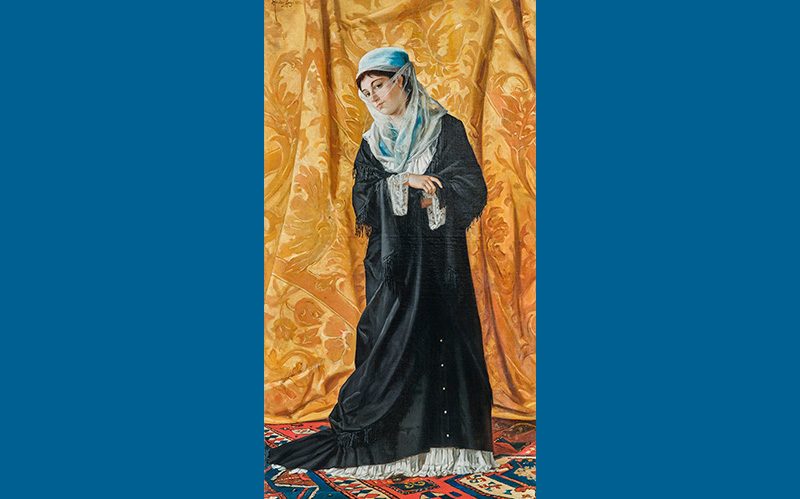 BETWEEN ORIENT AND OCCIDENT
During the second half of the 19th century, Osman Hamdi Bey shaped Turkey's cultural life like no other. The student of Gustave Boulanger and Jean-Léon Gérôme is regarded as the founder of modern Turkish painting. He did pioneering work as an art patron, museum director, archaeologist and protector of the nation's cultural heritage. On 23 October, his artwork "Dame turque de Constantinople" will be sold at auction at Dorotheum.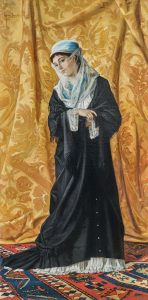 Executed in 1881, this magnificent painting is amongst Hamdi Bey's finest works. "Dame turque de Constantinople" shows a portrait of a lady who is looking directly at the viewer from behind a diaphanous oriental veil (yasmak). She wears an outdoor coat (ferace) over her dress (anteri). The dark colour suggests an attachment to traditional Turkish formal style. She is standing on a richly patterned Kazak rug, which may have been drawn from the artist's collection, with a richly gold-embroidered fabric in the background.
Hamdi Bey can be considered the first Turkish painter to embrace the Western style of painting. The present lot reflects both traditional Turkish values and the latest Parisian fashions. It was en vogue in contemporary Constantinople to order dresses in Paris or commission them from seamstresses in Pera, a district on the European side of the city.
Hamdi Bey was sent to study law in Paris from 1860 to 1869 by his father, the Grand Vizier Edhem Pasha, but broke off his legal training to focus on painting. He trained under Gustave Boulanger and worked in his studio. He appeared at the Paris Salon for the first time not as a painter, but as a model. Indeed, one of the two paintings exhibited by his master, Gustave Boulanger, at the 1865 Salon bore the title of "Portrait of Hamdi Bey". Hamdi Bey was admitted to the Salon as a painter the following year.
He was also greatly influenced by the academic painter Jean-Léon Gérôme. The young Ottoman artist studied Gérôme's paintings at the École des Beaux-Arts in Paris in the early-1860s, where the renowned orientalist painter was appointed Professor in 1864. Thus both Boulanger and Gérôme played a crucial role in Hamdi Bey's career.
In 1867, Sultan Abdülaziz visited the Paris Exposition Universelle, where Hamdi Bey exhibited three works for which he was awarded medals. He was one of the most highly regarded Turkish painters in 1860s Paris. He married a Frenchwoman, Marie, who accompanied him back to Constantinople in 1869. On his return from Paris he was posted to Baghdad to work under the newly appointed governor of the city. In 1881, Sultan Abdul Hamid II appointed him Director of the Ottoman Imperial Museum in Constantinople and, in 1883, Principal of the Imperial School of Arts, likewise in Constantinople. In 1882 Hamdi Bey established the Sanayi-i Nefise Mektebi (Academy of Fine Arts) to help Ottoman artists to study within Turkey rather than being forced to travel to Europe
Hamdi Bey continued to exhibit his works internationally and won numerous awards. He was an accomplished musician, a fine poet and writer, but also a renowned archaeologist. He discovered the so called Sarcophagus of Alexander at Sidon in the Lebanon in 1887, and it was subsequently shipped to Constantinople to be housed in the new museum building in the Topkapı Palace. The collection opened to the public in 1891.
Hamdi Bey dominated Turkish cultural life during the second half of the 19th century and can be considered the portraitist of contemporary Turkish life, as well as a bridge-builder between the Orient and the Occident.
A larger version of the present lot was offered at Sotheby's, London, on 30 May 2008. "Dame turque de Constantinople" has always been in private hands, hidden from public view.
INFORMATION about the AUCTION
Auction date: 19th Century Paintings auction, 23rd October 2019, 5 p.m.
Location: Palais Dorotheum, Dorotheergasse 17, 1010 Vienna
Exhibition: 12th October 2019 – 23rd October 2019
Contact: Gautier Gendebien is a specialist for 19th Century Paintings at Dorotheum.
View now the auction catalogue and read our new myARTMAGAZINE!
Watch now the video of the painting from Osman Hamdi Bey!