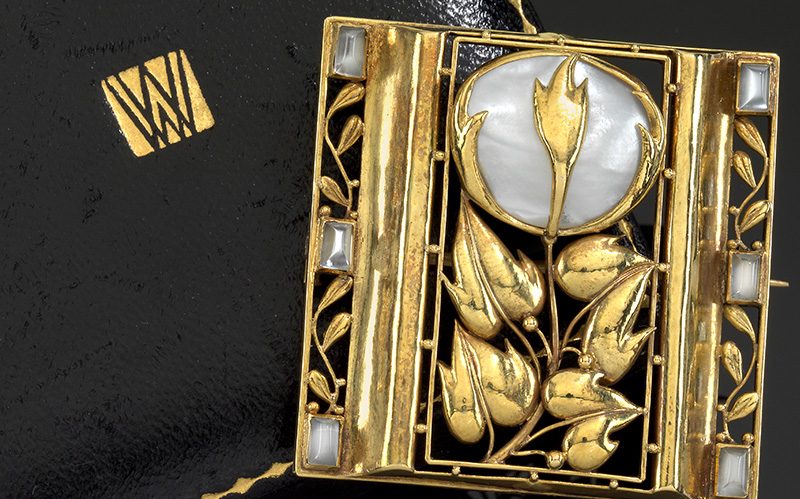 The upcoming Art Nouveau auction on 30 May 2018 at Dorotheum gives an insight into the work of great "Wiener Moderne" artists, such as Josef Hoffmann, Koloman Moser, Otto Wagner, Dagobert Peche or Michael Powolny.
Dorotheum specialist Magda Pfabigan talks about "Wiener Moderne" and the art of the Wiener Werkstätte, for example the brooch and necklace with pendant by Josef Hoffmann.
Blooming Brooches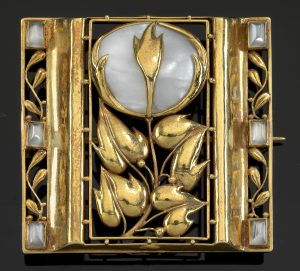 Pioneers of the Wiener Moderne: Josef Hoffmann and Koloman Moser 's early jewellery designs were still dominated by curves and highly stylised figurative motifs such as birds, bean pods, and fish. This started to change in 1904/05 when, in keeping with Wiener Werkstätte criteria for decorative arts, jewellery became more geometrical or even symmetrical , as in the case of Josef Hoffmann. The brooches' central motifs are characteristically nestled in frames, as exemplified by Hoffmann's stylised flower with heterogeneous petals. The brooch on auction features multiple frames, enhancing the sculptural character by integrating scattered pearlstrings into the bracketing system and through the use of moonstones and illustrious mother-of -pearl.
"Wiener Moderne" was a movement in literature, art, architecture and music that effectively defined Viennese cultural life at the turn of the previous century. A spirit of change and the avant – garde was embodied by four of its most significant protagonists, all of whom died in 1918: Gustav Klimt, Egon Schiele, Otto Wagner and Koloman Moser. A conversation with Jugenstil specialist Magda Pfabigan.
A conversation with Jugenstil specialist Magda Pfabigan.
What was the starting point of the "Wiener Moderne" in your view?
Vienna's "sacred spring of art" began in 1897, when approval was granted for construction of the Secession building planned by Joseph Maria Olbrich. For the first exhibition in 1898, the president of the artists' union, Gustav Klimt, and other members believed that "our art inexorably seeks different (and) true beauty in the purest moment of want". But in the context of an international balance of cultural power, Vienna established itself around the fin de siècle as the centre of a rather sceptical modernity that went hand in hand with cultural dissociation.
 Can you describe the Viennese tendency to the Gesamtkunstwerk?
In 1903 it was the intention of Josef Hoffmann and Koloman Moser, the artist founders of Wiener Werkstätte, to achieve a breakthrough for things that were practical, modern, and perfect in terms of craftsmanship. They made it possible in Austria to experience "Modernism" as a complete work of art. Widely diverse forms of expression followed: their creations were luxury goods for the grande bourgeoisie, but also an artistic commitment of an age that wanted to restore the unity of "art and life".
Is Modernism still relevant today?
How can industrialisation and the concept of beauty be reconciled?
Vienna at the turn of the century was a laboratory, a testing ground for Modernism. The fashion aspect of Modernism was a bonus, and it still is, namely in terms of subjectivity and individuality, in the availability of goods determined by money. Conflicts were addressed that would resonate throughout the 20th century, including, above all: What does beauty mean in an industrialising world? Is it a means of refining humanity or is the backward-facing historicist concept of beauty only an ornament that gets in the way of a fulfilled life?
These questions particularly manifested themselves in the architecture of Otto Wagner. What makes him so modern?
For a long time Otto Wagner championed the traditional concept of an architect: an educational trip to Italy was the architect's university, so to speak. His "other university" was the fact that he was building and selling the houses and artwork he had designed; he also lived in and used them in order to advertise them. He experimented. Can anything – and this marks his arrival to Modernism – be beautiful if it is not useful? This is where an ornamental Viennese project started, whose idea was to save beauty as part of everyday life, rather than in a detached niche.
 The ideal was to create a total work of art. To what extent did artists collaborate?
And what is still popular with buyers today?
There was a close cooperation between Moser and Hoffmann, Klimt and Wagner. Moser, for example, created the glass windows for Otto Wagner's Church of St Leopold. Furniture by Moser and Wagner is also highly sought-after, ideally in its original condition.
Is it possible to compare items from Kolo Moser and Josef Hoffmann on the art market?
Because Koloman Moser left the Wiener Werkstätte early in 1908, there are far fewer works by him than by Josef Hoffmann. Partly due to Moser's limited activity, the spectrum of forms changed from purely geometric to a more decorative and floral style. Demand for work by Kolo Moser and the prices they achieve are at least equal to those of Josef Hoffmann.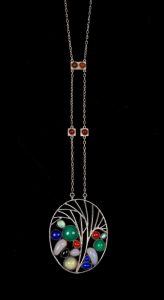 1918, the year when the most important protagonists of the Wiener Moderne died, is also a prominent year in the history of Austria. Is that a coincidence?
It is remarkable that four pioneers of the Wiener Moderne – Wagner, Klimt, Moser and Schiele – died at the same time as the protective cocoon of the Danube Monarchy. In his book "The World of Yesterday", Stefan Zweig praised those last years before the First World War, which ended in a catastrophic defeat for Austria and turned it from a major power into a petty state, as a power-based golden age of security. But this security also allowed room to manoeuvre, something that enriches international Modernism to this day.
The interview was conducted by Marie-Sophie Engel,
art historian at Dorotheum.
Magda Pfabigan has extensive experience in the field of museums and auctions. Since May 2017 she has worked at Dorotheum as a specialist for Jugendstil and applied art in the 20th century. She aims to put Jugendstil in an international perspective, while her research focus is on the Wiener Werkstätte.