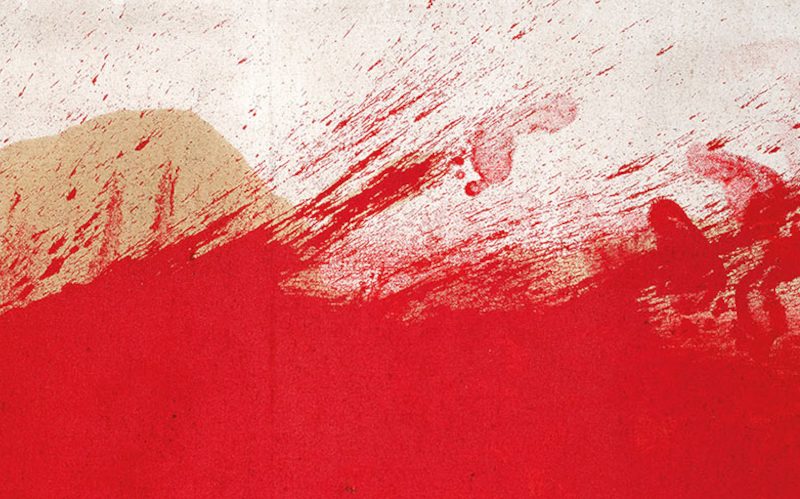 Hermann Nitsch (1938–2022), who died last year at the age of 84, received early international acclaim and scandalised the art world on a regular basis. His work occupies a key position in recent Austrian art – a fact reflected by serious interest among collectors. Works by Nitsch appear frequently at Dorotheum auctions of Contemporary Art.
A collection of the master's quotes was collated by Wolfgang Koch and published in 2008 by Wieser Verlag. The blurb reads: "Nitsch is a provider of all things sensual, a life-religious empath, emotive and charming, philosophically cosmic yet at the same time a devout atheist. The 'Rubens among the ascetics', as Günter Brus once referred to him, combines gentle dreams of transcendence with an uncompromising quest for the original excess." Hermann Nitsch was a leading figure of Viennese Actionism. For one spectacular action performance in 1962, he, Adolf Frohner und Otto Muehl were walled in for three days at the Perinetkeller in Vienna and then freed ceremoniously by the audience on the fourth day. It was a veritable scandal, but also the foundational manifesto for Actionism, and should be understood as a statement against the repressive social conditions of the age. Nitsch received international attention early in his career. He participated in documenta 5 in 1972 and documenta 7 in 1982. The Nitsch Museum opened in 2007 in Mistelbach, Lower Austria, and the Museo Nitsch in Naples has been around since 2008. In 1984, Nitsch was awarded the Austrian Art Prize for Fine Arts in 1984.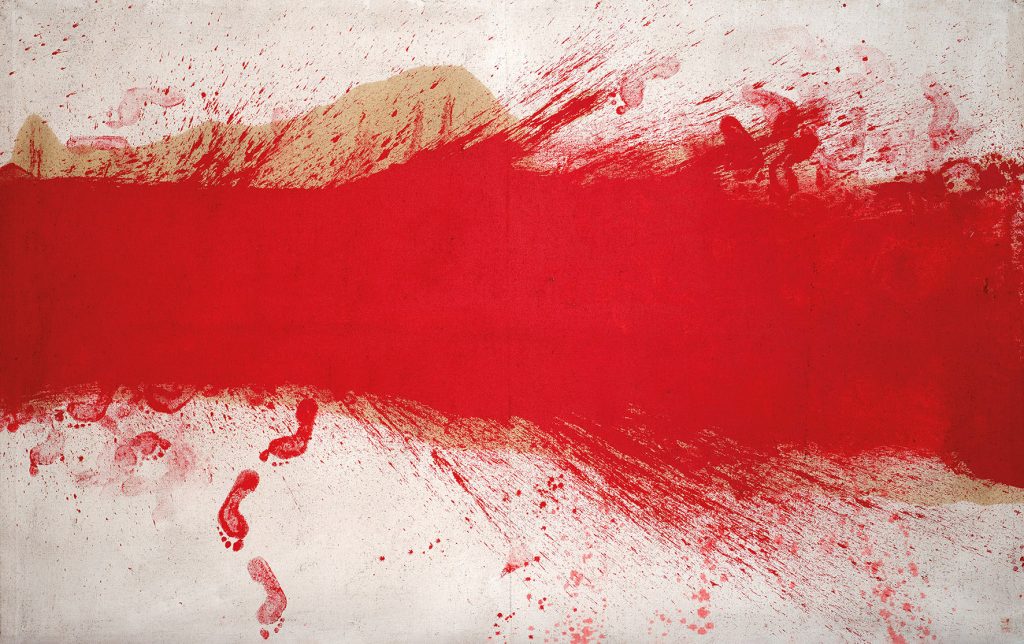 Many of his works are relics from action performances, which he designed and implemented according to a strict score. Major action performances, which could take several days, mainly took place at Prinzendorf Castle, located in the Weinviertel region in Lower Austria and purchased by the Nitsch family in 1971. Drama and gesture merge in Nitsch's works: a master painter aiming for synaesthesia and a total work of art, he created splatter paintings, as demonstrated by the traces of paint, and sometimes added a shirt worn during an action performance or during painting to the centre of the work. Gestural hand signals are discernible in the thickly applied paint. In later works, this thick paint replaced the (sacrificial) blood of his earlier paintings. The latter was supposed to help Nitsch, that engineer of existence and salvation, to transition into catharsis after the existential delirium in which he found himself during his "abreaction play", a concept partly based on paradigms from antiquity and designed with extreme precision. Nitsch called this process the Orgies Mysteries Theatre. It was an attempt to create a Gesamtkunstwerk, a total work of art, appealing to all the senses, involving blood and flowers, wine and music, life as a celebration, and staged by – as he defined himself – a "church painter without a church. And without religion".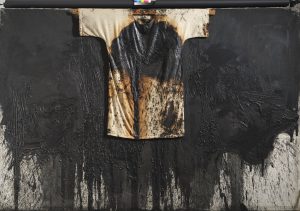 Later in his creative career, Nitsch replaced blood with red paint and added black to his palette, then other liturgical colours such as purple, yellow and green. In 2021, the artist made one of his dreams come true: he created a splatter painting stage design in Bayreuth for Die Walküre by Richard Wagner, another Gesamtkunstwerk artist in spirit.
Information: Elke Königseder, Specialist for Austrian and Eastern European Modern and Contemporary Art
Explore the auction catalogue now and read our new myART MAGAZINE!