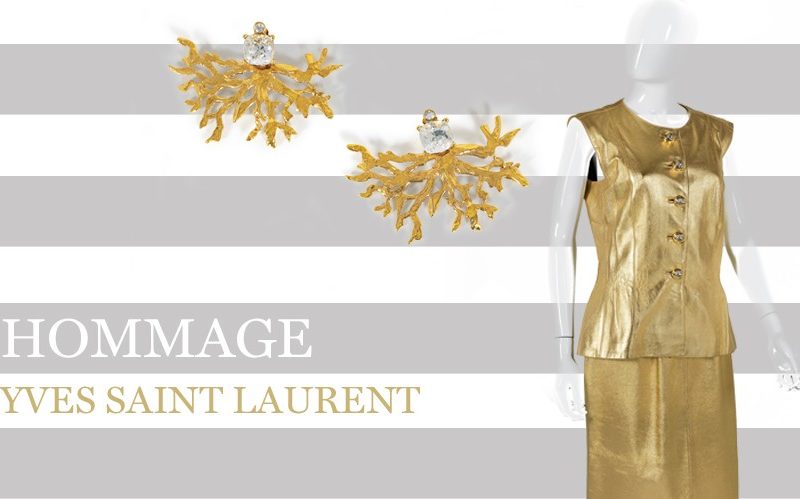 Yves Saint Laurent would have celebrated his 80th birthday on 1 August this year. As coincidence has it, Dorotheum's vintage auction, on Wednesday, 2 November 2016 includes a large collection of hauntingly beautiful and exceptional pieces from the 1990s Rive Gauche line.
"Why YSL? Because his designs are original, unconventional,  nonconformist and revolutionary."
Sonja Höpp
Yves Saint Laurent – very much like Coco Chanel – went down in history as a fashion icon. Both were fascinated by the female body and aimed to revolutionise couture, although their products couldn't be more different.
Saint Laurent started his career as assistant to Christian Dior. He established his own fashion label in 1961, a few years after his mentor's death, but relinquished control of it in the 1990s for
reasons of health.
Designed in the 1960s with the bold, modern woman in mind, "Le Smoking" suit is particularly worthy of mention. That was also the time when Saint Laurent started to expand his haute couture to include a prêt-à-porter fashion line, Rive Gauche. The colour gold runs like a golden thread through Saint Laurent's collections and has been an inspiration to the master's successors even many years after his death in 2008.
Yves Saint Laurent created the most beautiful appliqués and embroideries in collaboration with French couture embroiderer François Lesage. In fact, all major designers worked with Lesage in the 1960s, and his company is now part of the Chanel group.
__
Sonja Höpp and Regina Herbst,
specialists for Vintage and Historical Textile
Vintage auction
Wednesday, 2 November 2016, 1 pm
Exhibition from 25 October 2016
Palais Dorotheum Vienna