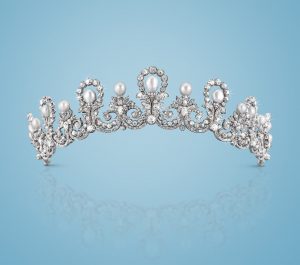 She was her mother's favourite daughter, the fourth and last child of Empress Elisabeth and Emperor Francis Joseph: Marie Valerie, whom Elisabeth nicknamed "the only one". Special jewels previously owned by the Archduchess will be auctioned at Dorotheum in Vienna on 27 November 2019.
A diadem set with 15 Oriental pearls and 25 ct. diamonds, and an equally magnificent corsage brooch – these two pieces impress not only with their diamonds, but also because of their numerous and extremely rare Oriental pearls, which were fashionable all over Europe at that time. They are a symbol of beauty, power and influence.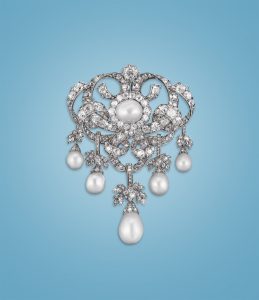 The descendants of Marie Valerie have presented these two extraordinary pieces of jewellery for auction. The two pieces are very special indeed, due to their extraordinarily well-preserved condition and their important historical provenance. They are estimated at 100,000 to 200,000 euros (diadem) and 60,000 to 100,000 euros (corsage brooch) respectively.
When Archduchess Marie Valerie married Archduke Franz Salvator of Austria-Tuscany in 1890, the jeweller A. E. Köchert was already a third-generation Purveyor to the Royal and Imperial Court and Chamber. He executed the corsage brooch in around 1890. Wilhelm Friedrich Haarstrick, who worked for the company until 1891 as an authorised representative and workshop manager, designed the diadem.
INFORMATION about the AUCTION
Auction date: Jewellery auction, 27th November 2019, 2 p.m.
Location: Palais Dorotheum, Dorotheergasse 17, 1010 Vienna
Exhibition: from 9th November 2019
Information: Astrid Fialka-Herics, expert for Jewellery at Dorotheum
View now the auction catalogue and read our new myARTMAGAZINE!
Watch now the video about the magnificent jewels!