BODY OF WORK
The pioneer of media art, VALIE Export was long misunderstood in her native Austria, on the international stage however, she attracted wide acclaim early in her career. DOROTHEUM myART MAGAZINE spoke to her about freedom and provocation, collecting and credit cards that get under your skin.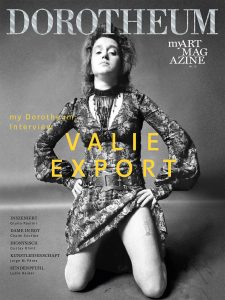 Dorotheum myArt Magazine: The cover of
this issue of DOROTHEUM's myART MAGAZINE shows a photograph from your 1970 series entitled "Body Sign", in which you pose for the camera with a garter tattooed on your upper thigh.
Can you tell us how this came about, and what was the idea behind it? Was there a specific plot or concept?
Valie Export: That photo came out of a so-called "body action"; the word "performance" did not exist at the time. I wanted to have a tattoo, an artwork on my body that would live as long as I would. You don't get to see it very often because most of the time it is hidden. That's why we did the photo series. It's some sort of body identity transfer: I am an artist, a human being, a woman carrying this artwork around, actually on my body.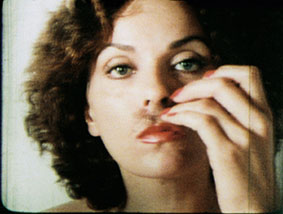 So, what would have been the next step,
perhaps an implant?
That reminds me of a scene in my 1986 film "The Perfect Pair, or Indecency Sheds It's Skin" in which a punter pays a woman standing at the bar by shoving his credit card under her skin.
Neither tattoos nor English titles were considered fashionable at the time. So why did you choose
"Body Sign"?
The term had crossed the pond from the US, where body art was already pretty common in Fluxus and in happenings. To be fair, Oswald Wiener also called a performance of the Wiener Gruppe a "happening", albeit in terms of something that "happens". Some trends occur globally, and then develop in individual directions. But the underlying perceptions and thought processes are similar.
Your famous garter tattoo symbolises suppression and enslavement. What became of the snake that you planned to have slithering across your stomach and up your neck?
The idea never materialised. In addition to the garter I was going to have a snake tattooed on my neck, and scraps of food near my mouth, as if I'd messed myself up eating. Everyone said: "For heaven's sake, everyone's going to think there's food around your mouth …!" But you know, things were done differently in the 1970s.
… and with the power of youth. Was it a sense of rage that fuelled you, or an exceptional pursuit of freedom? Or perhaps even a desire to provoke?
It was a mixture. It was actually a kind of rebellion.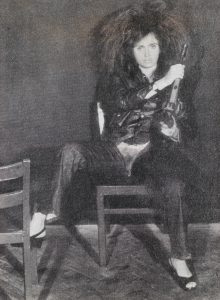 Tattoos weren't exactly the order of the day, but you broke taboos all the time, for example when you exposed your body in the "Tap and Touch Cinema" performance. How did you summon up the courage?
I don't know, it's difficult to say. I knew what I wanted, and I went ahead with it.
Later on in your career, as a professor of media art, what advice did you give your students?
Self-analysis is paramount! Listen to your inner voice: what do you want to do, and how do you want to do it? Also keep experimenting. I also made my students show their work at other art universities, which was always exciting.
You walked your former partner, artist Peter Weibel, through the streets like a dog on a leash; you posed with crotchless trousers brandishing a machine gun; you carried feminism to extremes … Who are the revolutionaries of today? Hackers?
I think the digital sphere offers plenty of opportunities because it's still unprotected in many ways.
The digital sphere pushes the limits of legality. What else leaves room for provocation?
Our art interventions were also illegal.
So, it was against the law to walk a man like a dog on a leash?
Well, it was a grey area. It was a time of social and political upheaval, but in spite of all the suppression there was a certain freedom of action. Could the "Tap and Touch Cinema" still be done today? I don't think so. The police would arrest me immediately for indecent behaviour. That never happened to me.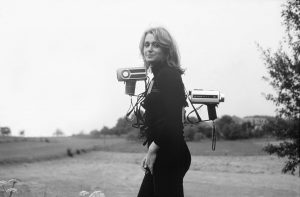 Speaking of freedom: from the 1960s to the 1980s, "expanded cinema" was a niche for female artists because, unlike the classical, male-dominated spheres of painting and sculpture, media art was still an unoccupied territory. Are there any niches left? And if so, where?
If anything, it's digital media. The Vienna Secession embraces digital media in its exhibition programme, featuring regular exhibitions that address the subject from a contemporary perspective.
You have worked in film all your life and have produced several feature-length films. What does "experimental" cinema, as it used to be called, mean today?
Experimentation holds less weight today; people want to get it right straight away. Back then, experimentation was everything. Every achievement comes from experimentation, even in science.
Which is the most agreeable film language to you?
That of Canadian experimental filmmaker, musician, and artist Michael Snow. His 1975 book "Cover to Cover" had a strong influence on my own aesthetics.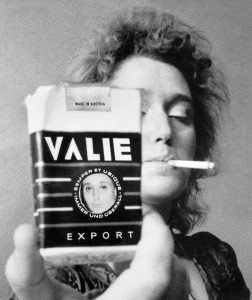 Your alias was inspired by a packet of "Smart Export" cigarettes, and you had it registered as a brand name. Where is the cigarette packet today?
In the Museum of Modern Art (MoMA), New York, and probably for good.
From a modern-day perspective, your signature photo is posed like a selfie. What is your take on the burgeoning selfie cult?
My photo was not a selfie! I started taking photos of myself when I was about 16, with a 'self-timer', as it was then called. But I understand why selfies are so popular today. You can post them immediately and get some in return.
Are you interested in the commercial side of being an artist?
Sure, it's part of the game. I watch the prices of contemporary art change; I check out who collects what kind of art … but I do it on the spur of the moment. I'm not watching it like a hawk.
Do you collect art?
I would have loved to buy international art 30, 40 years ago, but I could not afford it. What I could afford was to swap my work for that of other artists, and those pieces are now in my flat. This kind of exchange is an ongoing process, and I have quite a few favourite objects.
What is your connection to Dorotheum?
I've been coming to Dorotheum for years to look at art and read catalogues, and I sometimes buy jewellery.
Would you describe yourself as the collecting type?
Actually yes, I would. I have a large collection of historical and modern salt and pepper pots. These pretty little objects are easy to collect. They tell us a lot about their country of origin and its table culture. To use a pot, people need to sit together at a table, which makes a pot a very social and interactive object.
And finally, could you please describe yourself
with one word?
Anti-handsome.
Interview by Doris Krumpl, Dorotheum's press spokeswoman.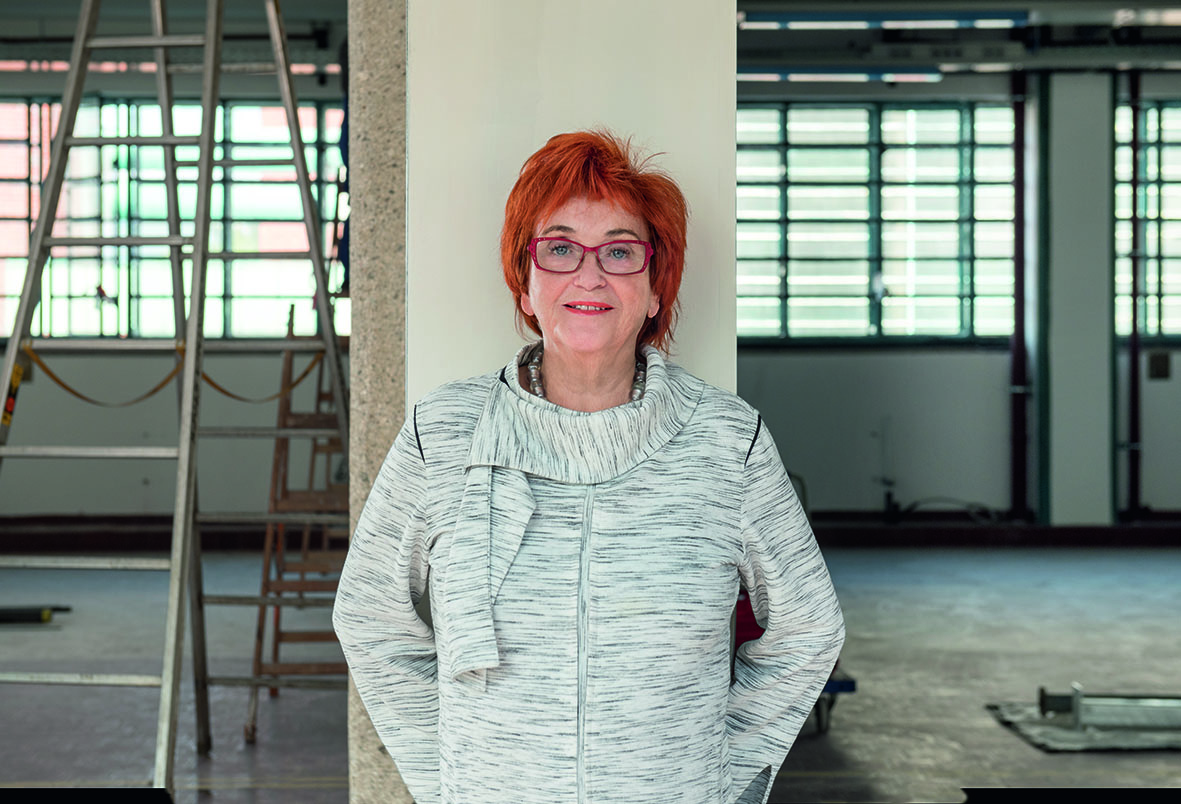 VALIE EXPORT
is one of the world's most important and influential pioneers of media art, performance art and cinema. Born in Linz, Upper Austria, in 1940, she has focussed on the intersections between art, feminist practise and theory since the 1960s. Her concept of "expanded cinema" attracted attention with body performances in public spaces, which include her "Tap and Touch Cinema". She derived her nom de guerre from a popular brand of cigarettes ("Smart Export") and had it protected as a trademark. Based in Vienna, she has taken part in documenta twice (1977, 2007), and has taught at arts universities in the US, Berlin, and Cologne. VALIE EXPORT has won numerous national and international arts prizes and awards. Along with Maria Lassnig, she was the first woman to represent Austria at the Venice Biennale, in 1980. The VALIE EXPORT Center Linz, a research centre for media art and performance art, opened in Linz in 2017.
Visit the exhibition "Hommage à VALIE EXPORT" until 10 January 2021
Lentos Kunstmuseum, Linz, in cooperation with the VALIE EXPORT Center