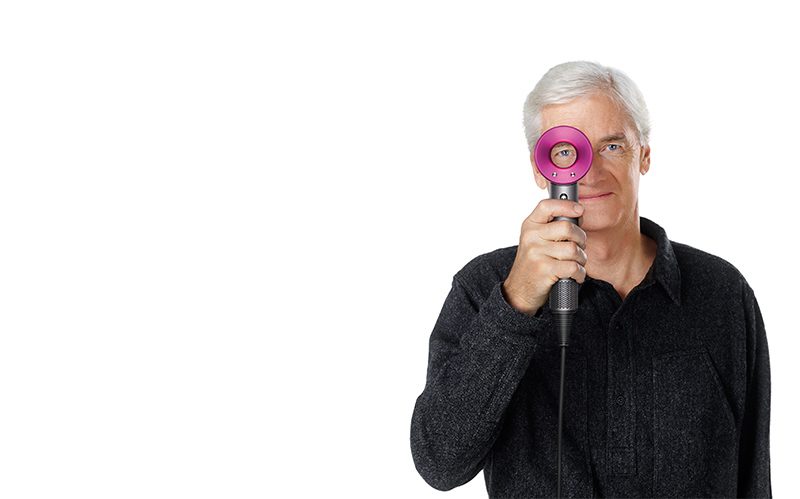 Inventor, entrepreneur, art collector
Meet the man who breathed new, profitable life into the vacuum cleaner, hand dryer and hair dryer industries: inventor Sir James Dyson, mastermind of the eponymous global technology company, speaks to Dorotheum myART MAGAZINE about his passion for painting, the beauty of a Harrier jet and failure as opportunity.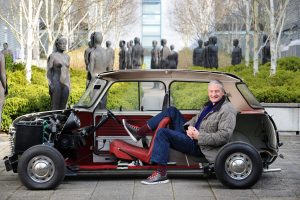 Children often express a desire to be inventors when they grow up. Very few actually achieve this goal. Why is that, in your opinion?
Children have limitless imaginations. In a way, they are already inventors, constantly coming up with ideas – so it's a career that really resonates with them. But as they grow up and attend school, children start to see boundaries where none existed before; they're given rules that strip away their creativity. The idea of a career in invention suddenly seems impossible: too technical, too difficult, too dull. That is why I set up my charity, the James Dyson Foundation: to challenge perceptions and encourage young people to become engineers. The foundation also runs the James Dyson Award, which encourages young people to come up with creative solutions to everyday problems.
What did you dream of one day becoming when you were a child?
I always took great pleasure in painting. I hadn't the foggiest inkling of what career I wanted to pursue, and so instead, I followed my passions – despite the disapproval of my careers adviser, who was determined that I would become an estate agent!
What role models made a particular impression on the young James Dyson?
During my first year as a student at the Royal College of Art I listened to Anthony Hunt, the designer of Waterloo station. He enthused me with the building of bridges, cantilevered beams and the theory of structure. It was Anthony who introduced me to one of the engineers who were to most inspire me: Buckminster Fuller, pioneer of the geodesic dome. Mocked as a "dreamer" in his early career, Fuller's determination to pursue his ideals – even when they flew in the face of conventional wisdom – made a lasting impression.
You rate curiosity higher than experience. Your engineers are 26 years old on average. What essential qualities do young people bring to the table?
At Dyson we encourage a wrong-thinking attitude, so we can challenge the frustrations that you find with already existing designs. Young people embrace that wrong-thinking attitude – they haven't learned or been told what is right or wrong. I have a brilliant team of over 3,000 young and bright engineers around me; half of them are in the UK. Recruitment is already underway for a new cohort of engineers to broaden Dyson's world-leading electronic motor research projects, robotics and electronics research programs, and to increase research into noise-cancelling acoustic technologies.
What is your personal recipe for keeping curiosity, openness and naïveté intact over time?
Failure! At Dyson, we encourage failure, which gives our engineers the opportunity to be bold and creative with their designs. We steer away from creating a stringent environment which could limit the design process, and we adopt a relatively flat structure within teams to encourage collaborative thinking.
Can you explain the deeper purpose of the black and red books that engineers receive when they join the company?
On one part, it is to keep our secrets secret. In 2014, we invested £ 1.5 billion in future technology. Dyson holds over 3,000 patents for more than 500 inventions. We need to ensure that our technology is kept secret until we are ready to reveal it to the world. The black and red books are one tiny element of this process. The books are never taken off-site and are stored securely in an archive – even dating back to the development of DC01. However, inspiration can stem from anywhere at any time. My idea to re-design the vacuum cleaner stemmed from frustration, but the solutions can emanate at the most unexpected times. I want to make sure that when my engineers have ideas, they can capture these straight away.
Artificial intelligence, i.e. robots, are regarded as the next big thing. Stephen Hawking has warned that machines may well overtake humans as the predominant "species" in the near future. Do you agree? And does the prospect worry or frighten you?
Our focus is on developing disruptive technology that solves problems which others often ignore, and we have a positive outlook on what's to come in the future.
You merge design and engineering. Which inventions or commercial products of modern and historic designers, aside from the Range Rover and Moulton bikes, have made a lasting impression on you, perhaps even inspired you?
Each year we open up the James Dyson Award, an initiative designed to encourage young people with pioneering designs to showcase their ideas. Every year we see some remarkable entries – from simple initiatives to more complex projects – with one overarching brief: to design something that solves a problem. In 2014, I was introduced to an inflatable incubator, designed to decrease the number of premature child deaths in refugee camps. Its design is simple, inexpensive and life-saving – a beautifully simple solution to a problem.
You are a passionate art collector. What do you look for in works of art? Do they have to meet both functional and aesthetic requirements?
Art is always beautiful in its own right. I am a big fan of the works by David Hockney and appreciate the beauty in a painting. However, art does not always have to be seen in a picture. At the headquarters in Malmesbury, we are surrounded by unique and pioneering design icons. We have a Bell helicopter located directly outside the front of the building and a Harrier jet inside to inspire my team of engineers, all of which I deem art.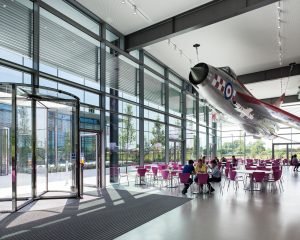 Does art in any way inspire your work – l'art pour l'art, as opposed to functional design? What value do you place on handcraft?
At Dyson we consider something beautiful only when it works properly. You quickly fall out of love with something that's easy to the eye, but doesn't do the job. Our approach to design values function over form.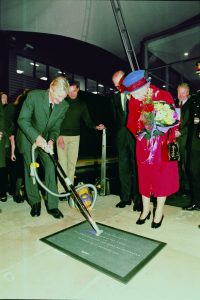 Sir James Dyson
is a world-famous inventor, designer and engineer. Born in 1947 in Norfolk, UK, the keen art lover completed an engineering degree at the Royal College of Art in London. Dyson had his first big success with the bagless vacuum cleaner (Dual Cyclone technology). It went on sale in 1993 – after 15 years of development and around 5,000 prototypes. Dyson, who also collects art and design, describes his path in "Against the Odds", his autobiography published in 1997.
The company's headquarters and development division employing more than 3,000 engineers and scientists located in Malmesbury in South West England. Thanks to his family business, which allows him to plan long-term and invests a large part of its fortune in research and development, the "king of failure" is one of the 1,000 richest people in the world.
myDorotheum: myART MAGAZINE Cover-Stars – more Interviews: