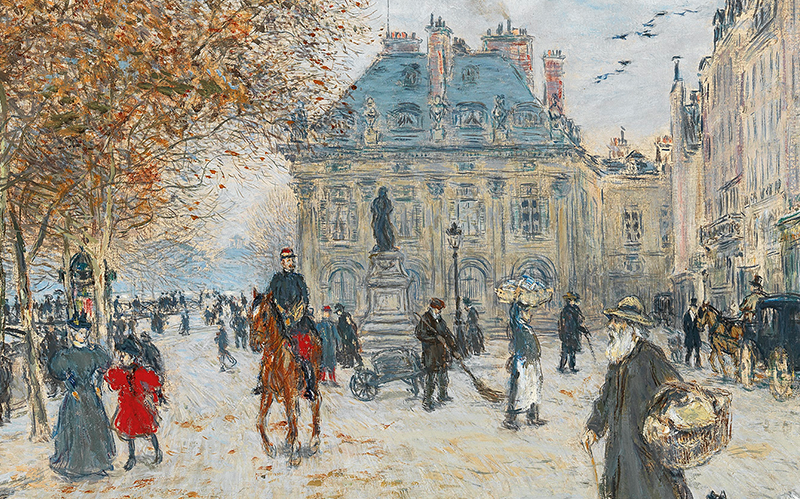 Jean François Raffaelli (1850–1924),Quai Malaquais, Paris, oil on canvas, 71 x 81 cm, estimate € 50,000 – 80,000
Parisian painter Jean-François Raffaëlli (1850–1924) counts among the city's most unusual chroniclers. As early as 1875, the self-taught artist made struggling street dwellers his subject. His exaggerated, almost caricaturing line amounted to a symbolic, consciously anti-romantic language for depicting their poverty-stricken lives. This new, psychologising approach – which had parallels in the literary naturalism exemplified by Émile Zola – brought Raffaëlli tremendous acclaim in his day. Champions of his work included Edgar Degas, who recognised the crucial shift in perspective from purely depictive realism and enabled Raffaëlli's much-lauded contributions to the Impressionist expositions in 1880 and 1881. In 1889, Raffaëlli shifted his attention to street scenes in Paris. His work effectively captures the very specific atmosphere of a public setting, infusing otherwise static, purely pictorial scenes with a vibrant dynamism to convey the transience of the moment.
Quai Malaquais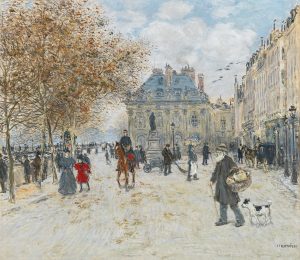 The Quai Malaquais scene is a newly-discovered, very special example of Raffaëlli's Paris documentation. We see Voltaire's statue, erected in 1885 and destroyed in 1941, and the sumptuous façade of a wing of the Collège Mazarin. It is autumn; the image is bathed in a light, bluish-brown tone. Leafless trees and a number of figures are sketched with dynamic brushwork and a quick, nervous stroke, heightening the distinct feel of bustling, workaday life in the French capital.
Little city guide
In the corner of the painting is a little dog with black and white spots. Still an eye catcher, the canine is a kind of painter's signature that appears in almost all of the artist's urban Paris paintings, often in the company of the old man. He is like a little city guide, eager to take us on a tour of Paris's many dazzling sights.
View now the auction catalogue and read our new myART MAGAZINE