All You Need Is LOVE
The story of Robert Indiana's iconic pop-art 'LOVE' lettering
LOVE – the letters of this word, arranged in a square by the American artist Robert Indiana, have become an icon of pop art and can be found practically everywhere, even outside the art scene. Indiana designed LOVE in the form of paintings, sculptures, screenprints and even as a carpet. Love apparently knows no bounds, but in some cases it does: different countries even have their own versions of LOVE, like Germany's black, red and yellow variant, America's blue, white and red version, or one with Hebrew characters. This motto and symbol of the hippie generation also adorned a US stamp as early as 1973.
The origins of this incredible global success lie in a small-format commissioned work.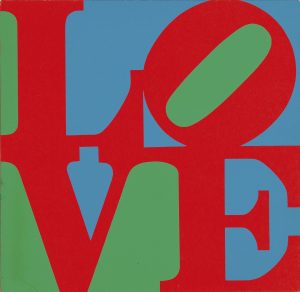 In 1964 or thereabouts, Indiana was commissioned by MoMA/New York to design a Christmas card. He came up with the LOVE motif in three small paintings, with the red, blue and green variant selected to be made a reality using the silk screen printing process. The great success of this card prompted Indiana to print a larger edition, which was followed by numerous variations on it.
'God is love' was the only decoration in the church that Indiana frequented as a child. According to Mental Floss Magazine, this was one inspiration behind the characteristic design, alongside the sign at the '66 Gas Station' where his father worked. Indiana told the magazine that the original colours of his legendary work were 'the red and green of this shield against the blue sky' of the US state of Indiana. In fact, Indiana is his pseudonym: Robert Indiana was originally called Robert Clark.
His legendary lettering, synonymous with the decade of (free) love, received its counterpart in the 1980s. The Canadian artist group General Idea paraphrased LOVE into AIDS. Gran Fury, a group of artists and AIDS activists from New York, even changed the text to RIOT in Indiana's style in the face of discrimination against AIDS sufferers. In 2008, to mark the American presidential election, the artist himself modified LOVE into HOPE, 'love's close relative (Indiana)'. He donated the income from this version to the democratic party.
The LOVE sign was also sometimes satirised or adapted by musical groups.
Who would have thought that something which started off as a Christmas card would travel all the way around the world, over and over again?
INFORMATION about the AUCTION
Due to the current corona situation, viewing and bidding on the works is currently only possible online on the Dorotheum website.
Auction date: 24 March 2020, 2 P.M.
Exhibition: online: www.dorotheum.at
Bidding: online: www.dorotheum.at
Information: Raphael Achterberg, Specialist for Modern and Contemporary Prints, raphael.achterberg@dorotheum.at