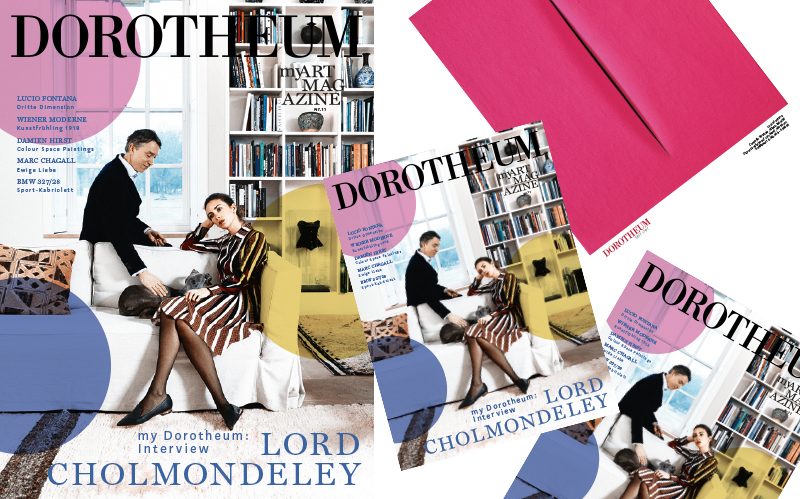 Issue number 11 cuts striaght to the point!
Wiener Moderne
No period has had a more pronounced and lasting impact on Austrian arts and culture than Viennese Modernism. 2018 marks the 100th anniversary of the deaths of Egon Schiele, Gustav Klimt, Otto Wagner and Kolo Moser. It seems only fitting that Viennese Modernism is the principal theme for this issue of Dorotheum's myART MAGAZINE.
Contemporary Art meets tradition
In much the same spirit, albeit a different context, our cover story demonstrates that merging the old and traditional with the art of today can be a fruitful exercise that sheds a new light on both. With site-specific contemporary installations, avid art collectors Lord and Lady Cholmondeley have managed to transform Houghton Hall. The noble country estate with 400 years of proud history to its name, has become a highly stimulating exhibition space.
Pink and green
Lucio Fontana created spaces and new dimensions in art, read more about two of his Concetti Spaziali in pink and green.
Celebration of the Old Masters
A closer look at the painting by Pieter Brueghel II, which shows the traditional feast of the Bean King.
Diamonds are not only for royalty
Specialist Astrid Fialka-Herics visited the Esterhazy Castle with its impressive collection of jewellery.
A BMW-auto-biography
The BMW 327/28 Sports Convertible from 1939 has quite a life history, but it is the first time that the car will attend a competition, namely the Dorotheum Oldtimer auction on 23 June 2018.
We hope you enjoy reading!
Click the button to read on!
myART MAGAZINE online
Take a look at the content!