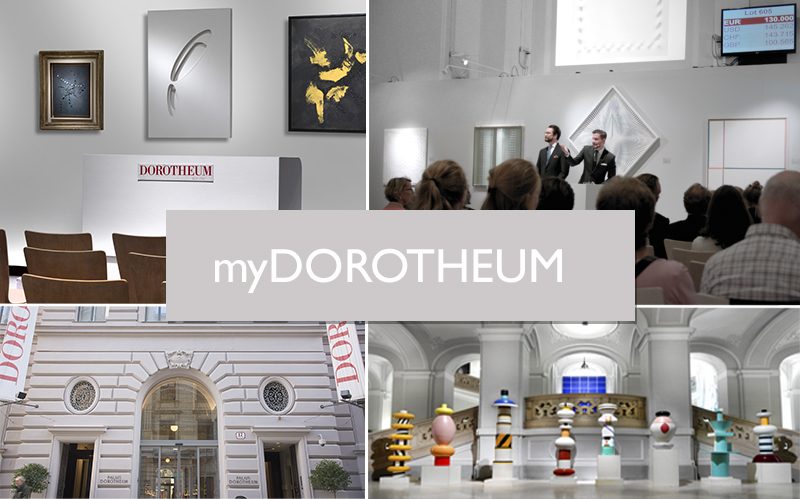 Enjoy your individual advantages
Our client area myDOROTHEUM makes it possible for you to receive information about Dorotheum's auction offerings, in a manner that is individually tailored to your needs.
Registering with myDOROTHEUM is free of charge and allows you to benefit from the following functions:
Targeted notifications concerning your areas of interest

Whether you are interested in contemporary art, jewels, old masters, design or antiques, Dorotheum offers a broad spectrum of departments. You can input your interests during registration in order to receive specific information (in the second registration step).
Of course, you can also change your interests, or add to them, at any point.
What are your advantages?
You will automatically receive e-mail notifications concerning the areas of interest you selected:
Catalogue: as soon as an online catalogue is published on our home page, you will receive a notification by e-mail
Newsletter: Updated information tailored to your specific interests
Dates of auctions: in good time before an auction of items in your field of interest, we will remind you about the date of the approaching auction
Auction results: we let you know when the results of an auction are published online
Followed objects: a few days before an auction, we will remind you that an object from your watch list is coming up for auction
Targeted search for your favourite objects
With the help of the myDOROTHEUM search function you can target your search for items of interest to you. All auctions and item descriptions are automatically searched according to the search terms you enter.

A special feature

You can save any number of searches in your search profile after you have registered, so that your search remains active.

If an item is added which matches your search criteria, you will automatically be informed – you will receive an e-mail notification with a link to the item. In this way you are able conveniently to keep an eye on what we have to offer, you save time and can rely on never missing an item.
Personal myDOROTHEUM client account

My client account is an additional function in your myDOROTHEUM account. Once it has been successfully activated, My client account gives you the possibility to call up the following daily updated information online any time:

your Dorotheum consignments
purchases
absentee bids
payment information
subscription catalogues

In addition, you can conveniently place online absentee bids: information given at registration will be automatically entered into your bid.

Besides live auctions, several online auctions also take place. You can view many of the art objects on offer in the exhibition rooms at the Dorotheum. Dorotheum's online auctions offer collectors art objects from as many as 30 categories, such as jewellery, watches, furniture and paintings.
Registering with myDOROTHEUM will enable you to do the following:
monitor objects (enter the objects in which you are interested in your account)
participate in online auctions (for this function, too, a separate activation, including proof of identity, is necessary)
We look forward to welcoming you to myDOROTHEUM!