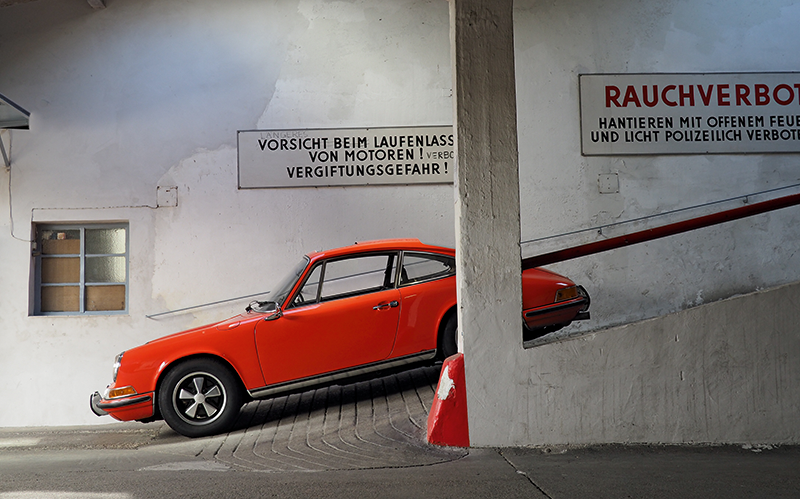 Vienna's Apollo Garage, founded in 1931, is still going strong. For decades, it was home to its owner, Kurt Weber's most prized possession, tangerine-coloured Porsche 911E Sport Classic.
It is hardly a coincidence that garage-owner, Kurt Weber's entire 90-year long life revolved around cars. His father Eduard Weber was a partner in Austria's largest Steyr Automobile dealership, Weber and Rühl. In 1931, the year of Kurt's birth, Eduard founded his own Steyr dealership in Apollogasse in Vienna's sixth district and named it after the street – Apollo Garage. The term "garage" sounds somewhat humdrum these days, but it made perfectly good sense back then. In 1930s Vienna, having a garage space for your car was a formal prerequisite to the exclusive privilege of owning a car. The city had not been built to accommodate cars and finding a proper parking space constituted a practical problem for which Apollo Garage provided the solution.  The firm offered permanent garage space for cars of all brands and marks, and in addition, offered repair and maintenance services.
Still Standing
World War II and its aftermath took its toll on the garage. Most of the workshop tools and machinery disappeared during the years of German, Soviet and American occupation and the Apollo Garage was only returned to the family's control in October 1955. Steyr no longer manufactured cars and by now Eduard had fallen ill. The ailing business was passed on to young Kurt however, and began to thrive once more. The automobile industry had picked up from where it left off before the war: bringing freedom of movement to the masses. The momentum of the business was so great that Kurt Weber was even able to put down the money for a Porsche Cabriolet for himself, to celebrate his 30th birthday. With 90 horsepower under the hood, it fully lived up to Porsche's powerhouse reputation at a moment in time, when road speed had become the number one passion among the privileged classes.
As time passed, Kurt Weber added to his collection, acquiring a Coupe for racing in 1962, and in 1965, the brand new 912 model. When Kurt turned 40 in 1971, he crowned the small Porsche collection with a tangerine-coloured 911E Sport Classic with a 2.2 litres engine and electric sunroof. He waived the options for superfluous extras such as radio and headrests.
His Greatest Treasure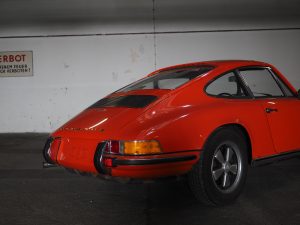 By then, Kurt Weber had become president of Vienna's Porsche Club and treasured his 911 as a priest would a holy relic. His two sons still have fond childhood memories of roaring down the highway in the 911. Kurt at the steering wheel, dog and grandmother in the backseat, heading for Istria and the annual family holiday. They have no recollection, however, of ever being allowed to take it for a spin themselves.
Porsche, of course, would go on introducing new and more fancy models at a steady pace, but the 911 was and remained the four-wheeled love of Kurt's life. Right up to his very last day at work, he would arrive at the garage's office every morning wearing a grey suit and necktie, his thinning white hair immaculately combed. A few metres beyond the office, prudently blanketed and locked away in a closed garage parking space, the 911 was kept in mint condition. Inevitably the passing of time took its toll on the owner, and the outings with the 911 had gradually became fewer and fewer, but the car's good looks never diminished. Kurt Weber and his beloved car only just missed their 50th anniversary together. On a cold winter's day just before Christmas, Kurt Weber died at the age of 89. With the Apollo Garage, he left behind not only an institution in Austrian automotive history, but also a Porsche 911E which is every bit as unique as the garage and its long-time owner.
Wolfgang Humer is Dorotheum's Classic Cars expert.