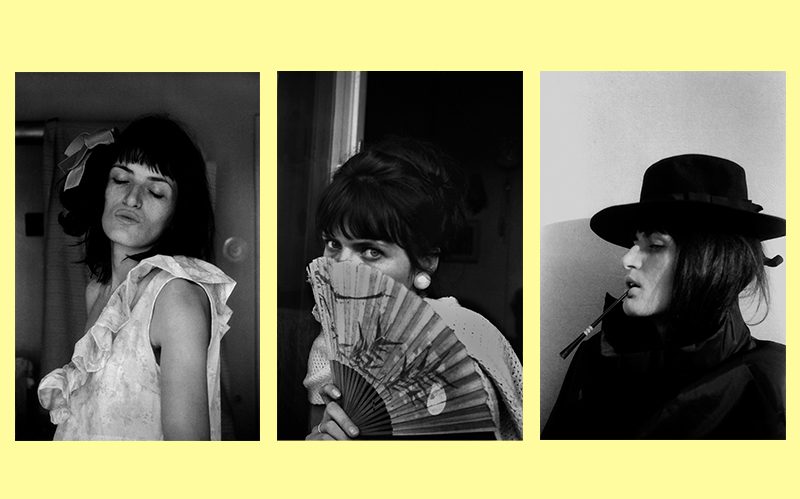 BALANCING ON A KNIFE'S EDGE
Artist Renate Bertlmann employs humour, intellect and cheerfully decorated condoms to turn prevailing gender relations on their heads. Queer issues have been part of her repertoire since the 1970s. With the support of Dorotheum Renate Bertlmann is representing Austria at the Venice Biennale 2019. by Nina Schedlmayer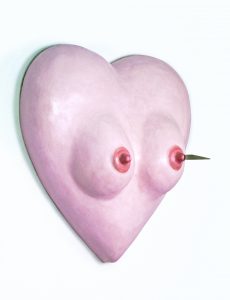 Is it possible for an artwork to seem both aggressive and, well, kind of cute at the same time? Indeed. Renate Bertlmann's "EX VOTO" from 1985 actually manages this tricky balancing act. The piece sports two breasts rising from a heart-shaped torso that resembles the sticky gingerbread hearts offered at Christmas markets. A threatening knife protrudes from one breast, its blade pointing squarely at the viewer. In this case it isn't the female body that is threatened with physical harm, but rather the lustful male gaze directed at it.
Bertlmann made a similar precursor to the famous piece, a work she called "Messerbrüste" (Knife Breasts), and not every viewer found it funny. "Men felt threatened, and women described the piece as anti-feminist because of its perceived connotations of masochism and self-mutilation. They couldn't see that the aesthetic construction demanded a knife inserted in the breast as a means of rejecting its designated role as a fetish and object of desire", as the artist herself put it in a 2015 interview with Gabriele Schor, director of the SAMMLUNG VERBUND Collection. "Messerbrüste" doesn't just spurn erotic desire, it does something more, something often seen in Bertlmann's work: it turns the tables on prevailing relations. When the Viennese artist presents knife blades cloaked in colourful condoms, carts penises the size of bread loaves through exhibition halls, or appears to masturbate next to a mannequin doll, androgynously dressed in a dark suit, she effectively transgresses and challenges traditional gender roles.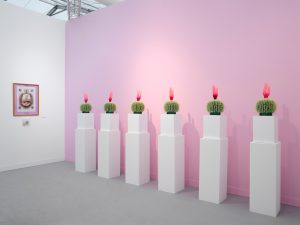 Later this year, Renate Bertlmann will become the first female artist to occupy the Austrian Pavilion at the Venice Biennale with a solo exhibition of her humorous, yet highly critical art. The 74-year-old performance artist, photographer, film director, illustrator, object and installation artist was handpicked for the Dorotheum-sponsored commission by Felicitas Thun-Hohenstein, curator and professor at the Academy of Fine Arts Vienna. Bertlmann herself often uses the term "the aesthetics of risk" when describing her own work, explaining it as "an artistic language that takes the risk of being misread into account and advocates a category-defying vocabulary, within which aesthetic and conceptual potentialities merge on a knife's edge". For the Venice exhibition, Bertlmann and Thun-Hohenstein selected a number of pieces from Bertlmann's existing body of works while also adding a newly conceptualised two-piece installation, the details of which are still shrouded in secrecy.
The selection process itself appears to be rather sprawling. "We have looked at more than 4,000 works by Renate Bertlmann in the past few months, hatching innumerous exhibition concepts along the way. The majority of this vibrant archive of works has never been exhibited before. It's a huge project", says Thun-Hohenstein.
Bertlmann has been working on her oeuvre for more than five decades, mostly quietly and without much fanfare. Her works hardly ever reached the market. Galleries have discovered her only in the past few years – Galerie Steinek in Austria, Richard Saltoun Gallery in London. Vienna Actionism still dominated the Austrian art scene in the 1970s when Bertlmann developed her artistic expression, and gestural-abstract painting was par for the course. It was difficult for female artists to break through at all, even more so for explicitly feminist artists such as Bertlmann. She was largely ignored by major Viennese museums, although her works from that period clearly show her international relevance. Other artists who went on to garner considerable international acclaim were equally preoccupied with male sexuality at the time: Lynda Benglis posed naked with a dildo in one hand. Judith Bernstein drew massive erect penises. Louise Bourgeois made a series of male reproductive organs cast in bronze. In other areas of her work, Bertlmann was a true pioneer. Her photographic series "Verwandlungen" (Transformations) from 1969 shows her posing in various roles: the romantic flower girl, the femme fatale with a Chinese folding fan, the laid back flapper. In the 1980s, artist Cindy Sherman would secure worldwide fame with almost identical self-staging photographic works.
It took a while for Bertlmann to receive the deserved recognition in Austria, but she was exhibiting her pieces internationally as early as the 1970s. In 1978, she participated in an exhibition of international feminist art at Amsterdam's Stichting De Appel alongside the likes of Benglis and Hannah Wilke and in 1980 she was invited to perform at the legendary New York performance space Franklin Furnace. She performed "Sling Shot Action", a piece in which she attacked two rubber dolls with a sling shot made of dildos. Something she described as an "ironical genesis". According to Felicitas Thun-Hohenstein, Franklin Furnace Archive Inc. founder Martha Wilson simply described Bertlmann as "ahead of her time". "From a contemporary perspective, Bertlmann's relevance is likely attributable to her choice to utilise analysis of the human body and prosthetic body extensions in exploring a highly sensual and undeclared territory, defying the subjective gender typification. In doing so, she opened up perspectives for a queer and posthumanist space of action as early as the 1970s."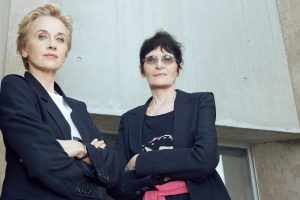 Bertlmann can draw on a rich trove of work today, a "truly monumental archive of curiosity", as the art historian Edith Almhofer once put it. "I can look back on 50 years of joyful work", Bertlmann herself has said. "That's a true godsend!" And not just for herself.
Cover foto: Bertlmann posed in various roles for the 1969 photo series "Transformations". Renate Bertlmann Black and white photographs (from a series of 53) Courtesy: Renate Bertlmann und Richard Saltoun Gallery, London © Renate Bertlmann/ Bildrecht Wien
Read now our myARTMAGAZINE!