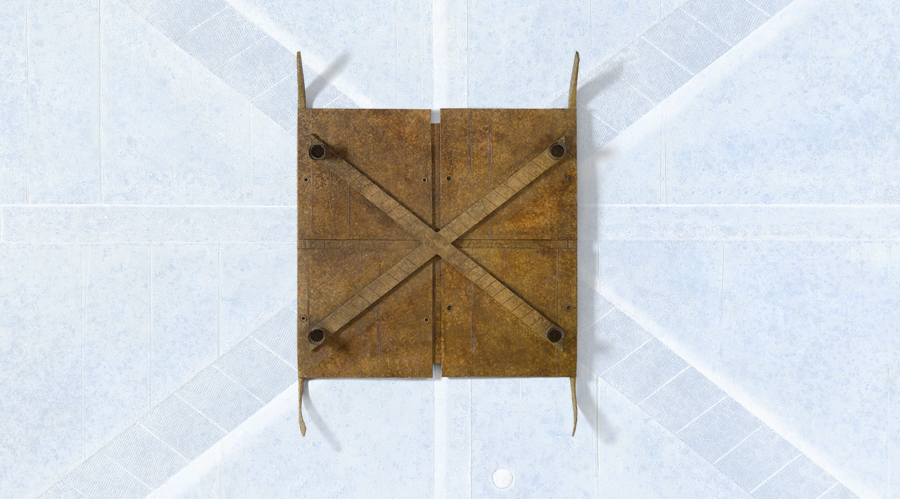 "Wind Mill Sled" by Salvatore Scarpitta, one of the most important works in Dorotheum's June contemporary art auction, embodies everything the artist stands for: the playful use of materials, architectural structure in painted form, and art as the sum of an artist's experience.
Salvatore Scarpitta (1919–1970) had the firm belief that, "to appear real and convincing, art must be able to draw on all of the artist's experience". Sparkling with imagination and genius, the artist was born in New York to a Sicilian sculptor. His father had emigrated to the US in the early 20th century and was able to make a name for himself as a successful artist. The family moved to Hollywood, where Salvatore Scarpitta spent his childhood and youth. In 1936 he left California for Italy. He enrolled at the Accade-mia di Belle Arti in Rome and graduated in 1940.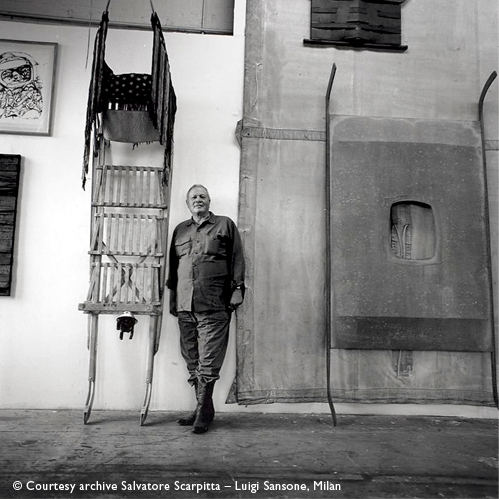 In the artistic environment of those years he gained some fundamental experiences: when he started, Cubist and Futurist tendencies were sprouting again, shaping an entire generation of artists. Painting in the 1950s was characterised by the coexistence of abstraction and representation. Scarpitta was inspired by Giulio Turcato and, later, Alberto Burri. From 1957, he worked his way up to join the ranks of top artists – first with his tele estroflesse, three-dimensional, protruding paintings, and the following year with his bande, where he made use of bandages. Salvatore Scarpitta was one of the great innovators of artistic language at that time. For him, only the entire body of the artist's experience could allow art to emerge in all its fullness: art as the artist's entire experience.
In Rome in 1958, Scarpitta met Leo Castelli, who suggested they work together. In early 1959, he had his first American solo show at the Leo Castelli Gallery in New York. The focus was on works made from tightened and added bandages intertwined according to a concept. The bandaged canvases had a great dramatic effect – as if the material was used to cover up wounds. In 1965 and 1969 he had two exhibitions at Castelli's gallery that revolved around cars. His love of racing cars and car racing, which he had already had as a child, moved Scarpitta to create vehicles. He not only designed these cars but also assembled them from waste, fragments and objects that, devoid of their original function, were newly assembled under Scarpitta's brilliant instruction, who thereby emphasised the "meaning of universal unity".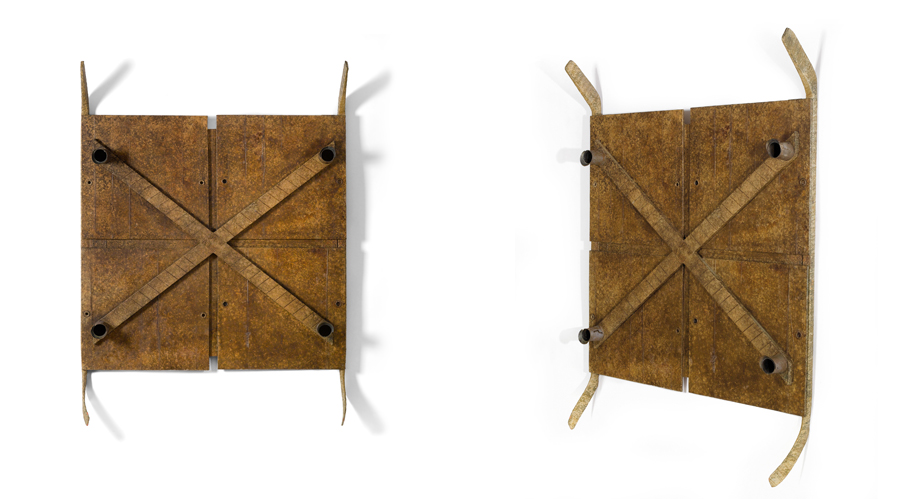 And finally Scarpitta's famous slitte – sleds – that he started creating in 1973. They were first exhibited in Leo Castelli's legendary gallery. The idea for his wonderful works with skis and sleds appears to have come from the memory of a priest who joined the partisans on skis and whom Scarpitta met during the period of the resistance in the Abruzzo region. But there is more to it: an ancient means of transport that is pulled by humans and animals alike, the sled is a cultural good of Native Americans. As a young lad, Scarpitta travelled with his father to Indian reservations in Arizona, Colorado and New Mexico and learned to respect their culture.
Artificial or natural, individual or bundled sleds, assembled from linen or hockey sticks, skis, parts of chairs, bandages, with wire frames connected by ribbons soaked in pitch and organic paint, the sleds are in some ways similar to Scarpitta's cars which, like the sleds, were made from the "scraps of life", as the artist liked to emphasise. For him, the sleds marked a new creative period. He described them as "figlie dirette", children created directly from his "bande", which were first exhibited in Rome in 1958.
"Sculpted paintings? Sculptures with paintings? Vehicles made from painting and sculpture?" These were the questions American art critic B. H. Friedman asked himself when faced with Scarpitta's works in 1977. "Wind Mill Sled" embodies all of it: an artistic and non-functional sled, directly on the wall and torn out of its dialogue with the surrounding environment. A real architectural structure in painted form with great iconic significance.
As so often in Scarpitta's works, we encounter in "Wind Mill Sled" two threatening crossing diagonal lines. However, this obvious reference to the St Andrew's Cross implies more. "Before an American house was to be torn down, an 'X' appeared on the glass windows", said Salvatore Scarpitta. The sign represents punishment, but also an ode to nature. The sled is therefore an atavistic structure that creates a connection to a distant past. It embodies escape, a departure for unknown places, a return to the base, an imaginative travel itinerary.
Carlotta Azzimonti is an art historian at Dorotheum in Milan; Alessandro Rizzi is an expert on modern and contemporary art at Dorotheum.
(This article was published in myART MAGAZINE no. 05/2015)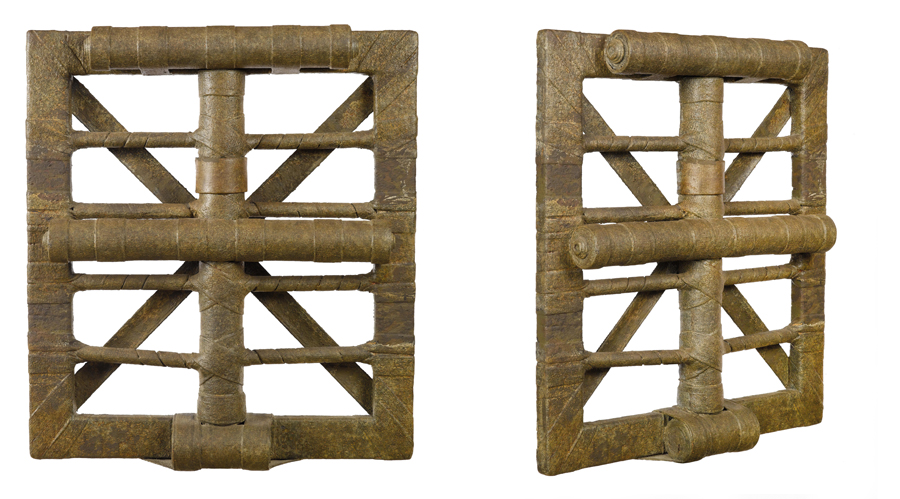 Contemporary Art (Part 1)
Auction on 10 June 2015,  6 pm
Palais Dorotheum Vienna
Click to browse the online catalogue.
Contemporary Art (Part 2)
Auction 11 June 2015, 2 pm
Palais Dorotheum Vienna
Click to browse the online catalogue.