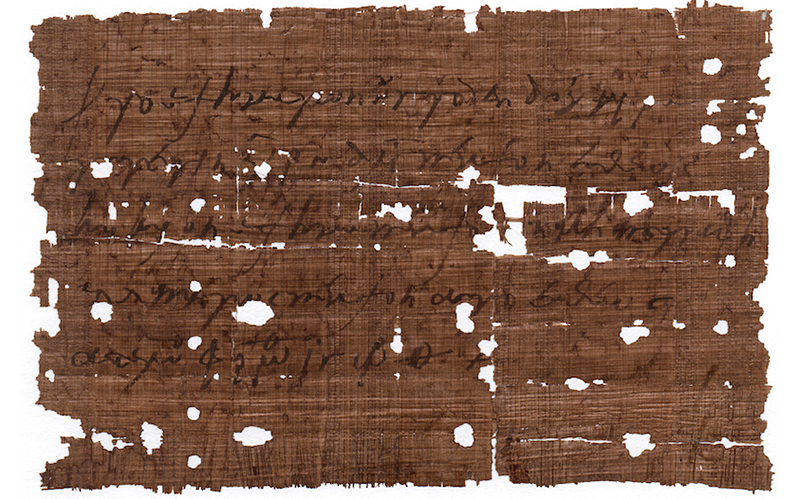 Eingekochter Most für den Emir; Papyrus Griechisch, Hermopolites, 6. April 644 n. Chr. – © Österreichische Nationalbibliothek
In our blog series "Summer in the Museum", our Dorotheum cooperation partners present exciting exhibitions.
In the summer, the Papyrus Museum is presenting  In vino veritas. Wine in ancient Egypt an exhibition dedicated to the "Drink of the Gods and Men".
In vino veritas. Wine in ancient Egypt
Current special exhibition at the Papyrus Museum
Wine has always been the drink of both gods and people. Thousands of years ago, wine was already being produced professionally and enjoyed generously around the Nile. The exhibition at the Papyrus Museum of the Austrian National Library presents over 70 fascinating artefacts on winemaking and wine enjoyment, some of which are up to 3,000 years old! Though the exhibition's chronology stretches from the Pharaonic to the Arabic period, papyri from Late Antiquity with many details on wine culture are at the centre.
Lease and purchase agreements provide an insight into the everyday life of winemakers and wine merchants, while letters document the importance of wine in catering for soldiers. Laurel wine or fish broth mixed with wine show visitors the eating and drinking habits of the time. Prominent colourful designs on textiles also prove the central role of wine in everyday culture and religion. The noble drink was just as important as it is today as an economic good and a luxury, and also possessed great religious and cultic significance.
INFORMATION
In vino veritas.
Wine in ancient Egypt.
Location: Papyrus Museum of the Österreichischen Nationalbibliothek
Neue Burg, Heldenplatz, 1010 Vienna