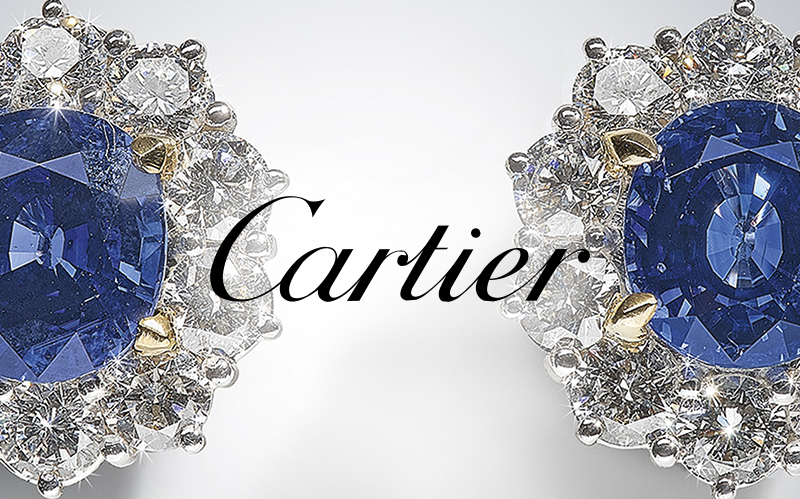 The King of Jewellers
Since its foundation in Paris in 1847, Cartier has been known for its superb jewellery creations, which soon became coveted must-haves for leading aristocratic dynasties throughout Europe. Edward VII referred to the traditional French company, which continues to stand for prime quality and creativity to this day, as the 'Jeweller of Kings and King of Jewellers'. Cartier's objects showcase stylistic diversity and technical perfection.
This classic pair of sapphire and brilliant-cut diamond ear clips stands out for its fabulous and exquisite workmanship. The clip technology, which received a global patent in 1940 and was also applied in the present item, reflects Cartier's love of devoted craftsmanship.
Cartier is not only known for its panthers, its broad range of creations also comprises classic accessories like sapphire and diamond ear clips, necklaces, and bracelets, including diverse designs featuring animal motifs: set with sparkling diamonds, varied depictions of birds, sea animals, insects, or game began conquering jewellery design in the 1930s.
Furthermore, Cartier has surprised us with such innovative design experiments as the Myst de Cartier ring from the 1980s, a daring endeavour in precious stones. Overlapping brilliant-cut diamonds with less valuable rock crystal is entirely unusual and produces an astonishing result that allures us to indulge in visual fantasies.
Jewellery Auction
30 November 2020, 16:00 CET
Catalogue