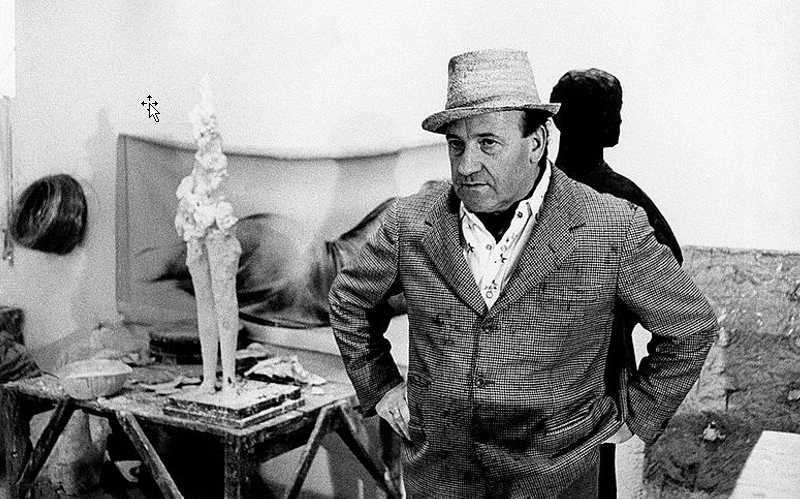 Our upcoming design first auction on March 15th 2018 will feature two extraordinary tables designed by sculptor Giacomo Manzù and architect David Adjaye. Both are pieces of contemporary art, carefully designed and sculpted using high quality materials. Their brilliant creators use these tables to challenge the line between art, design and functional furniture!
Who are the designers of these unique creations?
No, not extra-terrestrials, though these sleek metallic tables certainly look the part!
Giacomo Manzù
Italian artist and sculptor Giacomo Manzù designed the crystal topped golden branch table using his own alloy concoction of bronze, gold and silver to give it the perfect golden shimmer. He designed this table in 1963 for his home in Bergamo. The table remained there, surrounded by his sculptures, until the house was sold. It has since been in his family's posession and was recently conserved in the Museo Arte Moderna in Bergamo. This magnificent piece is now for auction at Dorotheum with an astounding estimated sales price of €220,000–280,000!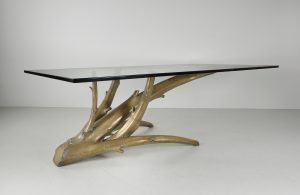 Sir David Frank Adjaye OBE
British-Ghanaian Architect, David Adjaye designed this futuristic Bronze Sniper table as a collaboration with Sawaya & Moroni in 2015. Cast in a single piece of polished bronze, the round table stands firmly on three legs. The object bypasses its functional vocation as a piece of furniture and delves into the realm of sculpture. This special table is number 1 of only 10 in existence. Another pricey piece; our design expert estimates it to sell for between €190,000 and €250,000!
The sculptor and the architect
You may be wondering how a sculptor and an architect found themselves designing tables. Despite coming from very different backgrounds, both creators have made sculpted works of contemporary art which double as practical pieces of furniture.
"Non abbiate paura della natura"
            "Don't be afraid of nature"
He was born in Bergamo, Italy, in 1908 and died at age 82 in 1991. Along with his many siblings, he was the son of a shoemaker. Throughout his life he was a prolific sculptor, mostly working with bronze, leaving numerous sculptures dotted around his home town. We was almost entirely self-taught and drew inspiration from ancient Greek art and medieval stonework.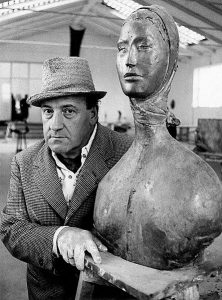 He reused the twig motif in many of his works, most famously the "Porta della Morte" aka. Doors of Death in St. Peter's Basilica in Rome. To create these reliefs, he used the same alloy mixture as he did with the branch table. These doors are used as the exit in funerary processions and were commissioned by the Vatican in the early 1950s. The handle has the form of a twig sharing stylistic elements with the table, which Manzù referred to as "Tralci di Vita" – instincts of life.
The artist took his time finishing the reliefs despite the encouragement of his close friend Pope John XXIII, who died a year before they were consecrated in 1964. As a legacy of their friendship and one of his better known works, the sculptor also made a portrait of Pope John XXIII.
For a short time after the war, he settled in Salzburg where he met his wife Inge Schabel, who he often used as the model for his portraits and sculptures. During his time in the Austrian town, he reused his branch motif on the "Porta d'Amore" at Salzburg Cathedral.
Sir Adjaye, knight of the round table
Adjaye is one of today's world leading architects. He was born in Tanzania to Ghanaian parents in 1966 and moved to England with his family as a child. Because of his substantial contributions to architecture, he was awarded an Order of the British Empire in 2007. A decade later, in 2017, he was knighted by Her Majesty the Queen and recognized by TIME magazine as one of the year's 100 most influential people.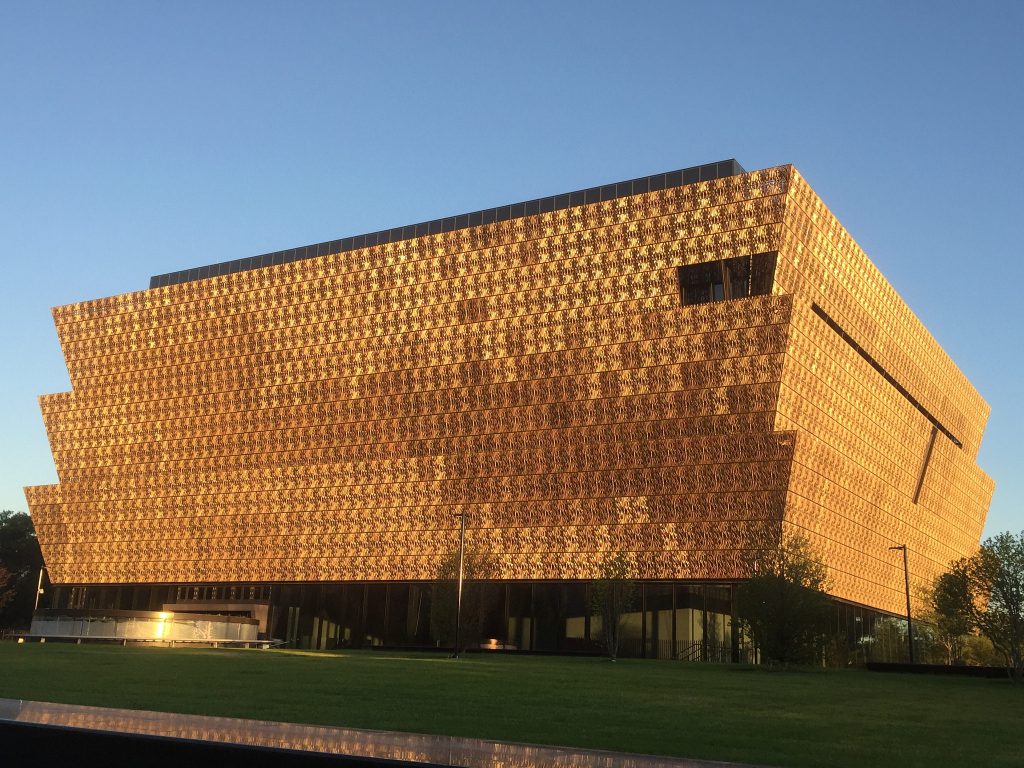 Photo by Rex Hammock: https://www.flickr.com/photos/rexblog/27067872274
Adjaye and his firm have designed a number of other fascinating and well known architectural structures including exhibitions, furniture and of course, buildings. Among them, he designed the arena for the 56th Venice Bienniale (2015) and is currently working on the UK Holocaust Memorial. As with his Bronze Sniper Adjaye continues to experiment with various materials and transforms everyday furniture and spaces into functional works of art.