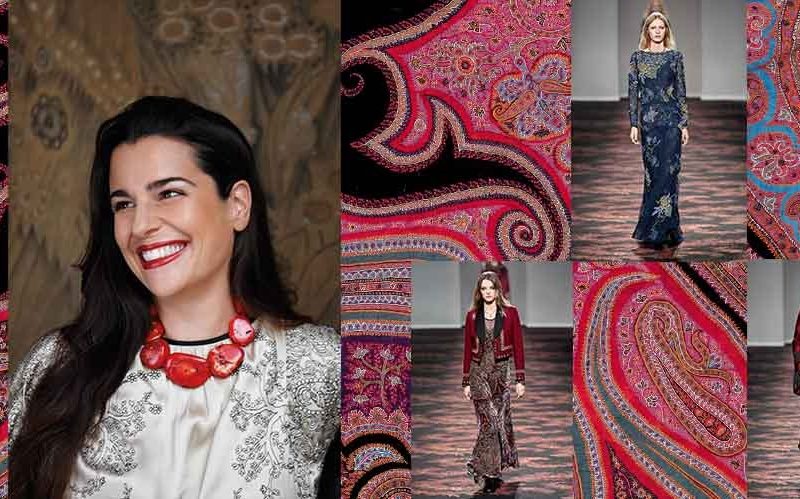 One would be hard pressed to find a more intricate fusion of art and fashion than Etro, the Milan luxury label, and no one embodies this better than Etro womens-wear designer Veronica Etro herself. Dorotheum myART MAGAZINE comes face to face with the person behind the opulent hues and eclectic mix of materials: a woman who looks to history and tradition for inspiration – and wrests something surprising and new from it every time.
Does optimistic design rub off ? The first thing you notice about this particular woman is her smile. Ninety-five percent of Veronica Etro's photos show a person with a happy, upturned mouth – even when she seems particularly steeped in thought. The beaming smile usually has eyes to match. Evidently, the mind behind the women's collection at the Milan fashion label Etro has found both a profession and a calling. At the same time, she stresses the importance of not taking fashion too seriously (an advice she delivers with a smile, of course). The designer had plenty to nourish her talent early on: years of study at the powerhouse art college Central Saint Martins in London put her at the epicentre of Young British Art, and the Etro family is as cultured as it is business-savvy. Exemplary in the truest sense of the word, her lush fabrics, colours and mix of materials definitely have the Etro brand in full bloom.
So why didn't she just become an artist? "Where else can you find such a perfect blend of contemporary sound, photography, architecture, interior design, new music and lifestyle as in fashion?" Etro asks. And how does she manage to generate so many new ideas, given the rapid-cycle fashion seasons and trends? By keeping it playful and spontaneous, she says, at least in the beginning. Panta rhei – letting it flow – collecting, comparing, then gradually paring it down: this is Etro's method.
The creative director loves this productive process of searching, finding, and collaging things together. She stands in front of walls with – still very analogue – paper notes and collections of materials, and intuitively arranges and rearranges them, puts them together, combines and experiments. "If you're just on to something, go for it!" Etro culls bits of inspiration from her notebooks, or the boxes where she collects things that seem important for the current collection. She sorts, separates and shuffles them until her imagination catches fire.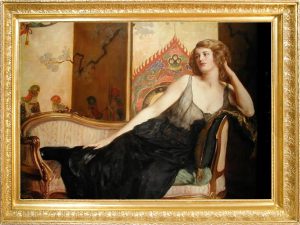 Archive fit for a museum
The house has its own, unique archive that – according to Kean Etro, Veronica's brother and head of the Etro men's line – any decorative arts museum could be proud of. This archive is the sole go-to source for the designers' research. Its pattern books are filled with historical fabrics and materials, mostly from the house's founding father Gerolamo "Gimmo" Etro, as well as Old Masters and Art Deco pieces from around the world. It also contains dresses and costumes from every conceivable era. The family purchased the complete wardrobe of ballet dancer Rudolf Nureyev, for example. The archive contains everything from Renaissance dresses to those from the closets and cloakrooms of Viennese salon ladies. "We always start with the fabrics," Veronica Etro says, "which is the most critical part of our brand's DNA. We keep looking for new ways to develop innovative materials and prints."
Visual and analogue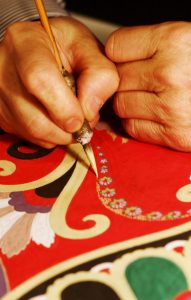 As far as tweets and blogs are concerned, the passionate tango dancer and mother simply doesn' t have the time. Inspiration for the work could be anything from a book cover to a movie, ranging from "The Royal Tenenbaums" to "The Artist" ("though in colour!"), the mood in a specific part of town or cafés in a foreign city, art or artefacts like the Bakelite models of crystals from the 1930s, auctioned at Dorotheum. Clearly, Veronica Etro is a visual type with a penchant for blackboards, collages, analogue stuff and haptic experience, and unsurprisingly so. These things sit at the heart of what grew her family business from a fabric store founded by her father in 1968 to a global fashion empire owned and operated by the four Etro "children". That, and the fact that the goods are actually still produced, printed and hand-painted in Italy, with an uncompromising eye for quality. The combination of these factors seems to be exactly what their customers around the world appreciate about the brand.
More is more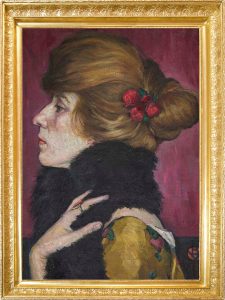 Looking back to look forward says it all, but the credo "more is more" seems just as appropriate, considering her collage work with fabrics, patterns and many eclectic combinations. Veronica Etro herself calls it a "controlled maximalism". The Renaissance period and comic books, ruffles and techno, embroidery and neon clash and combine to form something Etro calls "la Nuova Tradizione" – the new tradition. Set pieces from Etro's massive fabric archive appear in collections alongside the family's distinctive, recurring paisley pattern: legend has it that Etro-godfather "Gimmo" copied it from his grandmother's dressing gown.
Bohemian chic
Who but an Italian could manage to turn the hippie trademark into a sacrosanct bohemian, dandy and aristocratic symbol for men as well? These days! Or perhaps precisely because these days there is a need for what in fashion-speak might be called a "signature look" – a style with a high recognition factor, distinctive enough to stand out from the hodgepodge of contemporary trends.
Paisley reloaded
Reinterpreting the paisley pattern is obviously on the agenda in many of Veronica Etro's collections. What she does not want, however, are pure prints on dresses that "exert a timeless fascination when the proportions and colours are carefully thought out. I use airbrush effects, intarsia, trompe l'oeil, pleats and embroidered details to give a sense of the body's three-dimensionality." The result? Playful, confident designs for women who see themselves much like Veronica Etro's definition of the "Etro Woman": "She is individualistic and independent. She likes a playful approach to fashion, but doesn't take clothes all too seriously. She is more interested in style than fashion because she is cosmopolitan, a globetrotter. I design for a bold woman who is not afraid of colour or a touch of eclecticism." This is where art comes into play again, as another big part of Etro's DNA. It is a key element in many of the company's advertising campaigns and presentations, and a major source of inspiration for the collections. Even the Etro website showcases plenty of historical and contemporary art ("new talents"). Descriptions of selected artworks in the virtual "art galler y " are a picture-perfect fit for Veronica Etro's own designs: historicism, with innovative content woven in.
Veronica Etro on …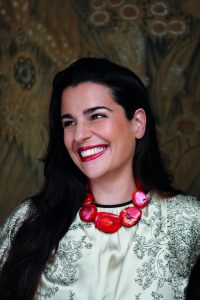 Wunderkammer
The perfect term for the Etro archive, where all objects, embroideries, cloth patterns, prints and colours, rich in cultures and tradition, blend into each other.
Paisley
… is the iconographic and cultural blend of East and West. And it is another way of expressing creativity, research and tradition.
Prints and patterns
… enable individualisation. They are a distinctive feature and symbol of personality.
Etro style
Is interms of "controlled maximalism" the balance between all aspects of design: colour, print, embroidery and detail. The result is a strong and distinctive identity.
Eclecticism
… can take the shape of a synthesis of the past and future, innovation and tradition, of East and West. Etro is a synthesis of eclecticism, exoticism and various ethnicities.
Favourite cities
Apart from London? Berlin! Not … least because I'm bilingual; Los Angeles as a melting pot of cultures; Mumbai, because I'm fascinated with Asia and the culture of India in general.
Veronica Etro

since 1999 creative director of womens wear at Etro, the family company founded by her father, Gerolamo "Gimmo" Etro, in 1968. What began as a weaving mill has since developed into a global lu xry brand and corporation that sells high-end fashion clothing, accessories and hometextiles from 200 Etro outlets world-wide. Veronica Etro, born 1974, is the youngest of Gimmo Etro's four children, who run the firm jointly today. Kean Etro is responsible for mens wear, Jacopo for the accessories,  leather, home and textile collections, and Ippolito is the firm's General Director. Veronica Etro graduated from the Deutsche Schule in Milan before studying design at the prestigious Central Saint Martins college in London. Etro's designs are dedicated to "la Nuova Tradizione", the combination of cutting edge and old traditions.