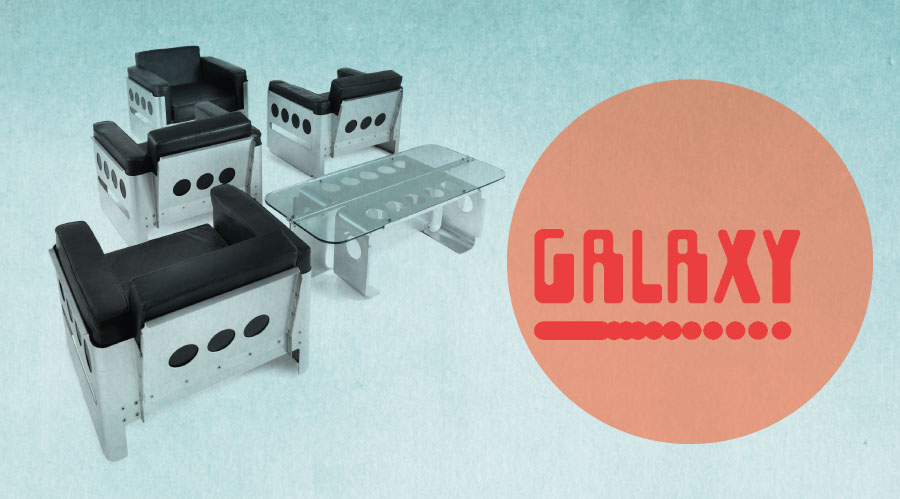 "Galaxy 1" and "Galaxy 2" are pieces of aluminium furniture inspired by space travel and racing cars. Designed by Walter Pichler, they go far beyond the Sixties Space Age in terms of aesthetics and conceptual design. This is the first time a full "Galaxy" suite is sold at auction – a milestone in Austria's design history.
Every artist dreams of creating works that stand the test of time. Walter Pichler's "Galaxy", a suite consisting of a table and four chairs, is one such classic. In the 1960s, it was (still) possible to let one's hair down. So why not present a chair at a motor show, thought Austria's Walter Pichler (1936–2012). In 1966, encouraged by Peter Noever, who would go on to head the MAK for many years, Pichler designed a kind of emblem for the Space Age, an aluminium chair entitled "Galaxy 1". It was an unconventional piece of furniture made of aluminium that seemed to hover above the ground. Holes were punched in the sides and back, bringing to mind the light-weight construction used in aviation; even the rivets were taken from the aircraft and rocket industry. The frame connections and rubber-sprung suspension of the seats themselves came from the legendary Citroën 2CV.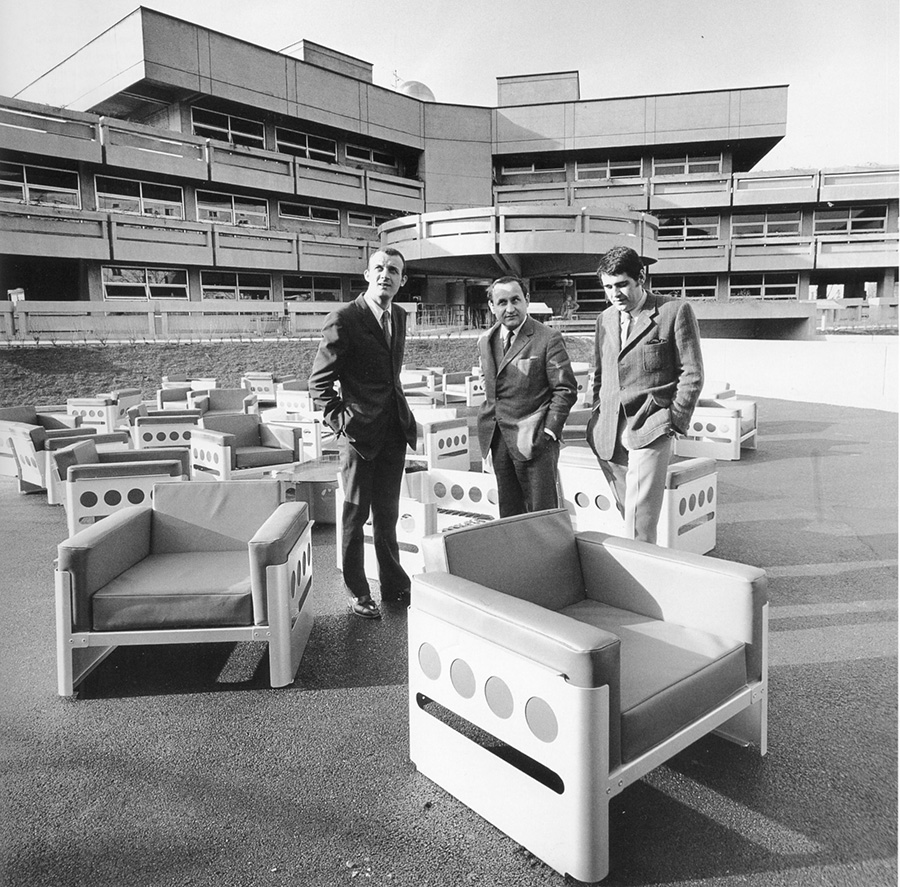 1968: Architect Gustav Peichl, flanked by Walter Pichler and Peter Noever, liked to equip his buildings with "Galaxies" (© C. Skrein in: Christian Skrein, 68, Künstler, Legenden, Fotografien, Wien 2001, S. 67)
In 1967 Peter Noever and Walter Pichler presented the item in a specially developed berth at Jochen Rindt's "3rd Racing Car Show", a show in which the fastest cars of the previous season were exhibited. In the chair sat a mannequin – as models were called at the time – with a crash helmet. "We took a berth, just like any car company", said Pichler. "We deliberately chose a different context than that of art, went out of the gallery, presented the chair as a racing car." The "md" magazine was euphoric: "The background noise consisted of 'psychedelic music' imported from London and San Francisco. If race cars could talk, they would tell us how astonished they were."
At that time Walter Pichler was already a star in the art scene. In 1967 he took part in the "Visionary Architecture" exhibition at the Museum of Modern Art in New York with Hans Hollein and Raimund Abraham. The futuristic piece of furniture caused an immediate stir and was exhibited in different places, including the Austrian pavilion at the Expo 67 in Montreal. documenta 4 presented a selection of "prototypes" in which Pichler predicted a world determined by media consumption, including the "TV helmet (wearable living room)" or pneumatic rooms.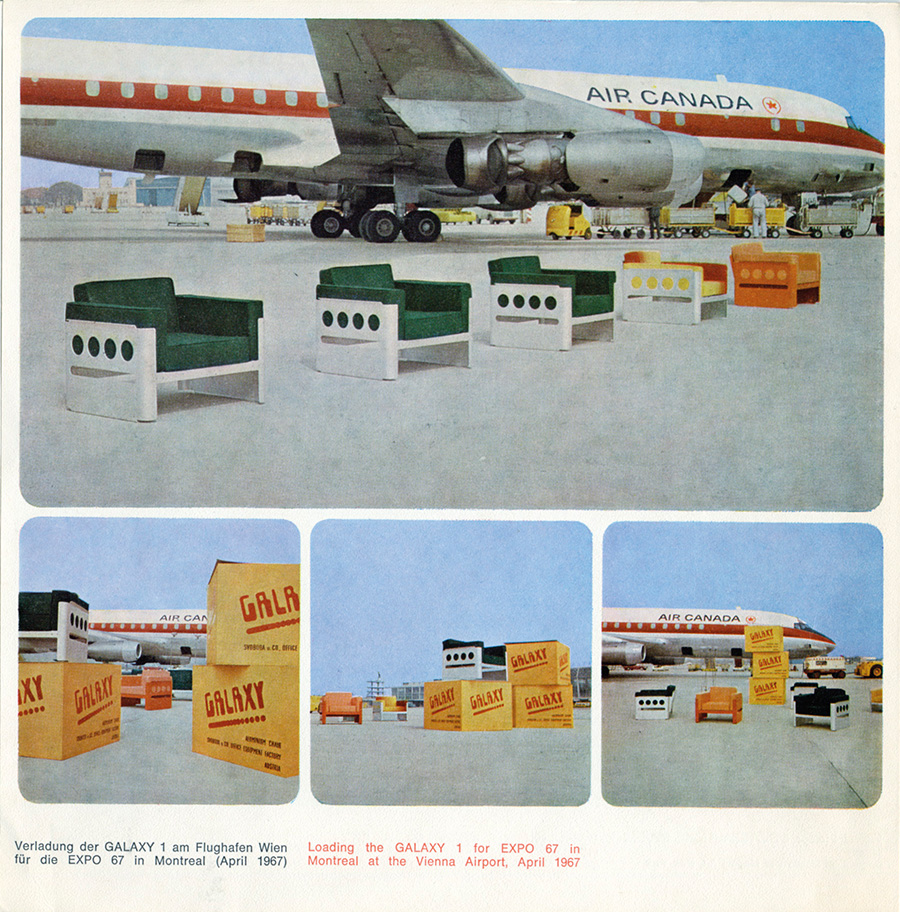 A fleet of "Galaxy" furniture starts on its journey to the Austrian pavilion at the Expo 67 in Montreal © Svoboda Büromöbel, Folder 1967
Prototypes made by Pichler but not exhibited at documenta include the chair "Galaxy 1" and the coffee table "Galaxy 2". The artist created both models with Svoboda Büromöbel, an Austrian office furniture company. More than 30 years after the original design, Hand Hollein suggested they produce a new edition of the chair for the Austrian embassy in Berlin. The architect Gustav Peichl also liked to equip his buildings with Pichler's "Galaxies".
Pichler remained close to architecture and architects his whole life. In the eyes of the artist, who saw no boundaries between architecture and sculpture, the chair was a sculpture you can sit on, as many famous people have done: one was Alexej Leonow, the first man to walk in space. In 1968, he and Arthur C. Clarke, co-author of Stanley Kubrick's "2001: A Space Odyssey", were among those attending the UNISPACE space conference in Vienna. Then there was Arnulf Rainer, famous for his overpainting works, who had himself photographed sitting on "Galaxy 1" with an expressively painted face and used the image on the cover of the catalogue for his exhibition at the 20er Haus.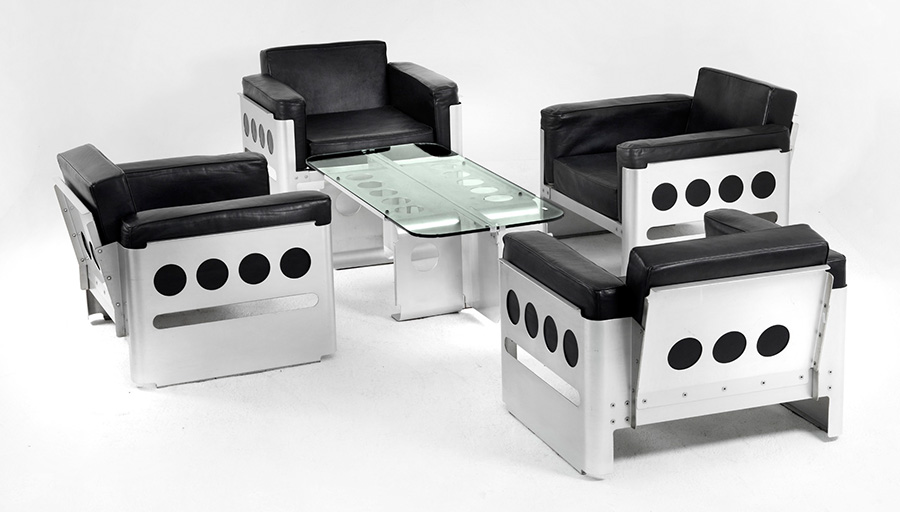 Walter Pichler's "Galaxy" suite with four chairs (estimate per pair € 20,000 – 25,000) and a coffee table (estimate € 15,000 – 20,000), Design auction, 20 May 2015
"Galaxy 1" was originally available with plastic or leather seats. Pichler himself preferred the colour red. Four black-seated chairs – out of a total of about 50 produced in the 1960s – will be available at auction at Dorotheum on 20 May. This is the first time they will be sold as a set with the coffee table from the series. (Lot 10, Lot 11, Lot 12).
Gerti Draxler, design expert, studied art history and initiated the Dorotheum design auctions in 1996.
 (This article was published in myART MAGAZINE no. 05/2015)
Design Auction
Wednesday, 20 May 2015, 5 pm
Palais Dorotheum