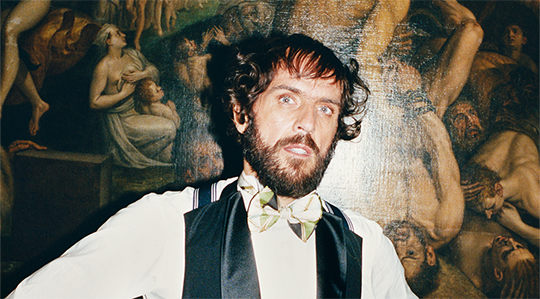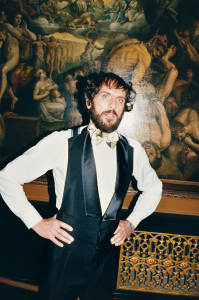 A collector who rarely collects, a dress designer who prefers to be nude, the spouse o f a punk le gend who y earns for the lost e xquisiteness of the Habsburg court … Andreas Kronthaler, Creative Director of Vivienne Westwood, is an e xotic beast, clothed in ar tistic juxtapositions. We took tea with him in London to talk about taffeta, Teller and the Tyrol.
Vivienne Westwood's stately Mayfair HQ takes up a whole 18th-century town house set between the men's outfitters of Saville Row and the luxury boutiques of Bond Street. Andreas's mannequins surround us, swaddled in silks printed with paintings from Brueghel to Boucher, all overlaid with Blade Runner-esque neon tracery from the retro-futureverse. A pall of mourning for the late Queen still hangs over us on the afternoon we visit, with black armbands adorning the suited tailors' dummies on 'The Row', the gyrations of TikTok influencers filming themselves outside the Westwood showroom punctuated by the occasional thud of a distant gun salute. Andreas bounds into our meeting room, a black vintage bicycle propped up in the corridor, his traditional Trachten jacket offset with a striped, vaguely piratical shirt. Has he seen the funerary shop dummies and photos of the Queen in military uniform in his neighbours' windows?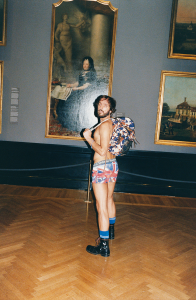 Andreas Kronthaler: I am not a royalist, but there are pictures from the funeral of Franz Joseph in 1916. He was such a particular man, and he reigned for almost as long as Queen Elizabeth II. The Austrians, they haven't got that pomp. I always remember going
to the Schatzkammer, and the Imperial treasures that are left are so exquisite, and on a more human scale. Empress Sisi, everything she commissioned was so perfect in shape and form. She had a residence in Hungary, and all the porcelain was made to mimic the
flowers of the surrounding region. The French might have been the forebears of elegance, but it's another gear up in Austria, that's why I get quite patriotic.
Dorotheum myArtMAGAZINE: You're clearly a connoisseur of photography, whether it's from the 1880s or the 1980s.
I am very drawn to Robert Mapplethorpe's work, he's such a beacon of photography, a master of technique and focus. I bought a photo from a London exhibition of his work that was curated by Juergen Teller, showing Lisa Lyon. She was a close friend of Mapplethorpe's, the first female bodybuilder – it's phenomenal, a triumph!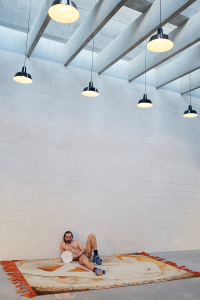 Could you tell us about Juergen Teller's photos of you and Vivienne?
We invited Juergen to our house one Christmas, and, after dinner, Vivienne took her clothes off, and posed for him on this 18th-century little sofa we have. The composition has this link to the past, to Titian, maybe even more to the Baroque and Rococo, to François Boucher; the colours are very painterly. It was shot with such friendship and lightness and trust. Juergen was so happy with the image that he made it into this tapestry, and on the first day that he opened his new studio he asked if I wanted to be in this photo shoot. I came along, and I brought rails and rails of clothes, but Juergen had brought a donkey and gay pornstar from America, so that's me lying on the tapestry of Vivienne. I had the shoes on at least.
Speaking of nudes, could you tell us about the self-portrait of Tracey Emin in your collection? Every birthday she sends me a picture with a lovely note, and this one is one of the first ones she ever gave me. A nude from the back. I got to know her in the late 90s, and I really admire her. She's an amazing writer, and she is able to give you such a strong picture of what she goes through as a woman, as a human. She is very cunning, but also kind. Whenever I needed advice, she is one of the people I turned to.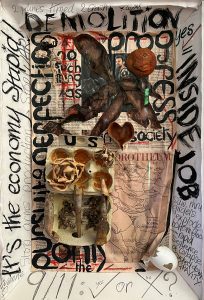 There is a spareness, an intimacy to Emin's drawings that is in the spirit of Egon Schiele. Apparently Vivienne has made an art piece using a sort of Dadaesque collage with a Dorotheum catalogue cover of a Schiele drawing we sold?
This is her only work that is actually framed, one of dozens and dozens of works that Vivienne has made since the start of the pandemic. She began to experiment with forms like orange peels and vegetable shavings, which she then matured at home in our boiler
room into these sculptural things. You can also see the egg carton. I didn't even realise that that [gestures at the Schiele illustration] was a Dorotheum cover when I chose this work of Vivienne's to show you … Klimt she is less keen on, but, well, I always try to convince her of the Austrian genius! I have loved Schiele since I was a very little boy; I had images of his in my bedroom.
Your mother was an antiques dealer, is that where your knack for collecting comes from?
Every Saturday, I would wait with my mother after lunch until three or four men turned up in little vans and rang our door bell. My mother would make them wait, finishing the dishes. And then she would walk down to look at the things they had. I loved to watch her.
She had a special technique: she would pretend she wanted something, when what she really wanted was something else. She would haggle over the thing she didn't want, then add in the object she really wanted at the end like it was some sort of trifle. And of course
she wouldn't be afraid to just walk off if she didn't like the price. And I would say 'oh Mama, that's so beautiful!' But she would say [puts on Tyrolean dialect] 'Nanana!' Then, some minutes later, our door bell would ring again and the man would say: 'Let's make a deal!'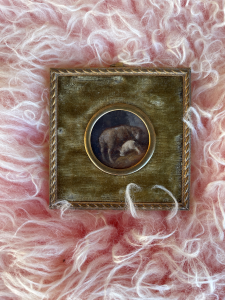 Many of our collectors have to compromise sometimes with their significant others when it comes to interiors. Do you and Vivienne ever disagree?
Never. I do not often purchase things. And Vivienne lives on a small scale. But if she does like something, she really goes for it. Sometimes I would bargain, and she dislikes my haggling. But I'm happy if I get it for a little bit less. She's English, and I'm more Turkish! When I visit Vienna, I go to Dorotheum whenever I can, sometimes almost every day. It's still very integral to daily life in Vienna. It'shigh-brow and quite down to earth at the same time, one of the few auction houses that go back to the early 18th century. The last thing
I got was this Chinese carpet, for the farmhouse I am restoring in Alpbach. It's from 1510, a terribly beautiful Tyrolean Einhof [with all farm units under one roof ]. I buy lots of carpets, not because they have a particular place, but because I love them; I might even keep them rolled. It's textile in the end, maybe that's why I'm so attached to them.
What do you miss about Vienna?
In the 1980s, when I was a student, I used to slip into Kunsthistorisches Museum, which was deserted back then. The picture that impressed me more than anything in my life is Rubens's Little Fur Coat – it shattered me. It was one of the first things I saw that were out of this world. It's one of the greatest pictures of a woman ever painted – so loving, and yet with the darkness and the white flesh, it's just the sexiest image, so mysterious!
Mysterious?
Well, she was then. Over the years I learned more about Helene Fourment, Rubens's second wife, but when I was really young it was just something so unusual. It made an enormous impression. It's one of the first paintings that touched me extremely physically.
Whether it's Tracey Emin, or Rubens, or Robert Mapplethorpe – you and Vivienne seem to appreciate the nude form as a conveyor of meaning.
I love to be nude, it's the ultimate feeling of existence – but not barefoot, I always like shoes, they give you the right support. I also said that to Juergen – 'leave me the high heels!' I remember when I first met Vivienne: she said, 'everything else I can do without,
but not good heels.' I know, I'm a dress designer, but I'm not that mad about clothes. Don't get me wrong: I like shoes and faces, but what's in between, I don't really care that much.
Which reminds us, finally, of that famous Paris haute couture show where your models were sent down the runway with their shoes ornamented with phalluses …
We made those penis shoes with taffeta pompoms on the back. This was actually a creation of a wedding dress, except it wasn't a dress at all, as the model was naked. All she had was this huge bouquet of flowers, so she didn't really need a dress. I remember telling
Vivienne, 'I want to do this', so we got those dildoes from the sex shop, and we took them to the shoemaker and he was able to mould them on to the shoes. Fun, amusement, joy … all these things meant so much to me at one point. Vivienne was very encouraging of all
this. This was why we pushed certain silhouettes, certain things. It's not just about making money or how elegant or tasteful you are!
Doris Krumpl is Press Officer at Dorotheum. Sigmund Oakeshott is an art historian at Dorotheum London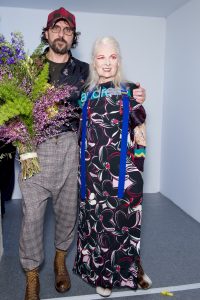 ANDREAS KRONTHALER
Born 1966 in Fügen, Tyrol, Austria, Andreas is Creative Director & Head Designer at Vivienne Westwood. Training first as a goldsmith in Graz, he went on to study industrial design and fashion at the University of Applied Arts in Vienna, where he was taught by punk legend Vivienne Westwood (who famously wore no knickers when she was ennobled by Prince Charles). The English fashion revolutionary was so taken with the young Tyrolian Wunderkind that she invited him to work for her fashion house in London. In 1992, the pair tied the knot, with Andreas's creations becoming part of the iconic Vivienne Westwood collections. Andreas's own collection, formerly Westwood's "Gold Label", was launched to acclaim in 2016 and is now the premier brand in Westwood's stable, entitled "Andreas Kronthaler for Vivienne Westwood". Their creative partnership has evolved over the last four decades as Dame Vivienne, now in her 80s, increasingly devotes herself to her art and activism in support of human rights and fighting climate change. Both Andreas and Dame Vivienne are avid, but sustainable collectors, with works ranging from Old Master Paintings and Chinoiserie to Contemporary Art from the likes of Robert Mapplethorpe and Tracey Emin.