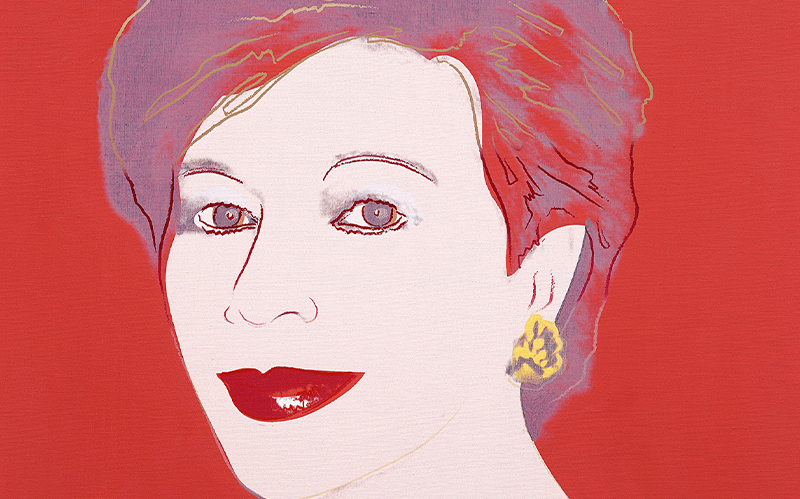 Andy Warhol's portraits occupy a special place in his pop-culture-œuvre. His "Portrait of a Lady", from 1983, which is so striking in its content and execution, seems to echo the work of a famous art-historical predecessor. Can this be a coincidence?
Andy Warhol – a portraitist of New York society
Andy Warhol, one of the leading exponents of Pop Art from the 1960s onwards, was a passionate photographer and portraitist of New York society. Armed with a Polaroid camera, he took snapshots of himself and his friends, and captured encounters with famous personalities, creating instant-film photographs that often became the basis for his artworks. Perhaps this portrait was a case in point.
We see an attractive young woman depicted against a luminous red background. She is portrayed in profile, her gaze directed straight at the viewer. Her short hair reveals her left ear and a distinctive golden ear clip. The intense colour palette of the work captivates the viewer and draws them into a constructed dialogue. We become curious about the identity of the sitter. Is she a friend or acquaintance of Andy Warhol? Was this a commissioned work? Fortunately, we know the answers to these questions: the mysterious lady is the grande dame of the American art scene, Dorothy Berenson Blau (1917–2014), a champion of contemporary art and a pioneer of the Miami art scene. She was Warhol's gallerist and close friend, and was amongst the first to exhibit his work in South Florida. She was a driving force in Warhol's life and was instrumental to his success in the 1980s, when this portrait was created.
Fascination for artistic predecessors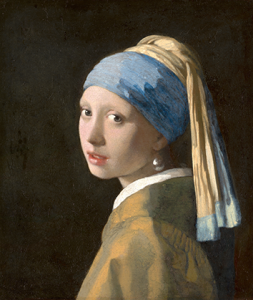 The depiction brings to mind another iconic portrait from art history, namely "Girl with a Pearl Earring" by Dutch Golden Age painter Jan Vermeer. The two works share a nearly identical composition with both subjects occupying a similar position in the picture. Solid-colour backgrounds in both works draw the eye to the faces of the sitters and to their distinctive ear jewellery. Although we can never know the extent to which Vermeer's painting influenced Andy Warhol in the creation of this portrait of Dorothy Berenson Blau, it would not be the first time that the artist referred to his art-historical predecessors. Other works by Warhol find him absorbing motifs from Leonardo da Vinci's "Mona Lisa", Lucas Cranach the Elder's "Judith with the Head of Holofernes" and Johann Heinrich Wilhelm Tischbein's "Goethe in the Roman Campagna". Andy Warhol was fascinated with paintings created ahead of his time.
View now the auction catalogue and read our new myART MAGAZINE