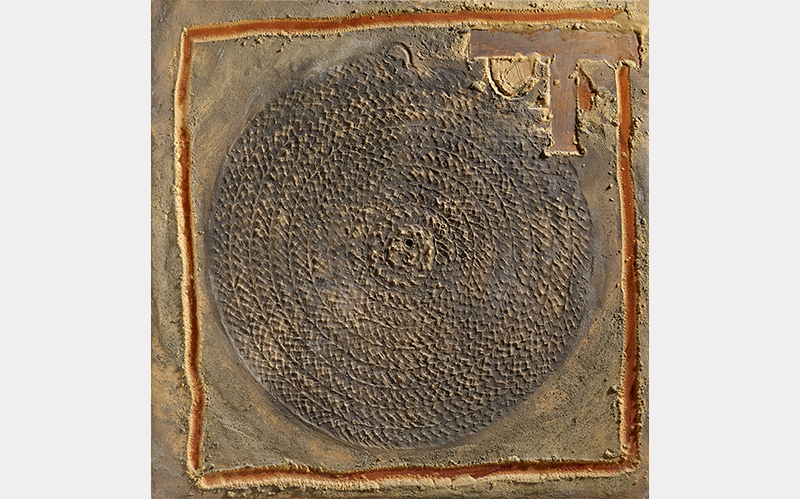 Destruction and beauty, politics and poetry are not mutually exclusive in the art of Catalan artist Antoni Tàpies. His earthy, object-like paintings take material as their point of departure and fuse the historical with the mundane.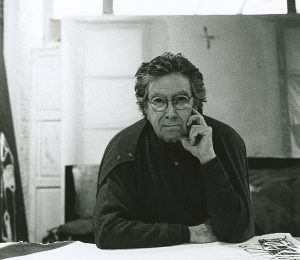 His pieces look more like archaeological artefacts than classical artworks per se. Even the artist himself seems more like a scientist and researcher: Antoni Tàpies (1923–2012), renowned for his countless turns in Venice Biennales and documentas, is among the best-known and likely most important Spanish artists of the second half of the 20th century. His work – at once raw, brutal, and deeply poetic – is situated somewhere between Arte Povera and Informel, without truly ascribing to either. Instead, Tàpies incorporated traces of everyday objects into surfaces such as wood or canvas and inscribed them with graffiti-like characters. His mixed-media pictures emerged in a process of applying and scraping off of thick layers of paint, which were repeatedly superimposed and reworked until they eventually manifested as centimetre-thick reliefs of sand, earth, minerals, cement, or paper. The years found Tàpies working through endless variations of a fixed canon of motifs and materials. Frequent symbolic elements include the cross, for example, but also a bed, or the letters A and T.
A capital T is likewise emblazoned on the large, square format "Snake in a Square", a 1991 piece slated for sale in the upcoming contemporary art auction at Dorotheum. At the heart of this work is the image of a coiled snake, or at least that is how Tàpies describes this imprint of what appears to be a package-ready length of cord. Might it also be read as an emblem of averted calamity? The answer is yes and no, and yet this openness to interpretation constitutes something of a hallmark of Tàpies' work, highlighting the strength of an œuvre that assimilates materials like flotsam and jetsam from the past.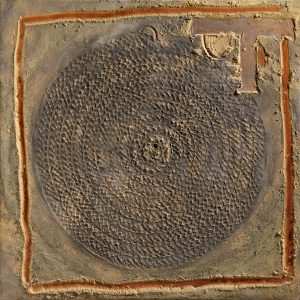 Tàpies described his own process as one of discovery: "Like a researcher in his laboratory, I am the first spectator of the suggestions drawn from the materials. I unleash their expressive possibilities, even if I do not have a very clear idea of what I am going to do. As I go along with my work I formulate my thought, and from this struggle between what I want and the reality of the material – from this tension – is born an equilibrium."
Political events proved highly formative and significantly impacted Tàpies' work. Born in Barcelona in 1923, the artist experienced the Spanish Civil War and almost 40 years of Franco's dictatorship that followed in its wake. As a keen observer of his time, he instilled in his art a great deal of contemporary politics, historical aspects and stories, as well as trivial, mundane life.
Information: Alessandro Rizzi, Specialist for Modern and Contemporary Art