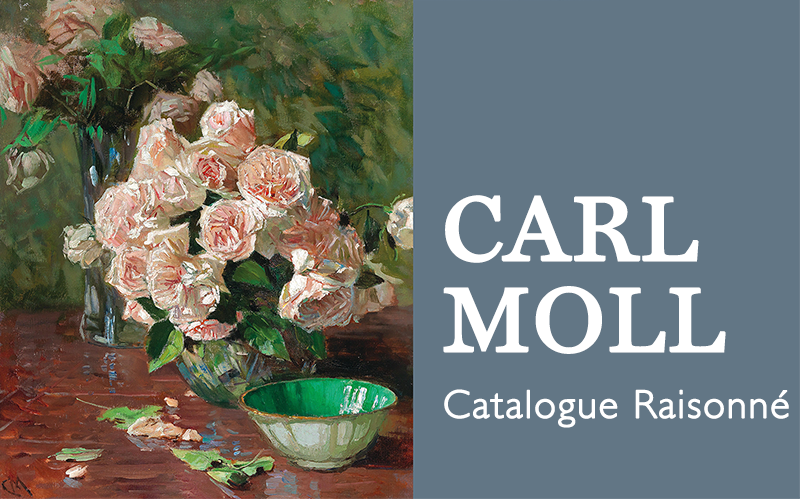 Carl Moll (1861–1945) was a founding member of the Vienna Secession and Wiener Werkstätte. As head of Galerie Miethke, he brought the works of famous international artists such as Paul Gauguin, Vincent van Gogh and Francisco de Goya, to Vienna and supported young Austrian artists such as Oskar Kokoschka, Egon Schiele and Anton Kolig.
Cornelia Cabuk has compiled a catalogue raisonné of Moll's prints and paintings, which provides insight into the artist's creative work and is published as part of the "Belvedere Catalogues Raisonnés" series which is supported by Dorotheum. The compendium is already available for research purposes on the Belvedere's freely accessible online platform for catalogues raisonnés. A printed version with essays by Stella Rollig, Cornelia Cabuk, Christian Huemer, Gerd Pichler und Bernadette Reinhold is out now.
Born in Vienna in April 1861, Carl Moll took private painting lessons while he was still at school. He took up his studies at the Academy of Fine Arts, but quickly had to abandon his training due to ill health. Shortly afterwards, he became the pupil and assistant of the renowned landscape painter Emil Jakob Schindler, who was a close friend. At this stage, Moll's works were most heavily influenced by his teacher's classic stylistic language. After Schindler's death in 1892, Moll was in close contact with pioneers of the Wiener Moderne, among them Gustav Klimt, Josef Hoffmann and Koloman Moser. As a member of this circle, he produced numerous landscapes, interiors and still life works. In particular his concept of space in interiors refers to the architecture of Josef Hoffmann and the Wiener Jugendstil, drawing attention to the importance of the grid in classical modernism. Moll enlivened his finely balanced system of lines and surfaces with painterly highlights, using a deliberately muted colour scale, as well as with his sensitive visual description of the material quality of surfaces.
In his later works, after he had left the Secession in 1905, and Galerie Miethke in 1912, Moll's brush stroke became increasingly casual. His late work was splendid. Much of it was painted in southern Europe, where he created ephemeral and temperamental impressions of the Medi-terranean. To the surprise of many, Moll became a committed National Socialist in the later stages of his life. He died by suicide in 1945, just before the end of the war.