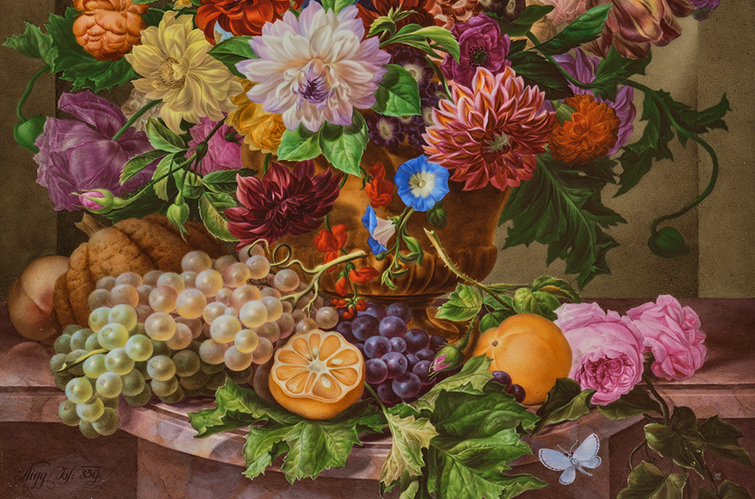 Spring is here and as chance would have it, Dorotheum is auctioning more than a dozen floral paintings in May 2022. The pictures reflect various changes in painting over the course of the 19th century. So, are paintings of flowers an artistic métier along the lines of landscape or portraiture? Not quite …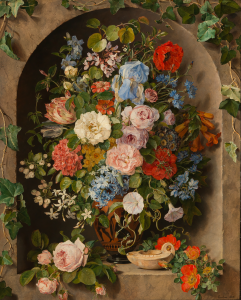 Flowers feature in many areas of life, both day-to-day and as a way of highlighting special occasions. They bring joy and can hold a powerful draw, with dainty snowdrops proving no less fascinating than magnificent dahlias. It is precisely these personal sensibilities that are served by floral painting. The perception of flowers has changed over time, evolving along with the type and extent of our knowledge about them. We find this reflected in the way they were rendered, allowing us to see when emphasis was placed on the healing power of plants, for example; the symbolism of certain flowers in religious iconography; or the lure of exotic blooms starting no later than the major voyages and expeditions of the Renaissance era.
The years around 1600 marked a remarkable shift towards artistically autonomous floral paintings. This particular turn transpired in the Low Countries, first and foremost within the œuvre of a remarkable artist: Jan Brueghel the Elder, nicknamed the "Flower Brueghel" (1568–1625), delivered profusions of fresh-cut floral arrangements in Antwerp. The artist travelled to study flowers in bloom at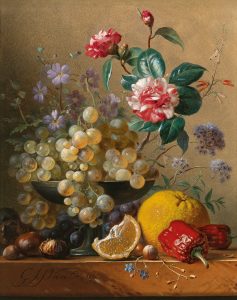 different times of the year and rendered all within a single bouquet – fusing imagination and natural observation in one. Beyond catering purely to our sense of beauty, he treated every individual blossom as a part of divine creation. These first great flower paintings were enormously influential in the Netherlands, as attested in the works of Jan van Huysum (1682–1749), Rachel Ruysch (1664–1750), Abraham Mignon (1640–1679) and many other artists of the period. Although the Enlightenment and advent of scientific botany brought further changes to the way plants were regarded, it did nothing to diminish delight in the beauty of their blossoms.
Late 18th-century Vienna saw the start of a consciously historicist attempt to revive earlier Dutch flower painting. It was a development fostered by the city's Imperial Porcelain Manufactory and not least by a veritable garden mania that gripped a good part of Viennese society around 1800, including members of the imperial family. Floral painting boomed in Vienna in the first half of the 19th century, both artistically and in terms of market demand. A key igniter of this trend in the imperial capital was Johann Baptist Drechsler (1756–1811), an artist of inestimable impact both as a painter and as a teacher. Although it was also crucially fostered by the Porcelain Manufactory – which, after all, had a wide array of products and needed outstanding talent to decorate them – floral painting also established itself an independent art genre beyond commercial applications, an ascendency owing in many respects to the influence of Drechsler.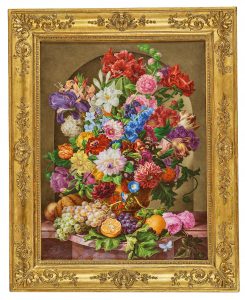 A number of artists emerged as specialists in this particular area. One of Drechsler's most talented students was Josef Nigg (1782–1863), painter of remarkable porcelain plaques whose exquisite hues have made them some of the most treasured masterpieces of the period. Matchless both artistically and in terms of their technical execution, these pieces and others by the artist were widely admired and enjoyed a seminal influence in Europe at the time, including at the porcelain manufactory in Sèvres. Georgius Jacobus Johannes van Os (1782–1861), who painted the shimmering still life on canvas that appears in this auction, worked at the Sèvres factory. Pauline von Koudelka-Schmerling (1806–1840) joined Nigg and other Viennese flower painters in modelling pieces after Dutch compositions, but also transcended that influence with a uniquely delicate use of colour. Josef Lauer's (1818–1881) little painting of an alpine flower arrangement speaks to a contemporary vogue expressing the city dwellers' longing for mountains. After all, Biedermeier painting is typified by a prevailing dualism between detached observation of nature and fantasy, between reality and the ideal.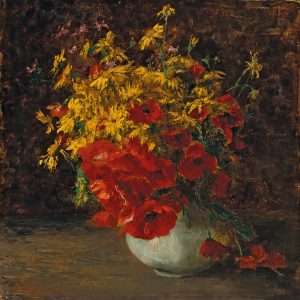 Yet the auction has still more coincidence in store, as the chronologically latest work to come up for sale is a piece by Olga Wisinger-Florian (1844–1926) – a painting that so radically reimagines both the rendering and composition of a simple flower bouquet as to make it seem entirely new. Once again, we find a completely different way of looking at natural surroundings, one in which atmosphere and feeling have a crucial role to play. A different kind of dualism has broken through, this time exemplified by the tension between more detached natural observation and emotion. The lovely word Stimmungsimpressionismus ("mood impressionism") was coined in Vienna to describe paintings of this very kind, and Wisinger-Florian was a luminary of that subgenre. The style was of course also inspired by French Impressionism and its harbingers, developments of which the artist and her colleagues were very much aware. Nonetheless, the individuality of the painter shines through here, as visible in both her bold palette and audacious compositions. She sees colour first, then the flowers. This little bunch of blossoms recalls Wisinger-Florian's "flower landscapes", but it also shows the bravado and skill of an artist once affectionately dubbed the "mistress of autumn".
Authors:
Gerbert Frodl and Marianne Frodl-Schneemann are specialised in 19th- and 20th-century art and have written various monographs on the subject. Frodl, who has worked at Österreichische Galerie Belvedere since 1969, was its director from 1992 to 2006.
Book Tip:
Gerbert Frodl, Marianne Frodl-Schneemann: Die Blumenmalerei in Wien. Böhlau Verlag 2010
View now the auction catalogue and read our new myART MAGAZINE