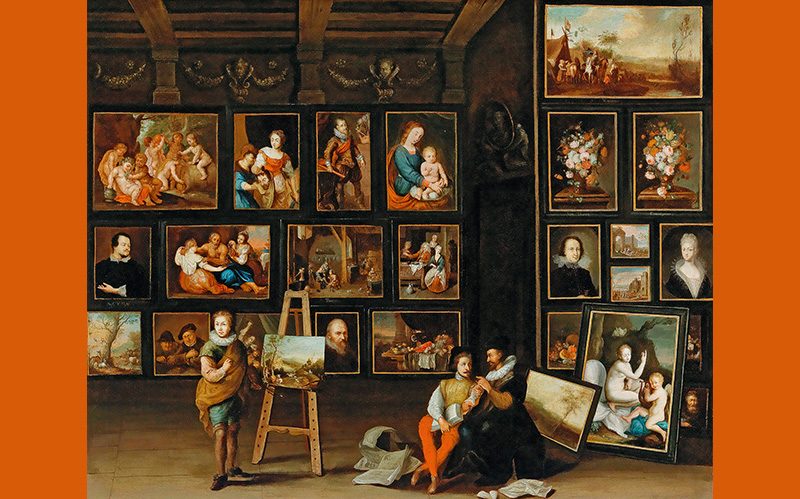 The most fascinating themes of 17th- and 18th-century painting include the so-called gallery paintings, depictions of fictitious or real picture galleries and collectors' display rooms.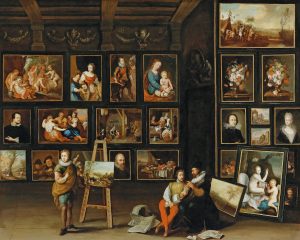 The bestknown work of this genre is "The Archduke Leopold Wilhelm in his Painting Gallery in Brussels", produced around 1650 by the Archduke's court painter, David Teniers the Younger. Owned by the Kunsthistorisches Museum Wien, the painting shows the commissioner in cultivated conversation with kindred spirits, surrounded by his paintings, sculptures and curios.
A later, but no less vivid example is the gallery painting included the Old Master Paintings sale at Dorotheum, created by the little-known Bohemian artist Anton Franz Hampisch in the mid18th century. All we know about Hampisch is that he was working in Prague between 1723 and 1768, and that in 1727 he made an appraisal of the famous collection owned by the Counts of Kolowrat in Prague and Rychnov (East Bohemia), which is still to be found in situ today.
Other examples of gallery paintings by Hampisch are in the National Gallery in Prague and in the Muzeum Narodowe in Warsaw. For these, and for the gallery painting shown here, Hampisch used, amongst others, paintings that were familiar to him from the Kolowrat collection. Hampisch labled some of the works of the mostly Dutch and Flemish artists with the names of the painters, such as Jan van Dalen, Jan Philips van Thielen, Gerard Thomas, Gaspar van den Hoecke and Anthony van Dyck. Not all of the paintings have been identified, but some are quite easily attributable.
INFORMATION about the AUCTION
Auction date: Old Master Paintings auction, 22nd October 2019, 5 p.m.
Location: Palais Dorotheum, Dorotheergasse 17, 1010 Vienna
Exhibition: 12th October 2019 – 22nd October 2019
Information: Alexander Strasoldo is a specialist in Old Master Paintings at Dorotheum
View now the auction catalogues and read our new myARTMAGAZINE!