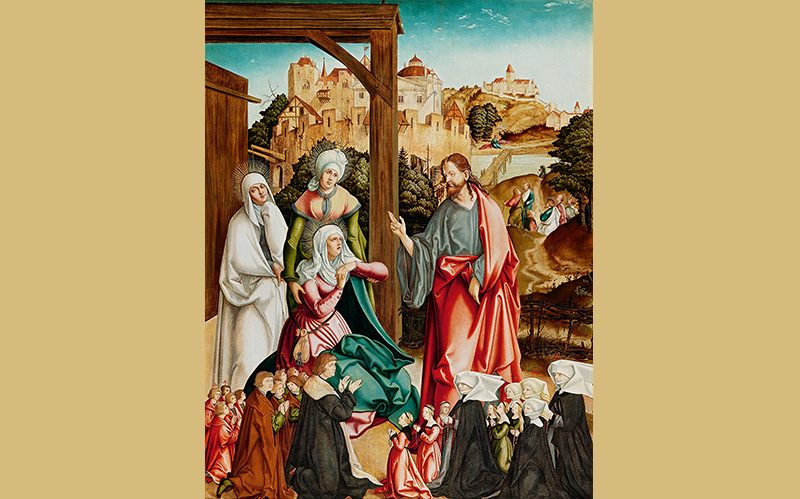 TICKET TO HEAVEN
A remarkable painting by the 16th century Augsburg artist Jörg Breu I is to be sold at auction on 22 October 2019. The devotional theme of patrons at prayer before Christ taking leave of his Mother is crowned by an exceptional, beautifully rendered architectural backdrop. The extremely detailed depiction of the castle of Veste Oberhaus in Passau is a fine rarity.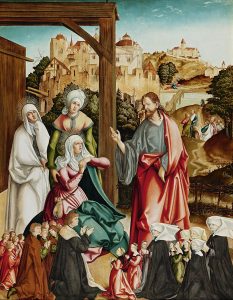 In 17th century Augsburg, it was standard practice for wealthy families to commission sacred paintings in order to ensure that their passage to heaven would proceed as successfully as their journey through life had done. While the town might have been brimming with earthly riches, thanks to its textile trade and the activities of its banking dynasties such as the Fugger family, Augsburg's finest citizens continued to be concerned about their status – their status as sinners before God. Prayers were required, long after their deaths, to assist their souls to escape purgatory, and to that end and to ensure that they would be remembered by posterity, paintings such as this present work were required.
"Christ taking leave of his Mother" shows one such family, diminutive in their insignificance beneath Jesus and the Virgin. The donors kneel in prayer to indicate their piety. Typical of the Augsburg school of painting, it exhibits the influence of Albrecht Dürer, showing a carefully observed landscape, including, in the background on the right, the beautifully depicted castle of Veste Oberhaus in Passau, with its distinctive walls running down to the Danube.
INFORMATION about the AUCTION
Auction date: Old Master Paintings auction, 22nd October 2019, 5 p.m.
Location: Palais Dorotheum, Dorotheergasse 17, 1010 Vienna
Exhibition: 12th October 2019 – 22nd October 2019
Information: Damian Brenninkmeyer is a specialist in Old Master Paintings at Dorotheum.
View now the auction catalogues and read our new myARTMAGAZINE!
Watch now the video of the artwork by Jörg Breu I.!