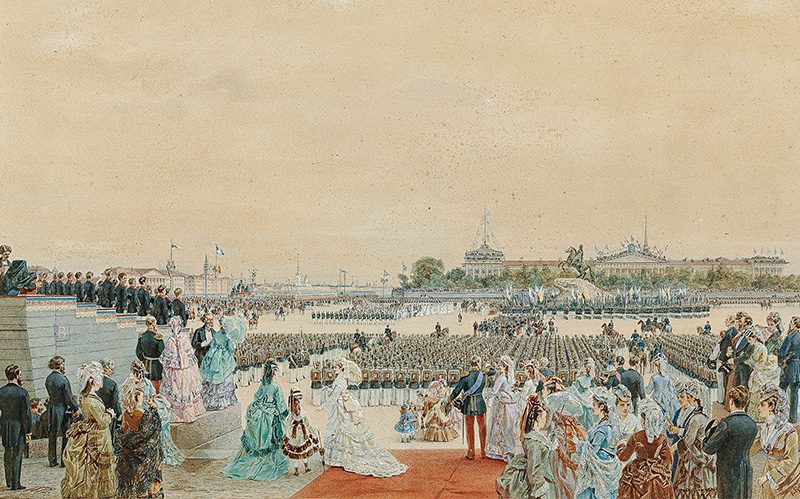 On the 23rd of October an interesting work by Karl Gun will be offered at the 19th Century Paintings auction at the Palais Dorotheum.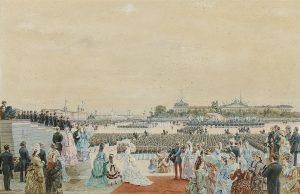 Until now, there has been no consensus as to the manner of the occasion described in "The Solemn Service", by Karl Gun (1830–1877), a primary example of the work of the German-Baltic-Russian artist. Dorotheum has been able to solve the puzzle with the aid of photographs taken by the German photographer Albert Felisch (1839–1908). Felisch was working in Saint Petersburg from 1866 and left a legacy of more than 300 views of the Russian capital.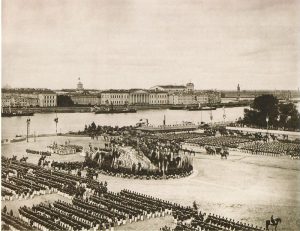 In 1872 he produced a photographic documentation of the solemnities for the 200th anniversary of the birth of Tsar Peter I (1672–1725). On 30 May, he recorded the central celebration of the anniversary year: the religious service before the Bronze Horseman in Senate Square from a vantage point on the roof of the Senate building. In this current beautifully rendered watercolour, Karl Gun captures the same event from a different angle, positioned as he was on the steps of the same building.
INFORMATION about the AUCTION
Auction date: 19th Century Paintings auction, 23rd October 2019, 5 p.m.
Location: Palais Dorotheum, Dorotheergasse 17, 1010 Vienna
Exhibition: 12th October 2019 – 23rd October 2019
Contact: Olga Sugrobova-Roth is a specialist for Russian and  Eastern European Art at Dorotheum
View now the auction catalogue and read our new myARTMAGAZINE!