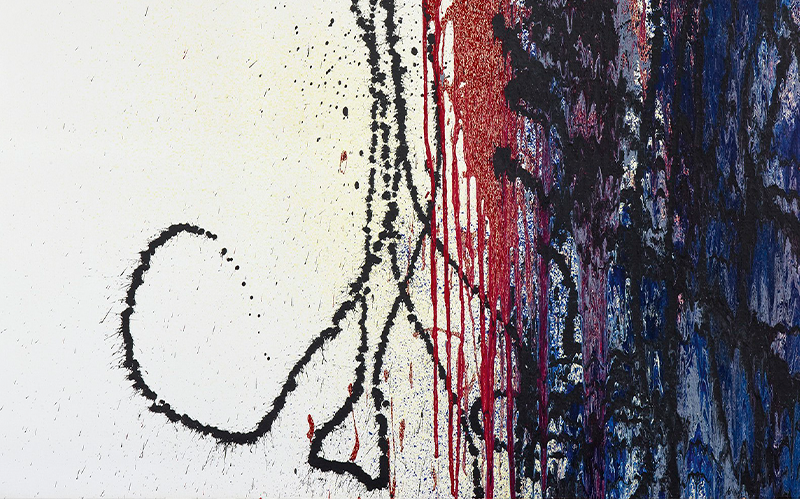 EXPRESSION AND EMOTION
In his later work, Hans Hartung, the co-founder of the Art Informel movement, was to discover a remarkable and transformative freedom of artistic expression. Through an innovative painting technique, born of necessity and discovered accidentally, an unexpected intensity of structural depth and colour was to emerge.
A new phase of artistic creativity began in the 1980s for the influential artist, Hans Hartung. After suffering a stroke in 1986, he was confined to a wheelchair which seriously affected his ability to paint. This was a huge blow for an artist whose career had up to that point, been based on the use of decisive, vigorous, one could almost say violent gesture. However, the very hurdle that could so easily have spelled the end of his artistic career was transformed into an opportunity: a gateway into a new stylistic phase, characterised by great creative freedom.
No longer concerned with suppressing the accidental figurative allusions contained in his work, Hartung produced spontaneous canvases inspired by nature. His later works include the two canvases from the late 1980s, entitled "T1988-E40" and "T1989-H5", which are to be offered for sale by Dorotheum at the upcoming Post-War and Contemporary Art auction. The canvases reveal his great ambition and a complex relationship between expression and emotion. 
In the catalogue "Hans Hartung, Paris: Chapelle de la Sorbonne", Daniel Abadie notes that the adoption of the sprayer or 'sulfateuse' gave Hartung the ability to express the individuality of each canvas, to create a fantasy of intertwined lines and dense patches of colour, the device which was to become a metaphor for the artist's vision of nature during this period. The 'sulfateuse' is a sort of spray cannister with a flexible hose and nozzle, normally used in horticulture to spray insecticide. It was repurposed by Hartung to compensate for the loss of manual control he suffered as a result of the stroke. This device afforded him a freer use of colour, allowing for mixing, overlapping layers, and led to the creation of images on the canvases of this period whose vivacity and substance recall the energy and strength of primordial matter. They use a formal language which ignores traditional composition and tests the stylistic conventions that had distinguished his previous works.
Hartung worked on large scale canvases, which lent themselves best to the use of the sulfateuse. He created works in a palette ranging from pale blue to deep blue, from lemon yellow to black and red, using the paint, through apparently random sprays on the canvas, sometimes with a lightness of touch, sometimes using denser colour, to express his vision of the relationship between painting, matter, and energy. 
Certainly the later works would not have existed if it had not been for the accidental discovery of the sulfateuse but there is certainly something more to them than random circumstance. Paradoxically, his approaching death would seem to have given Hartung the freedom to go beyond what was familiar to him, while the reduction of his physical strength and mental faculties appears to have resulted in new attention to the sensitivity of painting. He was able to continue to seek pleasure in painting and to maintain the connection between expression and energy that he had always placed at the center of his experimentation.
INFORMATIONEN zur AUKTION
Contemporary Art auction, 24 June 2020
Palais Dorotheum, Dorotheergasse 17, 1010 Wien
20c.paintings@dorotheum.at
Tel. +43-1-515 60-358, 386
View now the auction catalogue and read our new myARTMAGAZINE!