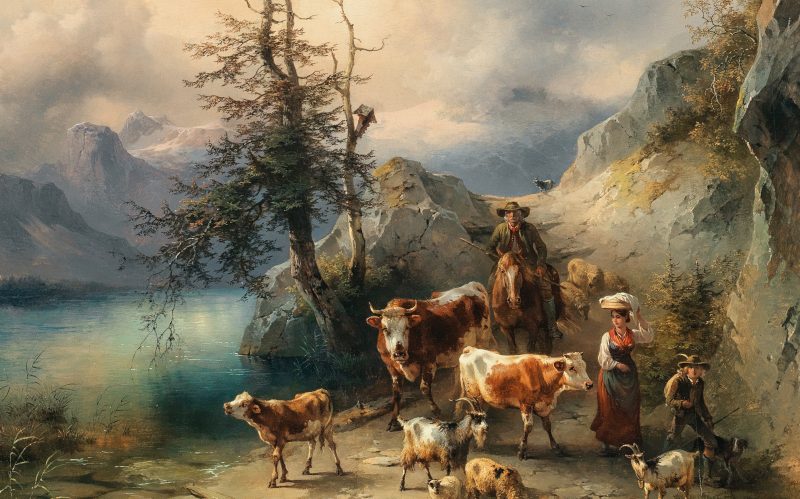 The Salzkammergut region of Austria was one of Friedrich Gauermann's favourite destinations. No other artist of the Biedermeier era could conjure up the beauty of nature as he did in his evocative paintings.
Friedrich Gauermann's paintings are noted as the epitome of Viennese Biedermeier. Their appeal lies in their contradictory nature: they combine a meticulously observed, realistic rendering of their subject with the ideal of a pastoral world; drama and idyll define the narrative of his pictures.
Born in Miesenbach, Lower Austria, in 1807, the son of the painter Jakob Gauermann, Friedrich began to work at a very early age on studies of landscapes and animals, subjects which conflicted radically with the contemporary academic curriculum. It is no surprise that the Dutch masters of the 17th century were his foremost models in landscape composition and structure. Gauermann built on their power of observation and developed it further by intensively incorporating changes in light and atmosphere in his work, thus enhancing the realism of the interpretation even more. Since the 1820s, Gauermann had been undertaking extensive study tours of Styria, Tyrol and Vorarlberg; the Salzkam- mergut was ultimately to become his favourite destination. Even as late as 1851 he made a note in his diary about the ascent of the Loser in Altaussee. The studies Gauermann produced in situ were later com- posed into diverse thematic pictures in his atelier.
The present painting depicts the return of a small herd of cattle, goats and sheep from the alpine pastures, accompanied by a pretty young dairymaid, a shepherd boy and an older shepherd on horseback. The vividly painted scene is enacted on the shore of Lake Altaussee; the mighty silhouette of the snow-capped Dachstein looming up in the background. A powerful impact is generated by the juxtaposition of the dramatically billowing cloud formations above the mountains and the sunlight-flooded idyll of the herd's peaceful return from the high pastures.
Marianne Hussl-Hörmann is Specialist for Modern Art and 19th Century Paintings at Dorotheum.
Explore the auction catalogue now and read our new myART MAGAZINE!