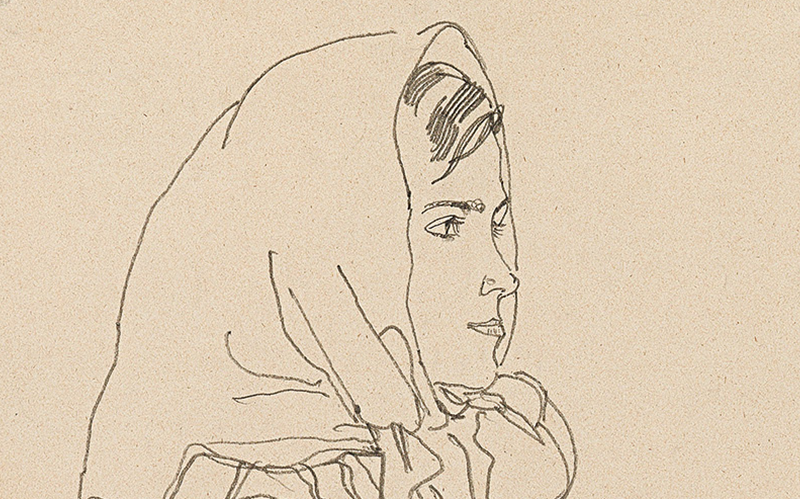 One of the highlights of the November Modern Art sale is a work by Egon Schiele which stands out from his oeuvre, it is one of the few original drawings that Schiele's most important literary archivist, Max Wagner, was able to acquire for his collection.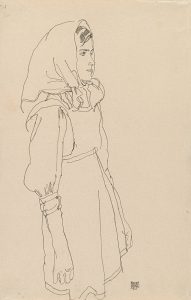 She stands quite still. Her body is turned slightly to the side, her face fully in profile, and she looks straight ahead, though apparently at nothing particular. Her dress and kerchief reveal that she is a country girl posing for the artist. We do not know where he met her, or where exactly she came from. She stands fearlessly, with clear self-assurance. The session cannot have taken long; just look at the line that captures the contours of her body with so much assurance, speed, and precision, and without any real interruption. The line is razor-sharp, and yet the curves are soft and forming. The slight rotation of her body positions the girl in the room, while the space to her right balances the concentrated calm with a little lightness.
Egon Schiele drew this girl in 1915, the year he was drafted to the military. He was deemed unfit for full military service, so he escaped deployment to the front, but the weapons-training in Prague and his work in the office of a Russian prisoner-of-war camp put a strain on the sensitive painter, who was longing to work. It was one of his least productive years during which his wife, Edith Harms, whom he married that year acted as his primary model and muse. He created portraits of art dealers, soldiers and children, in addition to the nudes he would become so famous for. This young girl with a kerchief depicted in the present work, stands out from his oeuvre. She is probably the same girl Schiele had portrayed in 1914 and again in 1916, in a mirrored view. Perhaps it was the child's remarkable calm that touched the painter so deeply, this simple naturalness of being, so contrary to the expressive, ecstatic twists and turns of the body usually found in Schiele's work.
The drawing was bought by or given to Max Wagner (1882–1954), an editor and dedicated Social Democratic politician. Perhaps his most significant act was to assemble a comprehensive collection of documents, letters and autographs by and about Egon Schiele. He bequeathed the collection of documents to the Albertina Museum on his death in 1954. The work is one of the few original drawings acquired by Max Wagner. It was sold by his heirs to a friend of the family in 1999.
Marianne Hussl-Hörmann is Specialist for Modern Art at Dorotheum.