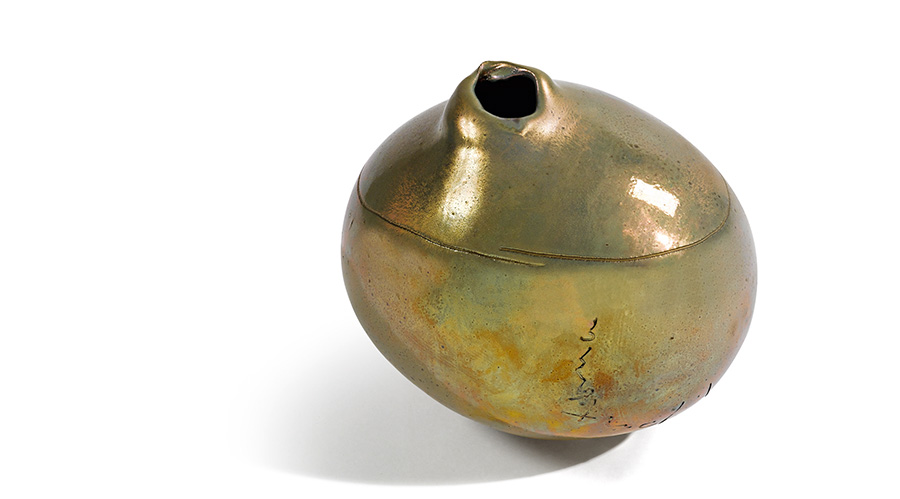 Lucio Fontana was one of the most important and influential artists of the 20th century. His oeuvre is diverse and varied, and falls into various categories, of which sculpture is undoubtedly a prominent one. In the November evening sale ceramic works by Lucio Fontana were well received – in particular, a golden "Concetto Spaziale," which an Italian bidder bought for €283,600.
It is impossible to experience Fontana in just one way. What can be done is to try to understand his genius by studying his salient episodes, all of them revolutionary and very different from each other, but all coherently connected to a constant dimension: that of an inventive and tireless creative freedom. The experience of sculpture is one such salient episode, perhaps the most noteworthy in Lucio Fontana's artistic career.
Starting with Figurativism (a path the artist never abandoned), Fontana began his "war" on academia by presenting his first abstract sculptures in the early 1930s. In those years, the hotbed of abstract art in Italy was the brothers Ghiringhelli's Galleria del Milione in Milan, where Fontana's works were exhibited. By the end of the decade, Fontana was very prolific as a sculptor. Terracotta and ceramics offered him an excellent opportunity for experimentation. In 1939, Fontana went back to Argentina, where he stayed until the end of World War II. In 1946 he and a few South American students launched the "Manifiesto Blanco," which lay the groundwork for the birth of Spatialism. One year later Fontana returned to Italy, bringing with him the energetic and revolutionary charge of his Spatialist ideas. In the same year, he executed his first spatial sculpture, which was exhibited at the Venice Biennale in 1948.
"I did not call the mobjects because that sounded too materialistic to me; I called them Concepts because it was a brand new concept: being able to see the mental fact."
(Lucio Fontana)
Spatialists claimed, in keeping with their poetics that anticipated the successes in space travel of the 1960s, "… today, we have escaped from our cities, we have broken our shell, our physical crust, and we have looked at ourselves from above, taking pictures of the Earth from rockets in flight." (from the "Second Manifesto of Spatialism")  Lucio Fontana's adventure in sculpture continued for the next decade, in a constant syncretism between figurative expression and abstract investigation that was probably his true stylistic signature. From 1950 to 1956 in particular, figurative ceramics, sacred figures, and masks accompanied his "abstract" sculptures, his spatial tiles and his holes in an exquisitely natural way. In the second half of the decade, Spatialist production became more prominent. During this phase, cylindrical vases and ceramic and terracotta plates were left elegantly bare, marked only with holes and scratches.
At the end of the decade, his "Natures" were born, terracotta or bronze sculptures executed as mono-surface pebbles or complementary bivalve forms that later became "balloons" according to Fontana's own definition. His "Natures" mostly corresponded to the cosmic imagination to which the artist often referred.
In 1962 Fontana created new glazed ceramics, often marked on the sides with a stroke that was an allusion to a transition, or with holes that opened like amorphous craters, perhaps echoing his oil paintings, creative equivalents from the same period.
In a few cases, Fontana resorted again to the use of gold, Byzantine gold or similarly coloured, shimmering, attractive hues. The surfaces were smooth, flat, neutral. Then a cut, a crater appeared and the material seemed to become a turmoil of magma; it seemed to burst, leaving only darkness, nothingness, the beyond.
(myART MAGAZINE No. 06/2015)
Contemporary Art Auction
Wednesday, 25 November 2015, 6 pm
Exhibition: 14 – 25 November 2015
Palais Dorotheum Vienna
For more information about the auction in November please contact our Client Service:
client.services@dorotheum.at