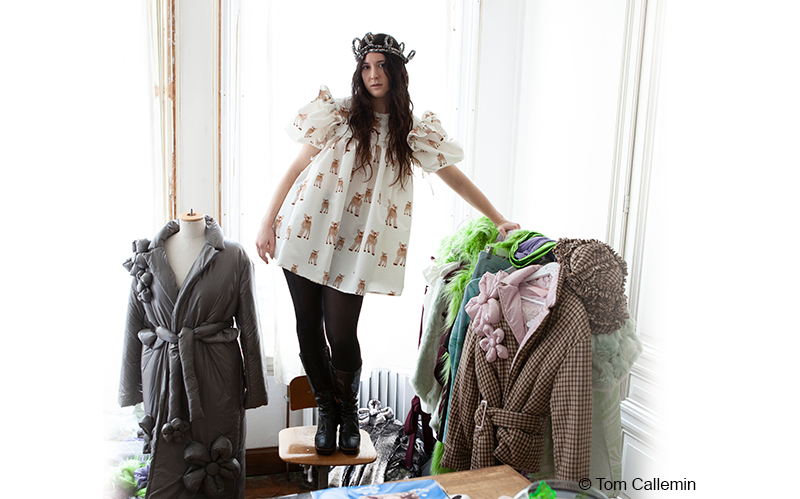 The fashion bible Vogue calls her "Austria's most promising newcomer". Her admirers include Lady Gaga, Kylie Jenner, and Ellie Goulding. In cooperation with Dorotheum and inspired by Old Master and 19th Century Paintings, Florentina Leitner created several looks that will be auctioned in October 2023. We spoke with up-and-coming designer Florentina Leitner about fashion between creativity and commerce, art as muse, and the pleasures of a dress code.
Florentina Leitner's clothes may be playful and dreamy, yet she navigates the unforgiving terrain of the fashion industry with great confidence. The young designer earned her stripes at the Royal Academy of Fine Arts in Antwerp, renowned as one of the most prestigious institutions for fashion design, not to mention one of the most demanding, with a graduation rate of just 23 per cent. She spent a year honing her craft under the globally influential designer Dries van Noten before launching her own label in 2021.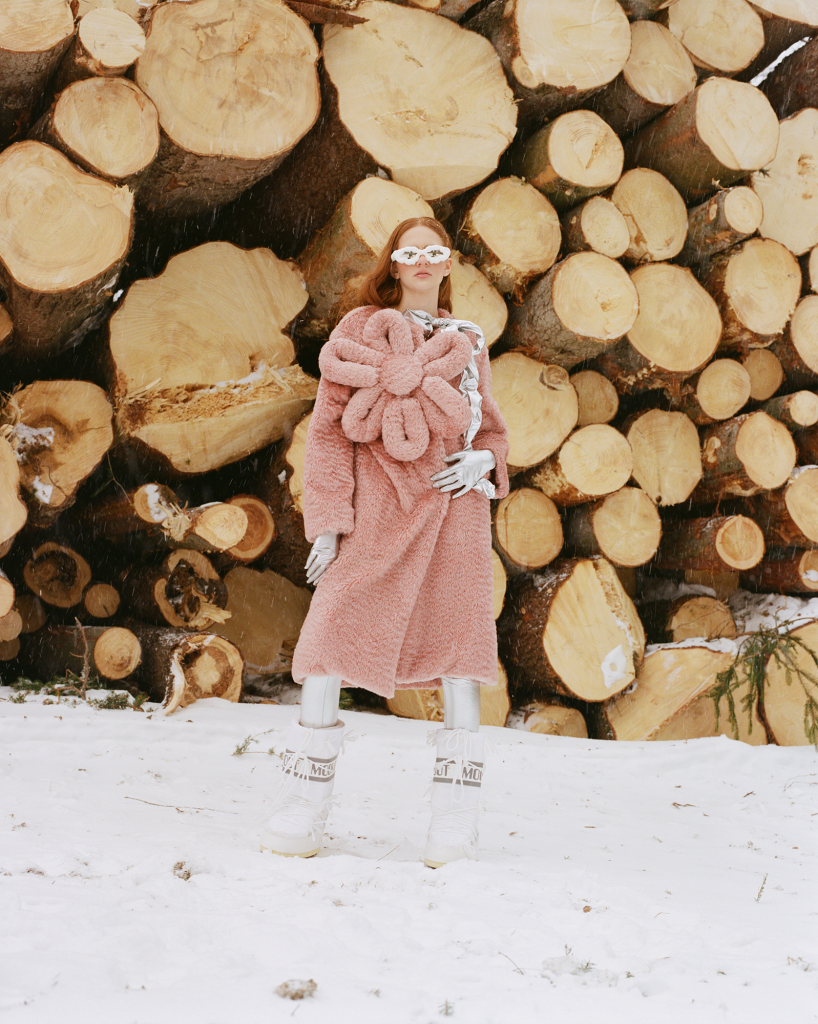 "Art and film inspire me a lot. That's why working with paintings from Dorotheum was particularly exciting. I want people to be able to recognize the artworks printed on the fabrics, but at the same time I want the looks to embody my own playful approach, my signature style as a designer", says Leitner at the beginning of her interview with Dorotheum's myART MAGAZINE. One look at the young designer's collections is enough to convince oneself of the role that art and film play in them. Take, for instance, The Royal Leitners, a reference to Wes Anderson's tragicomic family saga The Royal Tenenbaums (2001). Films have also played a key role in shaping her creative vision, most notably Dario Argento's horror classic Suspiria (1977), which inspired her collection Der Zauberberg. But for those who assume that her award-winning collection Midnight Vertigo, which marked the pinnacle of Florentina Leitner's studies, was solely sparked by Hitchcock's Vertigo, there's more to the story: "My master's thesis was inspired by an Op Art exhibition at Museumsquartier, which happened to be called Vertigo", she explains. "Only then did it occur to me to give Alfred Hitchcock's film a watch …"
The result is a collection characterised by dynamic, graphic patterns and sophisticated tailoring. The culmination was a Midnight Vertigo-inspired ensemble that won a styling competition sponsored by global sensation and diehard fashionista Lady Gaga. What seemed to catch the music icon's eye most was the faux-fur coat, adorned with a bold, sprawling spiral motif. She had herself photographed in it and posted the image online.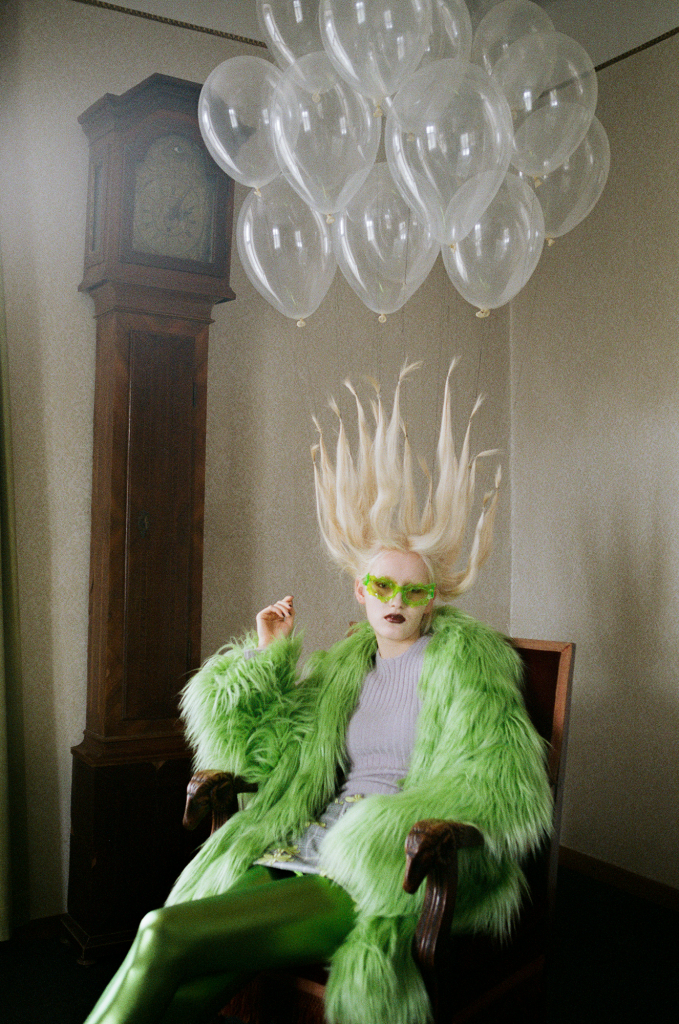 Leitner has come a long way since her days at Vienna's Modeschule Hetzendorf. She now lives and works internationally. Her fashion can be found in trendy concept stores from London to South Korea. Yet her collections still contain references to her homeland. Fash- ion films might be shot in the Burgenland, for example, or even at her parents' house on occasion. She explains: "My family lives in an art nouveau house in Mödling, which I love. Everything around it
is modern. I think I've always had a soft spot for nostalgic stuff …" At the same time, the designer is keen to infuse her clothes with a "contemporary spirit", combining traditional craftsmanship with modern technology. She regularly uses 3D printing and now plans to incorporate laser cutting into her latest collection. The recurring floral motif in her designs also holds significance for Florentina (Latin for "the blooming one"). "As a child I got to spend a lot of time in nature …", she says. "My mother loves flowers. The Rosari- um in Baden is a place that has inspired me a lot."
Flowers, vibrant colours, delicate silhouettes – Florentina Leitner's designs are feminine and fun. At the same time, she shatters the stereotype that girlishness always equals fragility, giving her creations a raw and rebellious edge. For this young designer, fashion is a form of armour. It's no coincidence that the Autumn/Winter 2023/24 collection is named after the French heroine Joan of Arc. For Leitner, the power of this "armour" or uniform also lies in the act of putting on the right clothes at the right time – think dress code. She observes: "It's diminishing in our contemporary society, although in Austria we do still uphold it to a certain extent – espe- cially during the ball season or at weddings. You've got to dress according to the established dress code. I really think it's something we should not allow to disappear completely, which is why I make more elegant pieces that can only maybe be worn once or twice. Dressing consciously for a ball or a night out essentially transforms you into a certain character."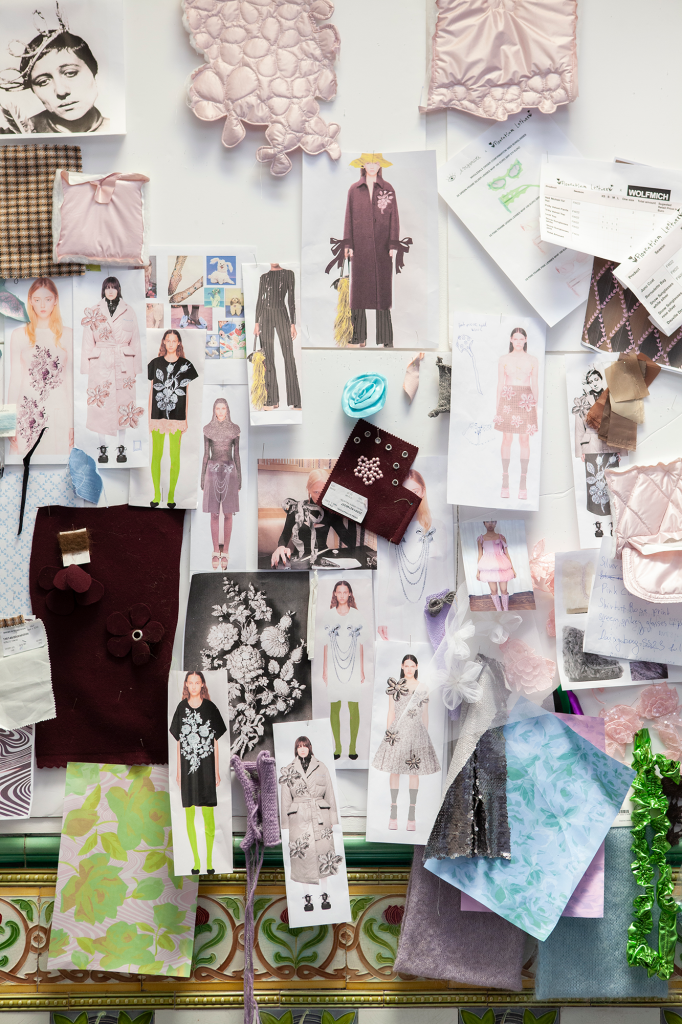 The work of Austrian artists often serves as a catalyst for Leitner's creative process. As the designer herself notes: "One artist I've always admired is Erwin Wurm, especially his ability to make everyday objects look not-so-everyday after all. Take, for example, the Fat House or the Fat Car. That's what inspired me to create my own version: I made Fat Sunglasses. For the Autumn/Winter 2022/23 collection, I took a pair of sunglasses and literally inflated them as well."
Designer Walter Van Beirendonck, a member of the legendary Antwerp Six and former director of the fashion institute where Florentina Leitner studied, collaborated with Erwin Wurm in 2011.
Their joint creativity resulted in a project of performative sculptures entitled Wear me out. Florentina is also deeply fascinated by the direct intersection of art and fashion, noting, "I would absolute- ly love to collaborate with an artist. Now that I'm in the process of developing a collection, I find myself thinking more and more about the commercial aspects: Who will wear it, who is the end customer? But when you work with an artist, you really get into the prospect of creating something that doesn't necessarily have to be wearable, or at least not entirely wearable. It can be a little fancier out there, a little more couture."
Nowhere is the intersection of artistic freedom and the complexities of running a business more evident than in the world of avant-garde fashion. This delicate balancing act has been a constant companion for Leitner since she first ventured into independent fashion entrepreneurship in 2021. An emerging designer needs more than just a creative mind; she also needs organisational skills. Leitner reflects: "It's quite a big transition from university, where your teachers might say, 'Okay, you have this deadline, you have this amount of time to finish this thing.' When you're self-employed and running your own business, nobody cares."
This sometimes mundane work is undeniably crucial to the success of a fashion label, and it's already bearing fruit for Florentina Leitner: this autumn, she will be presenting her collection for the third time at the epitome of fashion events, Paris Fashion Week. This success brings the most rewarding feedback of all as far as Florentina Leitner is concerned: people are wearing her clothes. "That's what I find so fascinating about clothes, the fact that they serve a purpose", she says. "Not that art doesn't have a purpose, but to see people wearing my clothes, to see them around the city, to even spot my own pieces in a shop … it shows so much regard for my work. It's also something that different people can style in their own, unique way. Like a canvas that keeps changing."?
FLORENTINA LEITNER X DOROTHEUM
Art meets fashion: for her collaboration with Dorotheum, Austrian designer Florentina Leitner drew her inspiration from Old Master and 19th Century Paintings. Fabrics printed with artworks sold at Dorotheum are the starting point for her designs. The project was initiated by artist Klaus Pobitzer. The resulting, exclusive 21 designs are set to be auctioned until 2 November 2023 online.