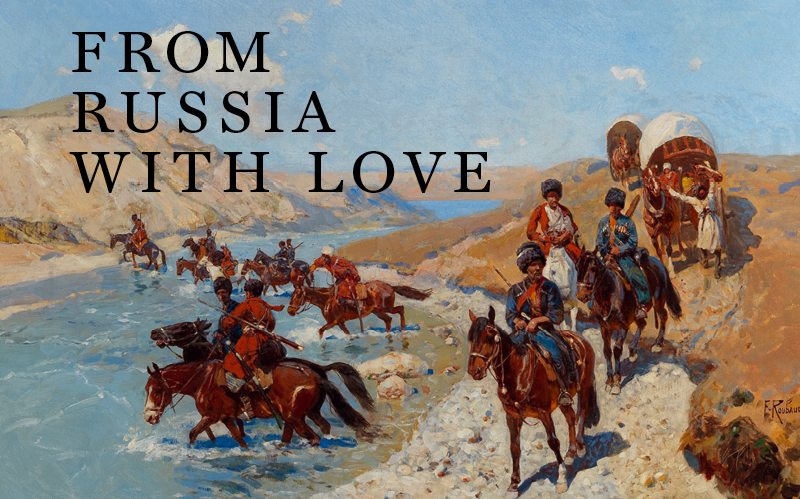 Russian painting
Ascribing the increasing popularity of 19th- and early 20th-century Russian painting in the past 25 years solely to the demand from wealthy Russian buyers would not do justice to their significance. While the Iron Curtain was blocking their view, art lovers in the West knew practically nothing about the Russian school of painting at the time. They assumed that such paintings had a Western focus but were basically of inferior quality.
Slowly the art world became aware of the high standard of the true Russian school of painting, whose power lies in combining a thorough academic education with emotional intensity and particular candour. These characteristics also describe the works of Konstantin Makovsky, Wilhelm Kotarbinsky and of younger representatives Alexei Hanzen, Konstantin Gorbatov and Arnold Lakhovsky, which will feature in the 19th Century Paintings auction. Drawings by Viktor Vasnetsov and "Russian fairy tales" illustrated by Ivan Bilibin captivate the viewer with their imaginative and stylish interpretation of national themes and folklore. The scene in a Venetian palace by Mstislav Dobuzhinsky, doyen of the "World of Art", is reminiscent of the versed work created for the theatre stage by prominent Russian artists.
Dorotheum's 19th century paintings auction
The Russian artworks up for auction are multifaceted. Just a few years ago, the term "Russian" was applied to anything created under the Tsar or in the Soviet Union; today, a clear distinction is drawn to cross-border artists and artists with a different national identity. The latter include the Russian-Polish painter Henryk Siemiradzki, who appears in the auction with a piece from his workshop, and Polish-Ukrainian dreamer and fantasist Wilhelm Kotarbi´nski, both of whom recently featured in a special exhibition at the Russian Museum in Saint Petersburg entitled "Henryk Siemiradzki and Russian Artists' Colony in Rome".
The discoveries of this year's auction also include the atmospheric oil painting of Vilno in spring by Edward Mateusz Römer, a Lithuanian artist born in Vologda, Russia. Ukrainian painting, which has been a fixture in the art world for several years, is represented by a monumental secessionist depiction of spring by Gerasim Golovkov.
Many Eastern European names may only appear in the art market on rare occasions, but that makes their work even more interesting. Of course the market is in no way saturated; it calls for creative searching and thorough research.
Olga Sugrobova-Roth is a specialist in Russian art.
___
AUCTION
19th Century Paintings
25 April 2018, 4 p.m.
Palais Dorotheum Vienna
Information:
Dimitra Reimüller, specialist for 19th-century paintings